The 11 Best Golf Drivers of All Time - Expert Reviews (2023 Update)
Last updated:
July 14, 2023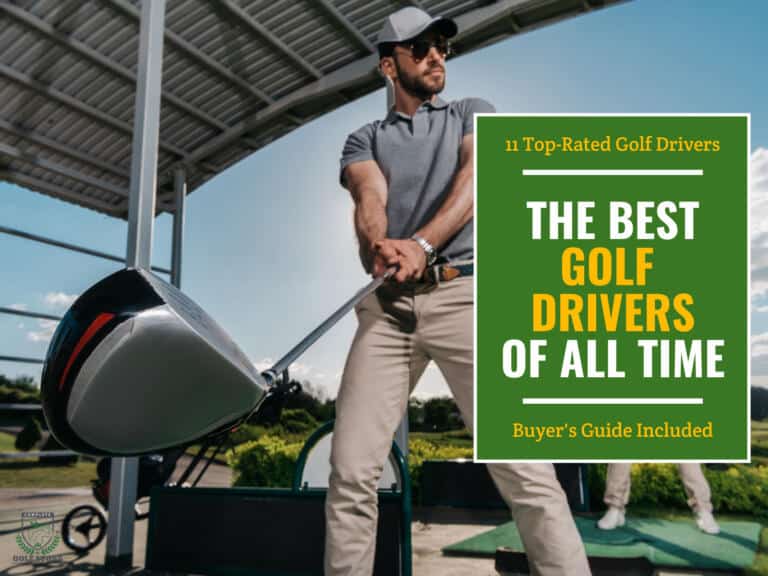 Disclaimer: We may earn a small commission from some of the links on our website. However, our reviews and comparisons remain fair and unbiased. Our goal is to help you make the best choice. For more information, please see our
disclosure statement
. Thank you for your support.
Key Takeaways
After years of practice, comparison, and testing, I can say that Cobra LTD is my best overall driver, while the Callaway Big Bertha B21 is my first recommendation as the best driver to fix slices.
The Titleist TSI3 is great if you want more distance, and the Taylormade Stealth Plus is perfect for mid-handicappers.
We've also picked in this review other options for seniors, female golfers, low spin, forgiveness, adjustability, affordability, etc.
Whatever your needs, I guarantee you'll find something on this page.
Golf is a very technical game. Everything is important, from your chosen golf ball to the golf club to use in every given situation.
In a previous article, we provided everything you need to know about golf club types and their usage in general, focusing on shape, use, size, etc.
Today, we will focus on the driver, a very important club in your bag because it is the first one you use to tee off a golf round and achieve maximum distance. That's why the most renowned brands try to offer the best drivers with more or less adjustable features (like adjustable lofts, weights, etc.).
Keep reading to know more about our detailed tests and reviews of the best golf drivers ever made (from a wide range of price points) and the factors you need to consider to find the one to help you achieve your best shots and improve your game.
Happy reading!
The 11 Best Golf Drivers of All Time
Now, it's time for us to go through the list of what we consider the top-rated golf drivers of all time. These are the best drivers ever made based on factors like forgiveness, price, distance, control, features, adjustability, etc. We are sure that whatever your preferences, you will find the right club for you on our list. Now, let's cut to the chase!
The following are our top selections based on our own testing, research, and experience:
Buyer Guide: Key Features Consider when Choosing the Best Golf Driver
How do you choose the best driver for your golf game? There are some crucial features that you need to take into consideration before you decide which driver to buy.
The main objective while using your driver is to achieve the best possible distances by getting faster ball speed and lower spin rates as much as possible; this will result in longer and lower ball flights.
Let's now explore the key features that you need to know before you decide which specific products will help you achieve those goals and be more consistent:
Club Head Size and Weight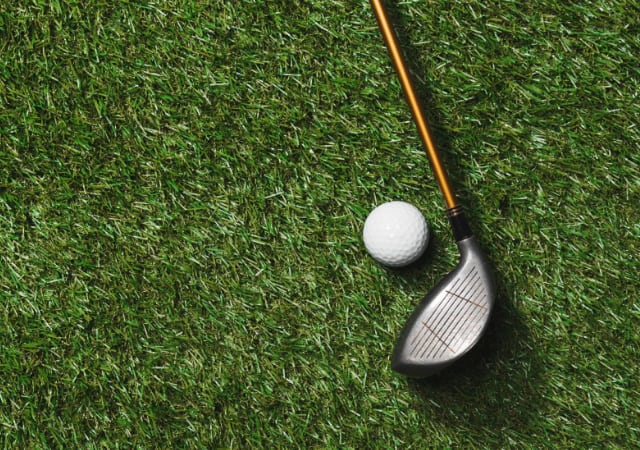 It is crucial to know that if you use a clubhead that is too heavy or too light for your swing, you may not benefit from its full capabilities. That's why it is important to choose carefully.
A larger head will allow for a larger surface area and sweet spot (The area of the clubface that comes into contact with the ball at impact) and provide more control over the trajectory of the ball. Ever since the USGA and R&A allowed golf drivers to be 460cc (cubic centimeters) back in 2004, almost all manufacturers made the switch to larger driver heads to match the legal limits.
Moreover, the mass of a heavier club head will help you achieve better ball speeds and overall carry and total distances. Still, you need to bear in mind that the actual important part of the driver we are talking about here is the weight of the clubhead, plus the first four inches of the shaft.
However, you have to find the perfect clubhead weight for you (as a player). That is, if the head is too heavy for you, to the point of preventing you from swinging the club properly, you can (and most probably will) end up with lower club speeds and distances or even lose your balls to hazards.
Loft Angle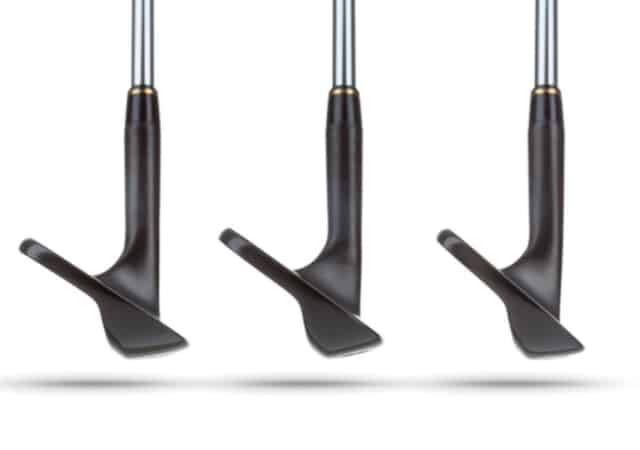 Loft angle in golf clubs refers to how much the clubface will be angled down relative to the ground when it strikes the ball. The more upright the face is, the more loft the club will have. A higher loft increases the distance a ball travels, but also makes it more difficult to control.
Most golf drivers have a loft angle ranging between 8.6 and 16 degrees. There are, however, some drivers that would sport a loft of around 4 to 7.5 degrees (and others that go beyond 16).
It is important to note that choosing the right driver loft for your swing depends highly on your clubhead speed. For example, if you can swing your club with a speed of 95 to 104 MPH, you should consider a driver with a loft of 10 or 11 degrees.
For a clubhead speed between 105 and 115 MPH, a driver loft between 7 to 9 degrees will be more appropriate. Golfers with slower club speeds below 85 MPH should opt for drivers with much higher loft angles - between 14 and 20 degrees.
So, the correlation between loft angle and clubhead speed is that the higher your clubhead speed, the lower loft is needed to propel the ball for a long distance because higher speeds generate more loft to allow the ball to travel faster. Lower clubhead speeds will use the extra loft of the driver to achieve longer distances.
Material
Golf drivers are made from different types of materials depending on their intended use. Most manufacturers today opt for steel or graphite as the main material for the shaft (as is the case with other types of clubs). However, there are other (rarer) alternatives such as other composites, alloys, or even carbon fiber.
If you want a good experience, you'll definitely want to choose a driver that is made from high-quality material. This means that the head will be appropriately weighted, stable, and consistent in flight. Also, a quality driver will feel comfortable in your hands and be able to withstand lots of abuse over time.
The key here is consistency. If you want a consistent shot, you'll want to choose a driver that offers high levels of forgiveness. The more forgiving the driver, the more consistent the shots will be.
Usually, golf driver heads are made from titanium, graphite, stainless steel, or fiber-reinforced epoxy. The inserts for the driver's head can be made using composites of titanium metal matrix ceramic or zirconia ceramic. Oversized club heads are commonly filled with synthetic polymer foam.
In the past, different types of wood were commonly used in golf drivers such as laminated wood. These woods feature multiple layers of wood bonded together by an epoxy resin. The result is a stronger, more durable, and more consistent driver. Most of these drivers can be considered valuable collectibles because the wood has been largely replaced by other materials.
For a few years now, graphite has been replacing steel in some of the most popular driver heads. The graphite driver features a composite material that has been infused with carbon fibers to increase its strength and improve overall performance.
If you're looking for a high-quality driver, you'll definitely want to consider graphite. The graphite driver is a great choice because it combines great performance with a lightweight design.
Shaft Flexibility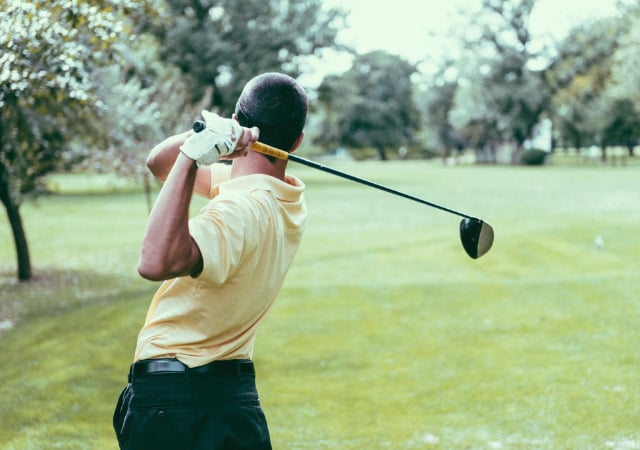 The degree of flexibility or stiffness of your driver shaft is also related to how fast you can swing your club. The higher the clubhead speed, the stiffer your shaft; the slower your swing, the more flexible it should be.
There are five flex ratings for clubs in total, with each being referred to using a letter:
Extra Stiff shaft, referred to as X. Usually used by players with very fast swing speeds above 105 mph.
Stiff (S); is recommended for players with fast swing speeds between 97 and 105 mph.
Regular (R); for average swing speeds around 84 to 96 mph.
Senior (A); good for a slower swing speed of 72 to 83 mph.
Ladies (L); for swing speeds lower than 72 mph.
As pointed out earlier, the faster your club speed, the stiffer your shaft needs to be. That's because, with a higher club speed, you will be able to build enough momentum to propel the ball at impact. Conversely, if your club speed is lower, you need some extra time to help the clubhead build the necessary momentum; that's when shaft flexibility comes into play (providing the extra milliseconds needed to hit the ball properly).
You must be careful while choosing a specific flex rating for your driver (or any golf club, that is); if you fall in between two categories, it's always better to go for the more flexible rating.
The following video (4 minutes 02 seconds) from the GolfersRx YouTube channel will help you better understand shaft flexibility, and how to choose the right one for you:
Forgiveness
A more forgiving driver will help you achieve more speed, accuracy and consistency with your swings and shots. The question is: what does it mean to be using a forgiving club (driver in this case)?
Let's find out.
A forgiving golf driver is the best golf club for juniors, intermediate, or even advanced players who don't have a lot of experience. These clubs have a larger sweet spot than standard drivers, meaning that even when a ball is mis-hit, it has a better chance of making it to the fairway.
The forgiving feature comes from the way these clubs are designed. Most are built with an oversized head, a larger face, and a shallower loft. This combination allows you to hit the ball further and straighter than you would otherwise be able to. The result is that your ball has a better chance of clearing obstacles like bunkers and trees.
Here are a few features that allow for maximum forgiveness in drivers:
Cavity back: Refers to the hollowing at the back of the driver, which helps make it easier to swing.
Clubhead: Usually much bigger in forgiving drivers than standard ones. The size of the head helps transit the whole weight resistance to the clubhead itself at the moment of impact.
Lower center of gravity: In a nutshell, a lower center of gravity [1] will allow you to hit higher and longer shots much more easily. Some forgiving drivers even offer an adjustable center of gravity.
Off-set: An offset refers to the leading edge of the club head being set back at the level of the neck.
M.O.I: This refers to 'moment of inertia' [2], and forgiving drivers do offer higher MOI levels. In simple terms, high MOI refers to the club head's resistance to twisting around its axis at the moment of impact. This provides more control over the shot and trajectory of the ball flight.
Some of the most popular forgiving drivers include the PING G400 series, TaylorMade M3, and the TaylorMade R11. Each of these is available in various lofts and weights, so you can find a club that works well for your swing style.
As with all golf clubs, it's important to pay attention to the swing path and alignment of your body while swinging the driver. If you're not sure which club will be the best fit for you, ask a pro at your local golf store for help. You can also try different clubs out in advance by hitting balls at the driving range. That way, you'll be able to pick the right club to take on your next round of golf.
Length
The length of your golf driver is generally determined by how far you can reach with the club. As the distance between your shoulder and the end of the club increases, it becomes increasingly difficult to hit the ball. The longer your clubs are, the further you can hit the ball (with increased difficulty to hit the ball properly).
Generally speaking, almost all drivers today sport a shaft length between 45 and 45.75 inches. Some manufacturers have introduced some drivers with shafts longer than 46 inches, but most of those were unsuccessful.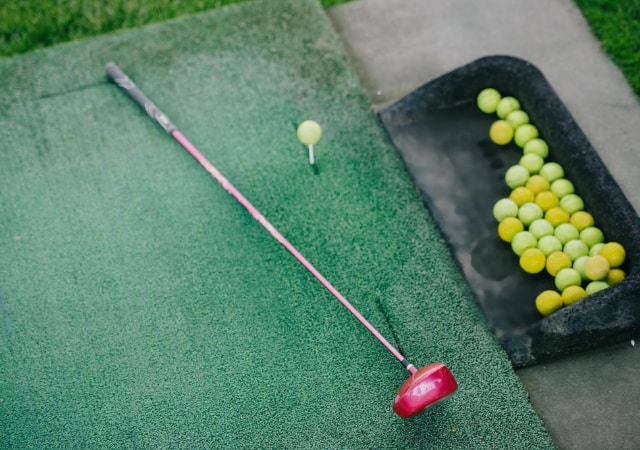 Usually, graphite shafts are a bit longer than steel ones; they are usually around 45 to 46 inches (43 to 45 for steel). The reason is that steel is heavier than graphite, and the additional inch provides more balance to the club.
The maximum allowed length set by governing bodies like the USGA and R&A was 48 inches; that was the maximum length of a driver shaft to be used by professional golfers. However, the rule has been altered to limit the driver length to 46 inches only, starting January 1st, 2022.
Typically, golf drivers have a maximum length of about 60 inches total length. Anything longer than that and you run the risk of hitting the ball too far (or even missing it altogether). If you do decide to go past the recommended maximum length, be sure to check the swing path of the club. The longer your golf driver is, the more open the path should be.
Depending on the player's length, different driver shaft lengths are recommended:
For a player who is shorter than 4'10", the recommended driver shaft length is around 43 inches.
Players 4'10" to 5'0″ tall will need a 44" shaft for their drivers.
If you are between 5'0″ and 5'2″ tall, a 44.5-inch shaft length will suit you better.
Tony Finau [3], one of the tallest PGA Tour professional golfers, with a height of 6'4" is known to use one of the longest drivers with a shaft length of 45 inches.
Adjustability
Adjustable drivers are usually sold with a tool (wrench) that allows you to adjust some of the driver's features easily and fast. Adjustability helps you achieve certain shots or adapt the driver to your swing style or to fix any frequent mis-hits with your swings off the tee. Here are some of the features that can be adjusted:
Face angle and loft: With a little adjustment to the hosel, you can modify the clubhead's loft angle and get straighter shots (with a lower loft) or more curved ones (with a higher loft).
You can also modify the clubface angle thanks to an adjustable hosel; this will allow you to choose from a neutral ( or square) face, a more open or a more closed one.
The square clubface points directly towards the target, while a closed face points slightly to the left (for a right-handed player); an open clubface points to the right of the target.
Driver Weighting: Adjustable weights allow the player to change the center of gravity in order to get issues like slices or hooks under control. They also help you get a higher or lower ball flight.
You can add weight to the front to lower the launch of the ball or to the back to get a higher launch with more distance and carry.
The weight can be added to the toe or the heel of the clubhead, and can also help you perform longer shots through fade or draw bias.
The following is an interesting video (2min.39 sec.) from GOLFTEC that simplifies how the weight distribution system works to fix the swings of even advanced players:
Some drivers offer the possibility to adjust face angle and loft, while others have adjustable weights; Some even offer both possibilities for greater adjustability and a higher level of forgiveness.
Additional Considerations when Choosing a Golf Driver for Your Game
Let's now explore some additional factors that you need to take into consideration while choosing the right golf driver for your game.
Budget vs Expensive Golf Drivers – What Is Better?
The answer to this question really depends on what you're looking for.
If you're looking to make the most out of your golf game, you'll want to invest in a quality golf club. There are a wide variety of different options for clubs, but a driver is the one that's most likely to affect your score.
At the very least, a more expensive driver will be made of better materials, which will guarantee its durability. Moreover, a quality driver uses state-of-the-art composites and metals to maximize speed and distance while keeping the club lightweight.
Another benefit, if you are planning to be part of official competitions, is that the more expensive drivers certainly comply with the USGA regulations concerning length, weight, diameter, etc. So, you get more peace of mind buying a more expensive driver (if it's within your budget, of course).
Also, the more expensive option will probably provide some degree of adjustability and forgiveness; that is, it can be adjusted to fit your swing style and preferences (or needs), or to help you get rid of any annoying habits that you may be struggling with (slices, hooks, etc.).
On the other hand, if you have no issues with your tee shots and need to focus more on improving other aspects of your game (such as shorter shots, putting, chipping, etc.), then investing much more in a driver wouldn't make a lot of sense. You can do with a more affordable model such as the Srixon Golf 2017 Men's Z 756, the TaylorMade Men's RBZ Black, or the MacGregor Golf MACTEC Adjustable Titanium 460cc, among others. These usually provide good performance with an excellent bang for the buck.
So, our advice is to always invest as much money as you can in a quality driver. Even if you don't have any issues, a quality club will be more durable and will serve you for a longer time (even though the most expensive models may cost upwards of 1,000 dollars).
On the other hand, if you are on a tight budget, or you feel that you don't really need the additional benefits and features brought by the pricier drivers, you can still opt for a more budget-friendly club from a reputable brand (Either of the three we mentioned in the previous paragraph will work just fine).
Will a weighted/forged Golf Driver Offer Improved Control?
The use of a forged or weighted golf driver can offer improved control on the course. Forged heads, made from stronger materials, provide greater forgiveness and improved distance. Additionally, they tend to be lighter and more durable.
A driver with movable weights also offers several advantages, including the ability to optimize weight distribution for different shot types and the ability to customize the clubhead's weight according to personal preferences.
However, there are also potential drawbacks to this design, such as decreased effectiveness when the shaft flexes and increased clubhead weight, which can affect control and balance.
It is recommended to consult with a professional or golf instructor to determine the best weight configuration for optimal performance.
Your Level of Expertise
Usually, the most expensive golf drivers (or clubs in general) are designed with professionals in mind. That's why they may not be the easiest drivers to use for beginners. As a matter of fact, they may have a negative impact on a novice or high handicap player.
Pros will benefit more from the most expensive drivers because they help them fix the smallest details of their swing to achieve the fastest shots with the best possible launch angles and longest distances.
Professional golfers (or even experienced ones) know better how to take advantage of all the benefits that a pricey model can add to their game, making it a more reasonable investment.
On the other hand, if you are a beginner who is still learning the basics of the game, investing a lot of money in golf gear that you may not even benefit from won't be the smartest decision to make.
We suggest focusing more on the more forgiving drivers (which are not necessarily the priciest), and as you learn how to hit the ball more consistently with your driver, you can work your way up into the more expensive models.
Do Movable Weights in Drivers Work?
Yes, movable weights do work and can help you fix some issues related to your swing and ball flight. They can even help you fix off-center hits (when there is an off-center contact between the clubhead and ball, resulting in the feeling of the club vibrating or even turning in your hand after impact).
As mentioned earlier: Moving the weights towards the heel of the clubhead creates more draw bias in case you suffer from frequent slices off the tee. Conversely, moving the weights to the front (toe) of the clubhead creates a fade bias that will greatly help you fix hooks.
So, moving weights do provide some advantages to improve your game; you just need to know how to use them properly.
Also, earlier, we provided a video showing how weights can fix your shots off the tee. Here is another, equally interesting, video (7 min. 11 Sec.) from the YouTube channel of AliTaylorGolf that tackles the topic in a little more detail and provides a clear answer at the end:
Accuracy vs. Distance – What Do I need?
When considering purchasing a new golf driver, it is important to determine your priorities between accuracy and distance. Consulting with a professional PGA coach or instructor for a custom fitting may be helpful if you are unsure of your specific needs.
If your primary goal is to achieve maximum distance, a low-spin model of the driver may be the best option as it generates less spin rate, resulting in straighter ball flight.
On the other hand, if control and precision in shot placement are the priority, a driver with a high Moment of Inertia (MOI) or a movable-weight system may be a better choice to modify the flight and spin characteristics of the ball.
How Do I Choose the Best Driver Shaft for My Swing?
Selecting the appropriate driver shaft for your swing can be challenging. One option is to schedule a professional fitting session, where a specialist will help you determine the optimal shaft length, material, and flexibility for your swing. This may require an additional financial investment.
Alternatively, you can also make an informed decision by understanding the various factors that influence your needs and preferences, such as your height, swing speed and personal preferences.
As a general rule, taller golfers need longer driver shafts. The following is a chart that simplifies how to choose a specific shaft length based on how tall you are (Please note that as of 2022, the USGA limited the shaft length for competitions to 46 inches instead of 48):
As for driver shaft flexibility, it is determined using data like your swing speed, ball speed, and even the carry distance, as can be seen in the following chart:
Does a Good Golf Driver Make a Difference?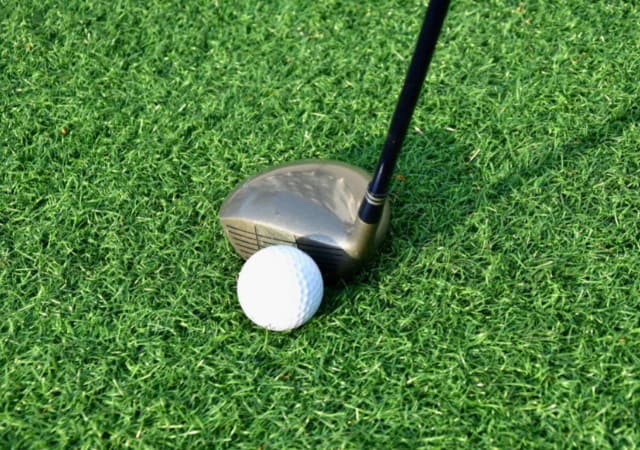 A high-quality golf driver can significantly impact your game. It is crucial to select a driver that suits your individual needs to improve your performance.
The main advantage of a good quality driver is its superior construction and potential for adjustable features, such as adjustable weight settings, which can enhance distance and ball contact.
Additionally, they may be specifically designed to assist in achieving a preferred shot shape, such as a draw or fade.
However, one common issue with many drivers is the lack of feedback during the swing. It can be challenging to determine if a shot was executed well or poorly without proper feedback.
Therefore, it is important to pay attention to the ball and its flight path, as it will provide insights into the quality of the swing.
To improve as a golfer, it is recommended to use a driver that allows you to feel your swing and provides feedback. A driver that is forgiving in its face and sole design can aid in understanding your swing and hitting the ball farther more consistently.
Frequently Asked Questions
After providing our list of the best drivers available for purchase today, based on different criteria, and exploring the benefits of modern drivers with their different properties intended to help you achieve your goals off the tee, now it's time to answer some of the most frequently asked questions that a lot of golfers (of different skill levels) may still have.
Final Thoughts
Our journey through the world of golf drivers has finally come to an end. We tried to cover the topic of the best golf drivers ever made in as much detail as possible.
We believe that anything a golfer may need is available in this same article, as we provided drivers that will help anyone achieve their goals and become a better golfer.
If you still have comments or questions, please don't hesitate to contact us; it will be our pleasure to assist you the best we can.
Now, it's time to choose your favorite golf driver from our extensive list and start practicing!
WRITTEN BY

My name is Jacob, a self-diagnosed equipment and golf enthusiast. I've been golfing since I was 15. Golf has always been my passion. I'm a bit of a golf equipment nerd and I've been that way since the moment I picked up a club for the first time. As someone who's been on both sides of the game, I know what it takes to be a good golfer. Of course, you need good equipment, but you also need to know how to use it. I hope sharing my experience with you will help you improve your game.
You May Also Like