The 10 Best Golf Club Brands As Of 2023
Last updated:
December 14, 2022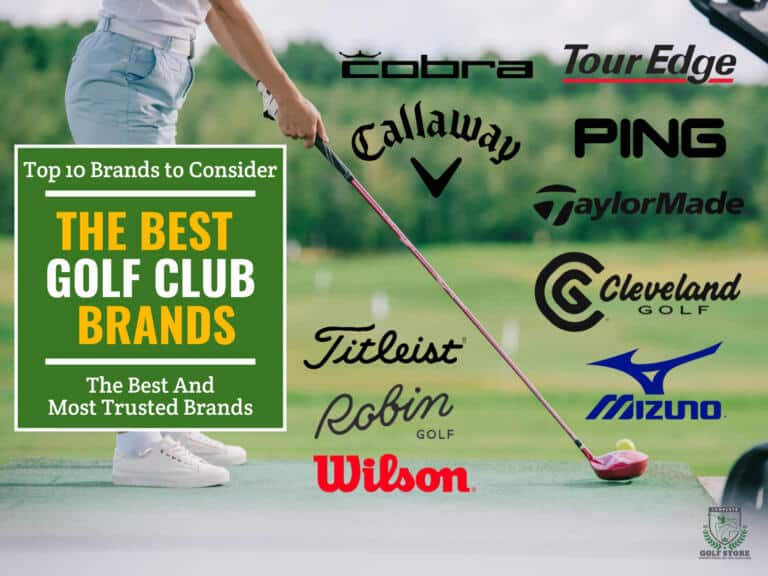 We are supported by our readers and we may earn a small commission when you click on some of the links at no additional cost to you. Our full disclaimer can be found
here
. Thank you.
Key Takeaways
Callaway is topping our list with their bestseller- the Strata complete set; second is Titleist and its T300 iron set. The third spot is taken by Taylormade and the P970.
The rest of the list comprises Tour Edge, Wilson, Ping, Cobra, Mizuno, Cleveland, and Robin Golf. These are the best brands of clubs to choose from, so make sure you check them out!
Golf is a game of control, precision, and consistency. And all of these characteristics are possible to get with the proper golf equipment.
All of the major manufacturers of golf clubs, including TaylorMade, PXG, Titleist, and Callaway, are committed to producing high-quality clubs and accessories for the game of golf. Still, When it comes to purchasing golf clubs, it might be challenging to decide which brand to go for.
This article will help you decide what golf club brands you should consider and their bestsellers to make your decision easier!
10 Best Golf Club Brands
Golfers have strong brand loyalty when it comes to their golf equipment. The more time you spend playing, the more you'll see how particular golf brands correspond to specific player types.
In the following section, we'll be exploring golf brands that are worth considering in your next purchase.
Callaway
Callaway launched in 1982 and had an immediate impact on the golf market with the introduction of its Big Bertha clubs. Callaway is an American company specializing in golf equipment, and it makes some of the best golf club sets on the market today. The company has subsidiaries that produce anything a golfer needs, anything from gloves to shoes, clothes, bags, etc. Name anything needed by a golfer, and Callaway most probably makes it.
Check Also: Callaway Big Bertha B21 Driver Review
Also, anything you buy from this brand is guaranteed to be of premium quality. In 2005, Callaway Golf received the 2005 Torch Award for Marketplace Ethics from the San Diego Better Business Bureau.
One of Callaway's Amazon bestsellers is its Callaway Golf Men's Strata Complete Set. To begin, you receive a significant quantity of equipment for your money. The excellent stand bag includes a driver, 3-wood, 4-hybrid, 5-hybrid, and a set of six irons from 6-SW.
Related: 5-Wood vs 3-Hybrid
The 'ultimate set' includes 11 types of golf clubs, but a nine-piece set is also available for added value.
The stand bag is quite excellent. It's compact, has several pockets, and has a nice club storage area at the top. It is not waterproof, but that is expected in a package priced at this level. It is a pleasant package set that should provide an excellent value for money and a delightful user experience for any new golfer.
The Callaway irons, 3-wood, and drivers are designed with the player in mind and should comfortably last several years. Without a doubt, the putter is somehow dissatisfying, but it is easily replaceable at a reasonable cost.
Callaway is one of the world's largest and most recognized brands of golf clubs, golf balls, and gear. Callaway has released popular models under the Epic and Apex brand names, and its 2022 portfolio will be centered on the Rogue ST. Phil Mickelson, Jon Rahm, Xander Schauffele, and Yani Tseng are Callaway's tour crew.
They have a strong presence on the PGA and European tours, with players such as Phil Mickelson, Xander Schauffele, Francesco Molinari, and Henrik Stenson on their list. Additionally, their professional clubs cater effectively to the mid-high handicap market. Their most current Callaway "Mavrik" line features a "Max" game improvement option with a huge head and exceptional forgiveness.
Check Also: Callaway Rogue ST Max Driver
Every golfer should own a solid set of golf irons at some point in their career to boost their chances of hitting each ball with enough force to land near a hole. Because irons must be smaller and shorter than drivers and feature a steel or iron head with a flat face and numerous grooves, the brand Callaway has been synonymous with that style.
Titleist
Titleist is another leading brand in the golf industry. The company offers high-quality golf clubs that are affordable. It was founded in the 1930s by an amateur golfer, Phil Young. The company's primary focus is on golf clubs and balls.
Titleist's Pro V1 golf balls were innovative and a game-changer in the world of golf. Launched back in 2000 for use on the PGA Tour [1], professional golfer Billy Andrade used them.
The Pro V1 was a huge success, and from then on, it became the most played ball on the PGA Tour and has maintained its position for the past 20 years.
You can buy Titleist products with your eyes closed, as this company emphasizes product quality and customer satisfaction.
Titleist is constantly at the top of the list regarding game improvement irons, best wedges, best drivers, and best putters. Most essential, you must understand this one thing about this brand: Titleist and its irons are beasts when it comes to forgiveness! It's not just the precision supplied by this brand that makes it a must-try; there are a few more things we adore about it as well. Titleist also offers the best playability in terms of precision and accuracy.
The Titleist T300 irons are the spiritual successor to the AP1 and are currently in their second generation. This is the Titleist iron for the golfer who desires Titleist but does not yet have a single-digit handicap or the ability to strike the ball well.
The new T300 irons' technology focuses on the increased tungsten content (40 percent more) and the new Max Impact Technology. Increased tungsten content (and density) results in a greater MOI [2], increased stability, and increased control over the CG (Center of Gravity). Max Impact is designed to increase the club's "mass efficiency."
This translates into a T300 that is forgiving, quick, and long with a high launch. The ball's speed is outstanding, and it maintains a high velocity on mishits. One alteration that we appreciated as a heel striker was the fact that Titleist thinned the face of the long and mid irons in the heel, increasing ball speed.
In recent years, Titleist has developed into a brand that appeals to all levels of golfers. If you're looking for some of the best feel and performance on the market, look no further than Titleist. Due to their commitment to detail, Titleist is renowned for producing the best irons. They frequently work with the best players to develop the most comfortable irons on the market. Recently, they discovered how to impart the same fantastic feel to players with a mid-to-high handicap.
TaylorMade
TaylorMade is a brand that manufactures golf clubs for both men and women. It has been around since 1979, and it has grown into a major player in the golf industry. It was started as a risk-taking adventure by Gary Adams, who had an innovative idea: a 12-degree driver cast of stainless steel.
The club looked like a wooden wood but brought changes that transformed golf forever: It sounded different but also performed differently and provided much more forgiveness. At the same time, its lower center of gravity made it easier to launch the ball in the air.
The company started believing that golf products must enable golfers of all skill levels to reach their full potential by making the best quality products. A belief that is still part of TaylorMade's philosophy today!
Given the caliber of players who use TaylorMade equipment, it's unsurprising that the brand produces some of the greatest golf clubs available, from drivers to putters. Nor is it unexpected that, considering the brand's popularity, TaylorMade produces some of the industry's top golf irons for every type and level of player. You can read our review of TaylorMade's Stealth Drivers to see just how great their clubs are.
TaylorMade would unquestionably be on the Mount Rushmore of golf clubs. Their presence is felt at all levels of the game, from local courses to major championships, and their clubs are among the most often used on tour, including by Tiger Woods himself. Each club type has been created to optimize its specialized function for increased performance and precision, such as the SIM2 series, which has lightweight aluminum drivers for optimum distance off the tee and carbon steel [3], polymer-blend P7 irons for unmatched fairway accuracy.
The TaylorMade's P790 irons will appeal to a wide variety of golfers. They provide an excellent balance of distance and forgiveness in a small package. The Speed Pocket in the clubhead contributes to improved forgiveness and consistency, while the SpeedFoam dampens vibration, producing a distinctive sound and feel at contact.
The results are astounding, as the balls regularly fly long and straight. The addition of tungsten weighting, as well as the inverted cone face, contributes to forgiveness.
The ball accelerates off the face of these irons, as one would anticipate from a hollow club, and we appreciate the slimline compact design. Additionally, you can make it look sleeker by opting for the P790 Black edition, which is extremely lovely. In general, it's a solid performer that will accommodate a wide variety of handicaps.
They're designed exclusively to provide a premium feel without adding unnecessary weight to your golfer's bag. This essentially high-quality brand is also reasonably priced, which means you can add it to your golf inventory without blowing your budget.
If you're looking for a high-quality golf club that's also reasonably priced, TaylorMade is your best bet. This brand is one of the most well-known in golf, and it was designed with both beginners and pros in mind! You're going to adore this company's high-quality products and outstanding customer service.
Maintaining the forgiveness, it's challenging to find a pair of irons that can compete with TaylorMade's Sim Max irons when it comes to being forgiving on off-center hits. We recommend TaylorMade regardless of whether you're a beginner, intermediate, or advanced golfer, and they're a top option for this year's best golf club brands.
Tour Edge
Tour Edge was founded in 1987 by former professional golfer David Glod. He believed that there was a chance to provide high-quality and technologically advanced products in the golf industry that could be cutting-edge and affordable at the same time.
Since the company was founded, it has made excellent products that have been used in all professional tournaments around the world. A lot of players using Tour Edge's products have won dozens of tournaments. Some of the company's biggest and most popular brand names include the Exotics golf club series, the Hot Launch club series, and the Get In The Game products.
Despite its lack of popularity in comparison to Callaway and TaylorMade, Tour Edge has participated in a number of events. It was a member of several professional golf tours, including the PGA Tour, PGA Tour Champions, and LPGA Tour.
Late last year, Tour Edge set a record for the most clubs used by pros at a PGA Tour event, 41 in total. This type of achievement establishes their clubs as some of the best performers in the game, even at the highest levels. To meet that standard, they used premium materials such as titanium, carbon fiber, and stainless steel and advanced layering and even sound diffusion technologies in their 'Exotics series.'
The Tour Edge Exotics E722 driver features a forged crown that is extremely thin and lightweight. Meanwhile, the sole features a 30-gram weight which increases the distance of your shot.
The Tour Edge Exotics E722 driver was created to provide players with the maximum playability and forgiveness possible. A low, deep center of gravity is critical to that performance, which is enabled by a lightweight carbon fiber crown and a 30-gram fixed weight on the back of the sole. This combination results in an extremely high MOI, resulting in more accurate golf shots regardless of hit position.
However, do not assume the E722 driver is a one-trick pony.
While forgiveness is unquestionably a notable feature, this driver also delivers on ball speed. Tour Edge's Diamond Face VFT clubface design incorporates 61 diamond-shaped pieces of varying thickness. Tour Edge claims that the diamonds operate as little trampolines, delivering consistent ball velocity across the clubface.
Tour Edge also worked hard to improve the E722 driver's sound and feel by incorporating an internal ribbing system that diffuses sound during impact.
At any given time, a model will be created for the player who requires forgiveness and another for the person who desires the 'feel'. Although this is a modest firm in comparison to more prominent golf brands, they provide extremely high-quality products.
The ability to modify the configuration on Tour Edge golf clubs is one of its best advantages. Golf irons and drivers made to order can be quite costly. However, the Tour Edge brand excels at providing personalized iron sets at a reasonable price. Tour Edge is the right pick if you want cutting-edge technology at a competitive pricing point with the rest of the golf industry.
If you are still undecided about purchasing this product, one more factor that may sway your decision is the manufacturer's lifetime warranty. The latter displays their confidence in the product's quality. Additionally, they provide a 30-day play guarantee.
Wilson
Wilson is another famous brand that specializes in producing golf clubs. It has been around for decades, and it currently holds the title of being the largest golf club maker in the world.
The Wilson Staff golf department was created in 1914, following Walter Hagen's ascension to prominence as a sporting figure in the United States. Following his victory at the US Open, there was an inherent demand for a significant golf brand in the US market.
The company makes quality products and sporting goods for almost all sports, but the division specializing in golf is called 'Wilson Staff'. It manufactures different golf equipment, clothing, and accessories under the Wilson Staff, Wilson Pro, and Ultra brands.
Many golf tour professionals have been using Wilson's golf equipment. The most current of these include British Open and PGA champion Pádraig Harrington and U.S Open champion Gary Woodland.
Wilson's D9 driver is one of the most forgiving options available to golfers aiming to improve their consistency off the tee. It performs exceptionally well with off-center shots and effortlessly launches the ball high, assisting recreational players in finding more fairways and increasing their carry numbers. One of the reasons the D9 is so forgiving is that it features a lightweight crown made of carbon fiber and Kevlar [4].
This lightweight crown allowed engineers to relocate the center of gravity lower and deeper in the head, improving stability after impact.
The D9 is also competitive in terms of ball speed, as its titanium clubface was created with particular fractal zones to aid in optimizing ball speed across the face.
Golfers should be informed that the D9 driver is a bonded hosel design, so the face and lie angle cannot be altered. There are three loft options available: 9, 10.5, and 13. Additionally, an adjustable weight in the sole allows players to fine-tune their launch and spin characteristics.
Along with entire sets, Wilson produces some excellent fairway woods, drivers, and even iron sets. If you're looking for a putter that looks and performs like the top brands at a fraction of the price, Wilson's offerings will provide it. If you're new to golf and don't want to spend a fortune on your first set of clubs, Wilson is a great option. Wilson's Deep Red is an excellent set of golf clubs for golfers on a budget.
Ping
Ping is yet another popular American golf club and equipment brand. It's been around for many years, and it continues to grow in popularity every year.
The company was founded by Karsten Solheim, who started to make golf clubs in his garage in 1959 but then decided to resign from his job as an engineer at General Electric Company and devote his time to creating the Ping company in 1967.
Ping's first major product was a special putter to address issues faced by golfers while putting. The product was named 'Anser'. In the beginning, Ping's revolutionary products were banned from use in competitions by the USGA (except the 'anser' putters). They were believed to provide an unfair advantage because of a slight curve under the grip. Acceptance of the Ping products and a rise in popularity came after golfer Julius Boros won the PGA Tour's Phoenix open using the 'anser' putter early in 1967.
The Ping G425 irons feature variable face thickness, increasing ball speed and setting the standard for technology. Outstanding performance on all fronts, premium compact design, and a soft feel is enticing elements in gaming improvement.
Ping introduced variable thickness into the face design and production of the G425 irons, drawing inspiration from their metal-woods technology. The face is made of 17-4 stainless steel (martensitic precipitation hardened alloy with high tensile strength for you tech geeks), and according to PING, it "delivers the quickest ball speed ever in the G-Series."
Due to the somewhat smaller head size of the PING G425 irons, the perimeter weighting was increased for more forgiveness.
You'll discover that Ping produces some of the most stylish clubs on the market, which is advantageous for novices who want to start with something more fashionable. Ping is an excellent golf brand for intermediate and expert players looking for affordable yet high-quality golf equipment. Both the Ping Fairway woods and Ping Irons series are popular. If you're looking for a golf club that's both dependable and inexpensive, look no further!
Cobra
Cobra Golf is a company that specialized in making golf equipment, especially clubs. The company was founded back in 1973 by Thomas L. Crow. It is based in California and is currently a subsidiary of popular sporting goods manufacturer Puma (since 2010).
Cobra Golf produced one of the first utility clubs (hybrids), back in 1980 long before the use of these clubs became popular. Some of the company's most popular products include the King Cobra Oversized irons (1994) and their Dista Golf Balls. Both products were best sellers in their categories.
Previously known as the brand of forgiveness, Cobra is rebranding to become synonymous with speed. Another fantastic aspect of the Cobra brand is its commitment to tracking your personal golf game. You can monitor your progress and observe where your golf game is headed with the Cobra Connect Technology. If your handicap is increasing or decreasing, you'll have a good sense of what's causing it. Having this level of insight and knowledge about your game enables you to get a jump start on improving.
The autoclave system enabled graphite shafts to be strengthened through a compression-curing process, which aided Crow's already successful career as a golf club designer, culminating in the brand's acquisition by none other than Puma in 2010. Now, with their current Radspeed series, which incorporates materials such as maraging steel and carbon fiber, as well as construction techniques such as 3D printing and weighted heads, you can expect a lightweight sensation during the swing, resulting in accurate, controlled shots.
You May Also Like: Cobra Fly XL Golf Set
Cobra Golf has evolved significantly throughout the years. Greg Norman (who is still an ambassador) popularized the brand, which also had a driver in Tiger Woods' bag for his 1997 Masters victory. Cobra has risen to prominence as one of the top golf companies today as a result of players such as Bryson DeChambeau, Rickie Fowler, and Lexi Thompson, all of whom utilize Cobra equipment.
The LS in the Cobra LTDx moniker means for low spin, and as such, this driver is focused firmly on golfers with a higher swing speed who want to maintain control of their flight and shape. This is a conventional design with a sleek look that lays behind the ball.
As one might expect, the LTDx LS was the slowest spinning of the three new Cobra LTX heads. While we gained three yards in the air with the normal head, the LS version's lower flight actually added one yard to the overall distance.
There is a lot to like about the Cobra LTDx LS driver, and the controlled flight is the obvious performance improvement for any faster swinging player.
Rickie Fowler is the face of Cobra-Puma golf, one of the most exciting companies in professional golf. Ian Poulter recently left the vibrant, bright, and edgy company. However, with Fowler and Lexi Thompson on its list, Cobra-Puma has a stranglehold on some of the world's most marketable young players.
Cobra manufactures clubs for some of golf's greats, but they haven't forgotten about the everyday golfer, designing equipment using cutting-edge 3D printing technology [5] to accommodate golfers of all abilities. As a result, Cobra is one of the most respected names in the industry when it comes to game improvement.
Mizuno
Mizuno, founded in 1906 in Osaka, Japan, has long been known for manufacturing the game's greatest irons, delivering players the ultimate balance of looks, feel, and workability.
Mizuno golf clubs are frequently regarded as the superior player's golf brand. Mizuno earns the title of "better players club" since each of the clubs has a unique vibe.
This indicates that it will perform well when the ball is struck correctly. When you miss a shot slightly, the Mizuno iron will provide you with the feedback you need to correct your error.
Mizuno golf iron blades have long been regarded as the industry's best. The blade type is extremely thin and accurate, giving the golfer complete control over their shots. Mizuno has taken this blade design into a game-improvement club with their newest iron releases.
Mizuno is hardly a household name on the PGA Tour. The irons specialist's roster has only former world No. 1 Luke Donald from the OWGR's top 50. Nonetheless, the company is well-known for producing some of the finest forged irons and is well-established globally.
The JPX921 Forged iron incorporates the strength of Chromoly into a full-body forged iron. Initially used in Mizuno's Hot Metal irons, Chromoly has successfully transitioned to Mizuno's forgings.
Further perimeter weighting combined with toe bias generates a Stability Frame that maximizes the results of off-center blows, while a 6.4 percent wider CNC back milled slot adds additional stability. Despite this, the JPX921 Forged irons have a more compact profile thanks to a shorter blade length throughout, a beveled training edge, and a lower offset. The JPX921 Forged has the feel of a classic forged iron throughout the set.
Given its outstanding performance and stylish style, the JPX 921 Forged is now one of the best compact mid-handicap irons money can buy.
Mizuno is a brand known for its famous craftsmanship in a multitude of sports, and its golf equipment is no exception. Mizuno has been producing some of the best golf irons for decades, consistently winning tournaments on the PGA Tour and establishing a reputation for soft-feeling, attractive pieces of equipment. There is a reason that the slogan 'nothing feels like a Mizuno' is so closely associated with the company's irons.
Cleveland
Cleveland, named after club designer Roger Cleveland, began by producing copies of clubs from the 1940s and 1950s under the moniker 'Cleveland Classics.' They eventually developed their own clubs and were well-known for their wedges and woods, particularly their 'Launcher series,' which were finally spotted by pros and utilized on the circuit. Today, they are among the providers of the most reasonably priced ranges of clubs that consistently deliver on performance and quality. Their clubs, which incorporate the newest technological advancements and are fashioned from some of the strongest and lightest materials available, instill confidence in the course.
Cleveland Golf is a go-to source for the world's top tour professionals with a long history of innovation and technological leadership in the golf equipment industry.
Cleveland Golf is the preferred short game provider for a number of professional golfers, including Brooks Koepka, Hideki Matsuyama, Shane Lowry, Ernie Els, and others.
Cleveland's Launcher UHX irons combine hollow-cavity long irons with cavity-back short irons to deliver ball speed and accuracy in a package that appeals to mid to high handicappers. Although the Launcher UHX is rated as a fantastic game enhancement in ClubTest, there is no reason why it couldn't fit a weekend golfer with a 15-handicap looking for additional forgiveness.
Hollow long irons with a changeable steel face insert are followed by short irons that emphasize precision and control. The iron's v-shaped sole prevents it from sinking into the turf upon impact, while Tour Zip grooves provide the control and spin often found on the company's wedges.
The Launcher UHX is placed near the top of a number of critical performance areas, including ball speed, carry distance, accuracy, and forgiveness. Furthermore, did we not state that it was a popular choice during player testing? The iron had one of the best all-around performances.
Perhaps one of the lesser-known manufacturers on the golf market, Cleveland has a reputation for creating durable clubs that perform well for everyone, from PGA Tour professionals to amateurs picking up their first golf club.
Cleveland wedges rank among the all-time greats of golf history. Cleveland Golf is the only brand that produces as many wedges for as many different player types. Cleveland enables the ordinary golfer to feel better in control of their short game.
Not only does Cleveland create the best wedges, but they also make some exceptional iron, hybrid, and driver alternatives. They are well-known for their hybrid irons (learn more about hybrid golf clubs here), which have provided years of enjoyment to older golfers.
Robin Golf
Robin Golf may not be a big name among golf enthusiasts, but if you're searching for a set of beginner's clubs that caters to the demands of high handicappers, this set is a must-have. Robin Andrew and Ali Marler, along with Andrew's brother, Peter, manufacture golf clubs. Andrew played golf in college at Binghamton University and used his knowledge of the game to develop some of the best beginner golf clubs on the market in the United States.
The Robin Golf Essentials, with its mid-grade design elements, is best suited for novice and intermediate players. However, intermediate and mid-handicap golfers may be able to get the most out of the Robin Essentials set of golf clubs.
All of the clubs in this set have a low center of gravity (CG [6]) and are very forgiving, making them ideal for novices. When it comes to teaching newcomers how to use the irons, this method works especially well. A broad sweet spot thanks to the offset of the long blades will help novices and high handicappers improve their accuracy.
Robin Golf clubs are rated as Super Game Improvement, which indicates they're forgiving, easy to hit, and capable of lofting the ball. If you have less than a ten handicap, these are probably not the clubs for you.
Robin Golf's mission is to introduce individuals to the sport for the first time, and their game improvement clubs are produced to a very high standard, making them suitable for all levels of recreational golfers.
All Robin clubs feature a beautiful matte-black finish that makes them visually stunning, and they are constructed to the same exacting standards as the industry's leading brands.
There's no excuse to not get your first set of golf clubs from Robin Golf, a family-owned business that specializes in manufacturing the best and most affordable clubs for kids and beginners.
Conclusion
If you're in the market for a new iron set, driver, or even putter, you've probably noticed rows and rows of clubs in your local golf shop. It can be challenging to decide what to buy. Choosing a trusted name from a respected company, on the other hand, ensures quality, not to mention the possibility of shaving a few strokes off your scorecard.
We hope we covered everything you need to know about the best golf club brands. For further queries, you may get in touch with us or leave a comment below.
As always, may the fores be with you!
WRITTEN BY

My name is Jacob, a self-diagnosed equipment and golf enthusiast. I've been golfing since I was 15. Golf has always been my passion. I'm a bit of a golf equipment nerd and I've been that way since the moment I picked up a club for the first time. As someone who's been on both sides of the game, I know what it takes to be a good golfer. Of course, you need good equipment, but you also need to know how to use it. I hope sharing my experience with you will help you improve your game.
You May Also Like