The 10 Best Callaway Irons Ever - 2023 - Reviews and Buyer Guide
Last updated:
January 12, 2023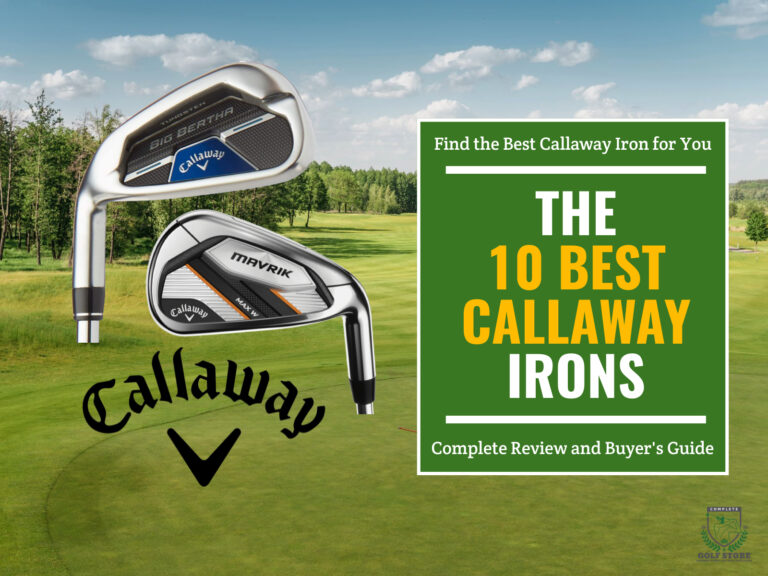 We are supported by our readers and we may earn a small commission when you click on some of the links at no additional cost to you. Our full disclaimer can be found
here
. Thank you.
Key Takeaways
After thorough testing, we found the Rogue ST Max Iron to deserve the top position on our list as the best for game improvement, immediately followed by the Mavrik Max Irons in positions 2 and 3. The Rogue Irons are fourth and fifth on our list. Other popular Callaway irons, such as the Big Bertha and Apex also made it to our top 10.
Callaway is a brand that came into being in 1982 by Ely Callaway. Since that date, the team has developed pleasingly different and demonstrably superior golf products, particularly golf Irons. The clubs gained immediate attention and became everyone's favorite.
Callaway is one of the companies favored by pro golfers like the Spanish national Jon Rahm and his countrymate Carlota Ciganda, Phil Mickelson from the United States, and his countrymate Xander Schauffele.
Being a buyer's guide for the Best Callaway Irons in 2023, this article will provide you with a categorized overview of the current range of Callaway Irons before listing them down and reviewing them.
Categorized Overview:
It's like reading the instructions menu before opening up a Lego pack. Jokes aside, we advise you to read up on the categorized overview of the best Callaway Irons in the year 2023 before reading an in-depth review.
Please note that, in this overview, we recommend other options that are not on our list, but we still think they are worth your attention; we limited this list to 10 recommendations to make this guide short and sweet.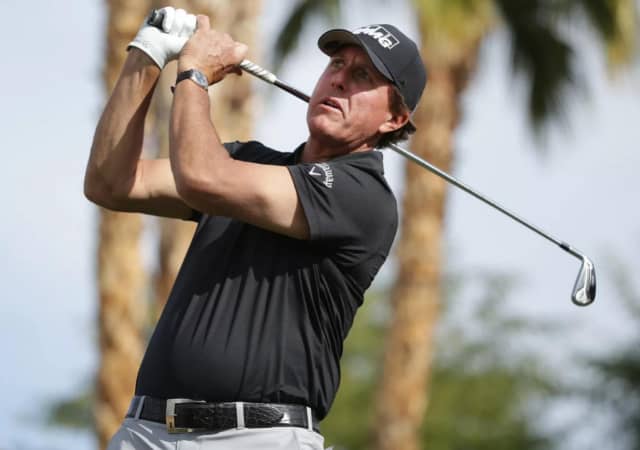 For Beginners:
Beginners do find difficulty in launching and landing a golf ball. After testing, we found out the Callaway Big Bertha B21 Irons as the best game improvement clubs. With its wide sole, greater offset, and a really big head they're a bounty from paradise for high handicappers and beginners.
The Mavrik Max can also find a place here due to its forgiving property. For a beginner or amateur player, Big Bertha B21 is unmatched.
For Mid-Handicappers:
In between the two extremes, Callaway Standard Mavrik Irons are well suited for the average/mid-handicappers.
They do produce longer distances with faster ball speed and are definitely more forgiving than the Callaway Mavrik Max Irons.
For Pro Players:
Mavrik Pro is the best fit for Pro players. It gives controlled distance and workability. It's for the players who can control the nerve game. It's not as easy to hit as other Mavriks. You have to trust your ability to hit your ball to the exact yards.
There are some more in the line with forged bodies like Callaway Apex MB and X forged CB which we advise being looked at by those who strike the ball better.
The 10 Best Callaway Irons
So, after an overview and a brief on major features to look for while getting an Iron, let's now dig deeper for the best Callaway Irons of 2023. There is always one Callaway for every level of golfer. These detailed reviews will tell you the features, Pros, and Cons of the top ten Clubs by the company chosen by professionals.
#1 - Rogue ST Max Iron
A forgiving golf driver with a well-built solid titanium body.
Rogue ST Max is one of the favorite Irons for a beginner or a golfer who needs more forgiveness. It will definitely help in the game improvement.
The speedy shots possible due to the Tungsten speed cartridge and high MOI are two of the great pro-like features. The titanium unibody provides stability to the club. The center of gravity is programmed towards the heel for more forgiveness.
Pros
Being a game improvement Iron can correct an off-center shot.
The A.I. Technology optimization aids in better shots for even beginners.
It's a highly forgiving club due to its perfect placement of the CG.
Cons
Its head cover looks cheap and not up to the mark for a golfer with aesthetic sense.
It's not a player's iron.
So, here Callaway comes forward to help beginners play with a club having properties of both Irons and blades. The feel will make you confident to play and learn new techniques on the course.
Best for Game Improvement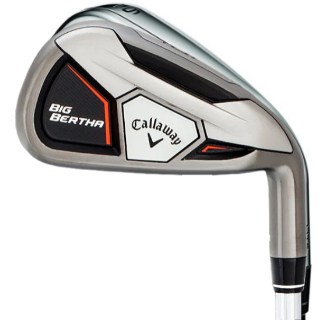 Callaway Rogue ST Max Iron
Great for correcting off-center shots with the benefit of a the stability of a titanium unibody.
#2 - Mavrik Max W Iron
Lightweight body that can deliver high ball flight.
As the pioneer in Artificial Intelligence technology, the Callaway Mavrik Max W iron has been introduced with a specially designed face that lowers the spin of the ball.
The Tungsten infusion in its head allows the center of gravity to stay in the perfect place while Urethane microspheres add in the feel and feedback.
Pros
Higher ball flight.
Highly forgiving and a distance club.
A.I Flash Face aids in faster ball speed- perfect for pro golfers.
The optimal launch is the result of Tungsten weightings present.
Cons
The higher spin rate with lower ball speed makes it a not-for-pro
It's pricey when compared to other similar clubs.
The premium components used in the manufacturing and its lightweight structure make it a must-have in a woman golfer's golf bag.
Best For Women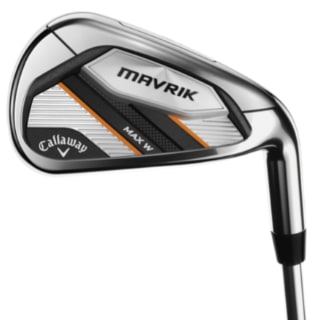 Callaway Mavrik Max W Individual Iron
Its club head that is made of Tungsten and with Urethane microspheres for a lower ball spin.
#3 - Mavrik Max Iron
Alloy Steel body with A.I technology makes this club great for professionals.
By including exciting features in their golf equipment, Callaway has taken the market by storm. Callaway Mavrik Individual is one such example.
Its main manufacturing material is Alloy Steel and it has Urethane microspheres in Its structure. With the novel use of A.I. technology, this club is proving as one favorite Irons of pro players.
Pros
It provides great distance coverage.
Higher Ball speed.
Less spinning.
Less vibration during the play because of urethane microspheres.
Cons
The strong lofts make it a big no for beginners.
This number 7 Iron with a strong 27 loft is the longest and the most powerful one. The cherry on the top is that it is also a game improvement club.
We definitely would recommend it as a must-have in your golf bag, even if it is a bit heavier on the pocket but every single penny is worth it if you get the Mavrik.
Best For Game Improvement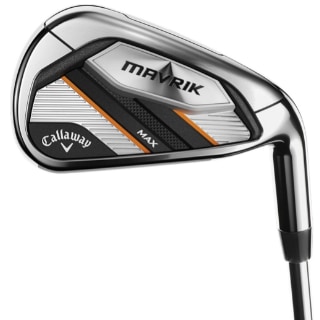 Callaway Mavrik Max Iron
This club is longer and great for achieving greater ball speeds and distance coverage.
#4 - Rogue X Iron
Made with VFT technology and 360cc Face Cup for a better playing experience.
It's one of the perfect clubs for left-handed players. Having the CG centered in the head helps in the controlled launch and flight of the ball. The innovative VFT technology with the 360cc Face Cup is what makes it an outstanding product.
The multi-material architecture is another feather in the cap. Its shaft is made out of 60G synergy while the urethane filling is equally distributed in the head and the grip.
Pros
No trace of unwanted vibration.
A forgiving club.
For a perfectly launched and landed shot.
Cons
Not for high handicappers.
Left biased due to the offset.
If you like to play longer and stronger shots, then this Callaway Iron is a must-buy for you. It's lightweight and lengthier to help with feel and ball flight.
Best For Left-Handed Players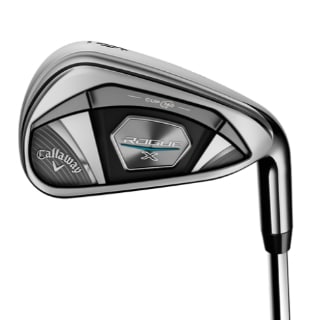 Callaway Rogue X Iron
This multi-material club lessens vibrations for longer and stronger shots.
#5 - Callaway X Hot Iron Set
Tungsten weights provides better center of gravity for more controlled shots.
Ever heard of the saying "Old but gold" before? I have the feeling this is exactly what this amazing iron set is: an older set that is more affordable than newer ones but still gives them a run for their money.
Callaway advertises the X Hot as long, forgiving and fast; and I'd add affordable to the mix. The center of gravity is repositioned so low thanks to the undercut cavity back, and the clubface flexibility helps achieve higher launch, more speed, longer carry distance, and easier control, even for beginners and high handicappers.
According to Callaway, the undercut cavity back design in the frame construction can increase your ball speed by as much as 3 MPH. However, I have to admit that the increase in our tests was much lower - around 1 MPH. That's an improvement, nonetheless.
Another nice feature is the wider sole design, which helps with turf interaction. The clubs just glide through the turf, regardless of the lie.
Pros
Very affordable iron set
The improvements claimed by Callaway are there
Speed, distance and forgiveness - the best combination for high-handicappers.
I like the clean design of the clubs.
Cons
The clubs' high launch can be a double-sided sword. It may cause some players to balloon their shots and lose distance.
The Callaway X Hot is a fantastic set that is more suited for beginners and high handicappers, thanks to its forgiveness. You will get all the game-improvement features you need while spending a few hundred bucks less than other "newer" sets.
Best For Faster Ball Speeds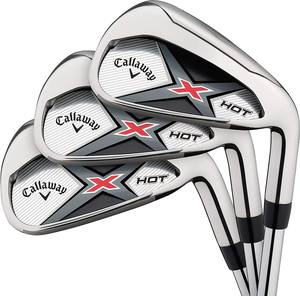 Callaway X Hot Iron Set
A truly forgiving golf club that delivers faster ball speeds and less vibration upon impact.
#6 - Big Bertha B21 Iron
Equipped with the A.I Flash Face SS21 Cup that flexes upon ball impact.
It won't be an exaggeration if Callaway's Big Bertha B21 is said to be one factor in the rebirth of the brand. Every golfer or almost 90% of the pro golfers has had a Big Bertha at one time or another. It's one of the biggest game improvement irons.
The signature Big Bertha style of wider soles allows for better turf interaction, a perfect launch, and covers a longer distance. It is incorporated with the unmatched A.I. Flash Face SS21 Cup which releases and flexes at impact.
Pros
Higher yet controlled ball speed.
More forgiving than any other Callaway iron.
Best buy for beginners.
Cons
Expensive club.
Its offset feature is least liked by the players who suffer from hooks.
If you want an aesthetically pleasing club, Big Bertha B21 won't appeal to you for its shovel-like appearance.
The bottom line is if you like maximum forgiveness in your game, Big Bertha B21 is the best buy for you.
You May Also Like: Callaway Big Bertha B21 Driver Review
Best For Beginners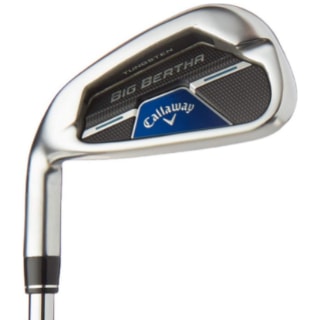 Callaway Big Bertha B21 Iron
This club provides its user with the most forgiving shots with its well-developed club face.
#7 - Women's Big Bertha REVA Irons
A deeper center of gravity placement to help launch the ball higher.
Big Berthas are for golfers who want a traditional look and feel.
The extraordinary features of the Big Bertha REVA Irons made it a favorite, especially for high handicapper ladies.
The traditional appearance and shape followed by a classic black matt finish are what its chooser love.
Available in three lofts – 3, 4, and 5 degrees, each iron in your set serves a unique purpose.
Talking of more features, the presence of two chambers for the adjustments in the center of gravity which allow for controlled launch and shot, are eye-catching properties.
The A.I. designed face features a Flash Face Cup that helps you get the ball airborne. The deeper center of gravity placement helps launch the ball higher. The tungsten energy core ensures consistency from iron to iron.
Callaway's goal is to provide optimal playability on every shot.
Pros
A more forgiving club as compared to others in the line.
Love of high handicappers being a short-length Iron.
Cons
Noise at the time of impact.
Pro golfers don't like the feedback and feel.
Props to Callaway for committing resources and finances to grow the ladies' game. If they're earnest in that plan, we'll likely see more from them soon. Golf has a long way to go to support the women who play golf, and this is just the beginning.
Also great For Women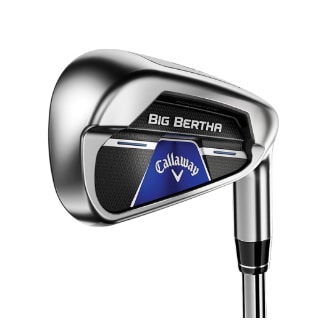 Women's Big Bertha REVA Irons
For the first time, a women's Big Bertha iron offers an A.I. designed Flash Facecup. As with the men's lineup, each loft has a different face design.
#8 - Apex Iron
Lightweight golf club great for players who take off-center shots.
We gave the Apex Individual a place in-between categories of Pro players and the mid-handicappers.
It is the first forged Iron by Callaway. A special lightweight 1025 steel is used in its forgery. Apex 21 has a thinner topline and a minimal offset.
With the exceptional A.I. technology, it aims to deliver high-level performance. Players who tend to play off-center shots are given an edge of playing a better game. The Tungsten Energy Core does its job very well.
Pros
Provides a high degree of forgiveness.
Outstanding feel and sound.
Deep Cavity back.
Best for beginners.
Cons
Too forgiving for a pro player.
On the pricier side.
Golfers call it an all-around club due to its efficient features of greater distances, forgiveness, and stylish looks. It helps in the increased stability and consistency of the ball speed.
Xander Schauffele's verdict on Apex Individual Iron will be the proof of its efficiency:
"This is what you want in a forged iron. Everything from the performance to the feel, launch, and control is so dialed in. It's that good."
So, don't listen to us, take the words of this golf champ as the final verdict and get your Apex Individual Iron.
Best For Mid-handicappers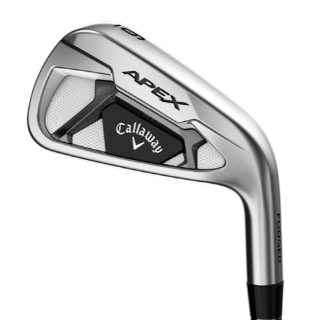 Callaway Apex Iron
Deep cavity back that produces a great sound and feel.
#9 - Apex Smoke Iron
Mild carbon steel body with great aesthetic design.
This forged beast is a blessing for right-handed people and a choice of tour players. This uniquely smoke-colored club with an extremely soft 1025 mild carbon steel body and a new Smoke true temper Elevate 95 shaft has its fair share in the list of best Callaway Irons.
Pros
Exciting performance on the turf.
Strong lofts for tour players.
Urethane microspheres enable swift and vibration-free shots.
Cons
Not desirable for distance shots.
Expensive for beginners.
Out of 20 stars in the Golf Digest hot list, the Apex Smoke earned 20 stars for its outstanding performance.
If you are looking for a club with the best performing rate and an immaculate design, Apex Smoke is definitely for you. The standard Iron set would be for Pro players and the combo sets will be for average golfers or mid handicappers.
Best For Tour Players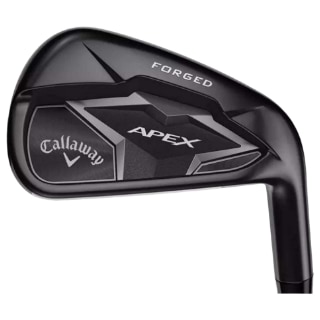 Callaway Apex Smoke Iron
This club performs great on the course with its great build and design.
#10 - Rogue ST Pro Iron
State-of-the-art technology design that can launch a ball at a longer distance and faster ball flight.
A powerful and fantastic club in terms of gaining more distance. Callaway, in the Rogue ST Pro Individual Iron, has combined all the ever-wanted traits into a must-have club. If said to be a rival to the Apex, it won't be an exaggeration.
It is manufactured with the Lethal combination of state-of-the-art technology, VFT, and 360 cc Face Cup. The face area is bounded by a flexible rim that allows steady launch and ball flight.
The A.I. face optimization is unique for every model. Due to this feature, the spin rate is consistent across the face followed by a perfect shot from tee to green.
Pros
It is proven to be a better choice for left-handers.
It covers a longer distance as compared to others.
Speedy ball flight enabled.
Cons
Less feel.
Loud sound at impact.
If you fall under the category of low to mid handicappers, the Rogue ST Pro is the club for you.
Its hollow body design enables the feel of a player's iron while the forgiving ability and great distance coverage are what a mid-handicapper would prefer.
Best For Low to Mid Handicappers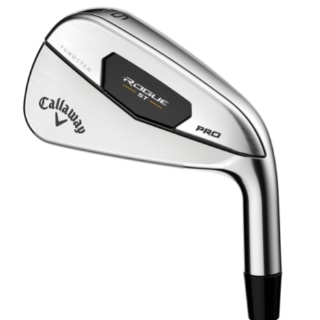 Callaway Rogue ST Pro Iron
This club is great for professionals with its advanced technological design. It also works well for left-handed golfers.
Buyer's Guide: Things to Consider When Purchasing Callaway Irons
Here are some major features you should look out for while buying an Iron: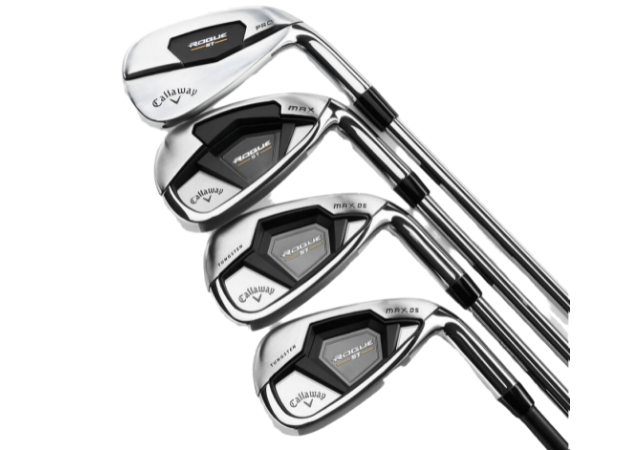 Center of Gravity: Deep or Shallow?
This feature, or as abbreviated CG is definitely one of the most important properties to look out for in a club that would help you perform better on the course.
Clubs with a deep center of gravity make the ball fly higher and keep the spin lower. You should choose the Iron whose CG is toward the bottom of the head.
Shaft: Steel vs. Graphite:
Choosing one of the above is totally dependent on one's priorities. A golfer who likes to keep the feel of the game tends to choose clubs with steel shafts. They are heavier than the graphite ones weighing around 90g to 120g.
On the other hand, the clubs with graphite shafts are lighter in weight but heavier on the pocket. Their low weight helps in powerful shots.
Here's a video (11 minutes 27 seconds) from James Robinson Golf explaining the difference between steel and graphite shafts for golf clubs.
Iron Type: Forged or Cast?
The forging procedure of a club is an expensive one. A single block of metal when forged into a club makes it a less forgiving Iron and less favorable for high handicappers.
On the other hand, molten metal when poured into a mold gives us the cast iron club as a result. Cast iron clubs are the choice of beginners or weekend players for their forgiveness.
Back: Blade or Cavity?
As the name suggests, Cavity backs have a cavity at their back which makes them more forgiving and a choice of many beginner golfers to high handicappers.
Blade backs are mostly used by tour players. They are less forgiving and don't tolerate any swing mistakes, mishits, or off-center strikes.
Here's an informative video (10 minutes 45 seconds) from Peter Finch Golf where the differences between blade and cavity back irons are explained.
Final Thoughts
Other than listing down the best Callaway Irons this year, we have also added some more important headings and a categorized overview to have a look at before buying a Callaway club.
We know choosing one Iron from the above list will be challenging since every other club is extraordinary in comparison to the other. It all depends on one's priorities to either choose the appearance, the performance, or both. But that's for sure, using Callaway will never be a poor decision for you.
Please let us know in the comments or contact us if you have any questions. Happy golfing!
You May Also Like