The 10 Best Golf Balls for Distance - Test-Based Reviews & Buyer Guide
Last updated:
July 10, 2023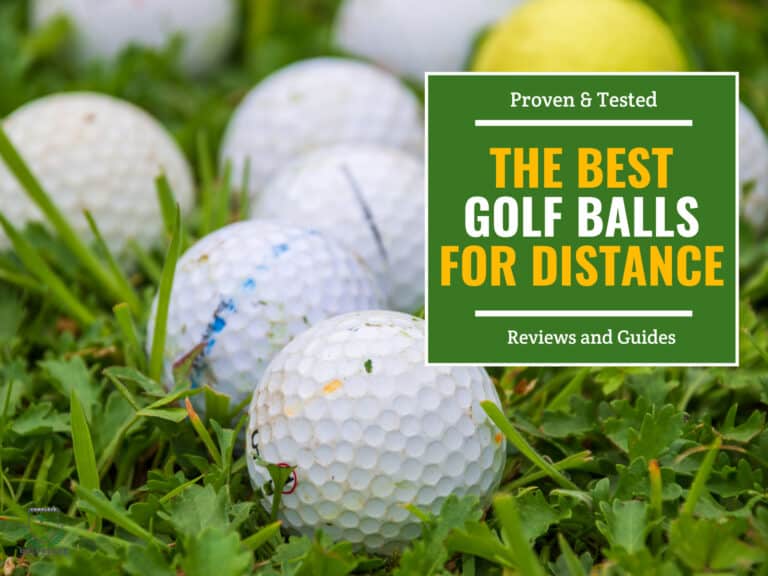 Disclaimer: We may earn a small commission from some of the links on our website. However, our reviews and comparisons remain fair and unbiased. Our goal is to help you make the best choice. For more information, please see our
disclosure statement
. Thank you for your support.
Key Takeaways
After extensive testing and research, we have selected the Titleist Velocity Golf Balls as our top pick based on their performance; exceptional distance, consistent flight, and low spin. Next is the Callaway Warbird Golf Balls, ideal for long, straight shots with its optimized cover and aerodynamics. The Titleist Pro V1 Golf Balls are premium with a high compression rating, soft feel, and great control. The remaining products include TaylorMade Distance+, Bridgestone E12 Contact, Wilson Tour Velocity, Vice Tour, Bridgestone E6 Soft, Srixon Z-STAR XV 8, and Pinnacle Rush. These balls feature explosive energy transfer, soft feel, alignment aid, and enhanced distance performance.
One of the most important factors in terms of distance is the ball you use. Choosing the right golf ball can make a significant difference in your distance and overall accuracy on the course.
With so many options on the market, it can be overwhelming to decide which golf ball will give you the best results. Different golf balls have varying levels of compression, spin, and feel, which can all impact how far and accurately you can hit them.
To help you make an informed decision, we've compiled a list of the 10 best golf balls for distance. Our reviews and buyer guide will provide you with all the information you need to choose the perfect ball for your game.
How Did We Test These Golf Balls?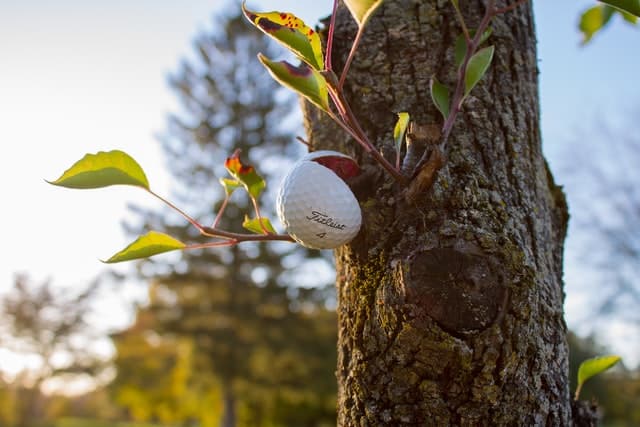 Our team here at Complete Golf Store believes in assessing performance in all areas of the game, including on the course, at the driving range, and in short-game situations.
Our testing procedures consist of using a launch monitor to measure ball flight, ball speed, and spin rate, as well as on-course testing to evaluate overall performance. We also pay special attention to short-game situations, assessing greenside control and spin control.
In order to accurately test golf balls, we also use a variety of golf club models and take note of the golfer's swing speed and tendencies, ensuring that the golfer is able to achieve maximum distance and ball flight with each ball tested.
We understand that every golfer is different, which is why trying out different golf ball models is the best way to find the perfect ball for your game. By assessing performance in various conditions and areas of the game, we are able to recommend the best golf balls for distance based on the individual golfer's needs.
The 10 Longest Golf Balls of 2023: Detailed Reviews
Based on our own testing and experience, here is the list of golf balls we consider to be the best in terms of distance!
The following are our top selections based on our own testing, research, and experience:
Buying Guide
When looking for the best golf balls for distance, there are several factors that you should consider. From the ball's compression rating to its aerodynamic dimple pattern, these elements can affect your ball speed, ball flight, and overall distance.
Below are some essential features that you should look for when buying a golf ball to help you achieve the maximum distance on the golf course.
Construction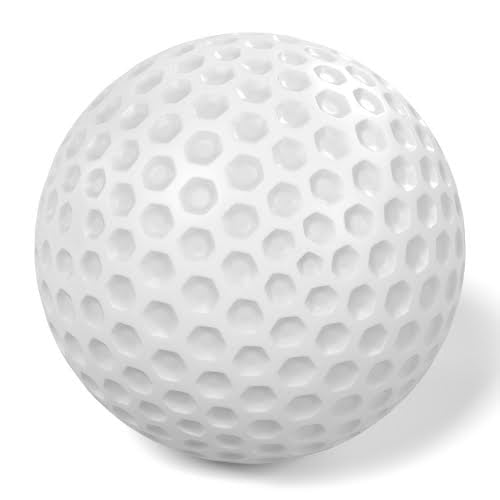 Golf ball construction is typically classified into four categories: 2, 3, 4, and 5-piece constructions. Each construction type affects the distance, accuracy, spin, and control of the golf ball (and its price). Generally speaking, the more pieces a golf ball has, the higher the retail price.
2-Piece Golf Ball Construction
2-piece construction is typically used for distance balls. The soft rubber core and durable ionomer cover are the main factors that contribute to their distance potential. These balls are perfect for beginners and those with slower swing speeds as they require less spin and offer a straighter flight.
Other benefits of 2-piece golf ball construction include resilience, affordability, low spin, and durability. These balls tend to be more forgiving on off-center hits and have a harder outer layer, which makes them less prone to scratches and scuffs.
3-Piece, 4-Piece, and 5-Piece Golf Ball Constructions
3-piece golf balls are popular among average golfers who seek moderate spin and longer distances. The additional layer provides more spin than the 2-piece balls on the green, and the soft inner layer prevents the ball from feeling too firm at impact.
4 and 5-piece golf ball constructions are typically used by professional golfers as they provide more spin and control on the greens.
The extra layers allow for better precision and spin around the greens and provide a softer feel on impact.
The number of pieces in golf ball construction affects the ball's performance and price point. Ultimately, the best golf ball for you depends on your specific needs, swing speed, and playing style.
Compression
Another key factor to consider is the ball's compression rating. Compression refers to the amount of force it takes to compress a golf ball, which affects its flight and ultimately its distance.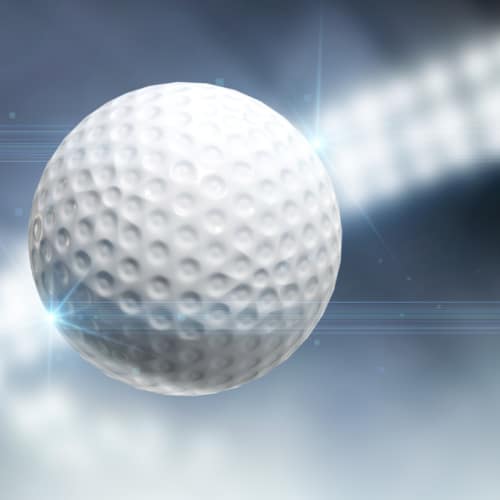 It's important to note that compression is related to swing speed. Slower swing speeds generally require a lower compression rating to achieve maximum distance, while faster swing speeds may benefit from a higher compression rating.
Here are the different compression ratings available:
Low compression (below 60)
Typically recommended for golfers with slower swing speeds. These balls are softer and compress more easily upon impact, resulting in more distance and a higher launch angle. They also tend to provide more greenside control and spin. Examples include the Titleist DT TruSoft and Callaway's SuperSoft.
Mid compression (60-80)
Usually recommended for golfers with moderate swing speeds. These balls offer a good balance of distance and control for average players. Examples include the TaylorMade Project A and Titleist Tour Soft.
High compression (above 80)
Often recommended for golfers with faster swing speeds. These balls are harder and require more force to compress, resulting in a lower launch angle and more distance with a straighter flight. Examples include the Titleist Pro V1 and Callaway Chrome Soft X.
To determine the best ball for your specific needs, consider your swing speed and desired ball flight. It's always a good idea to try out a few different compression ratings and brands to see what works best for your game.
Using a golf launch monitor or a simulator package will definitely help!
Remember, it's not just about maximum distance, but also greenside control and spin for a well-rounded game.
Cover
The cover material of a golf ball can significantly impact its performance and overall characteristics. Surlyn and urethane are the two primary types of covers used in golf ball manufacturing.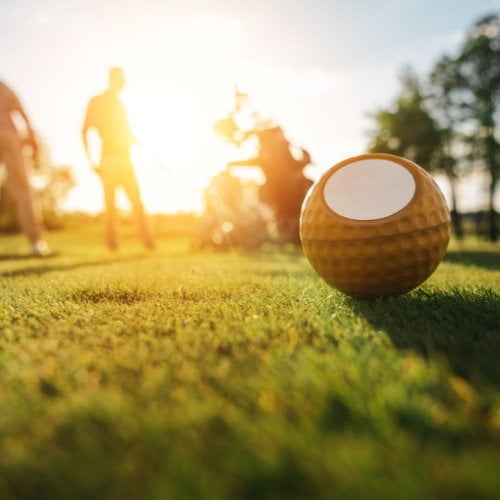 Surlyn is a type of ionomer, which is a high-performance synthetic polymer. Ionmer is considered a cover material as it covers the core material of golf balls. Surlyn is used in the outer layer of golf balls, making them more durable and resistant to cuts, scuffs, and scratches. Golf balls with Surlyn covers have lower spin rates, making them more stable and travel farther off the tee, ideal for less skilled players.
Urethane is a softer material than ionomer, giving golf balls with urethane covers a better feel and more spin and greenside control than Surlyn-covered balls. They have a higher spin rate, making them ideal for skilled players who have more control over their shots.
Recent technological advancements have enabled urethane covers to nearly match all the benefits of Surlyn. Urethane covers also offer excellent durability, comparable to Surlyn-covered golf balls. However, they tend to be more expensive.
Colors
Many golfers only focus on the performance aspects such as compression, spin control, and distance. However, the color of the ball can also play a significant role in your game. Choosing the right color can enhance your visibility on the course, improve your focus, and even affect your score.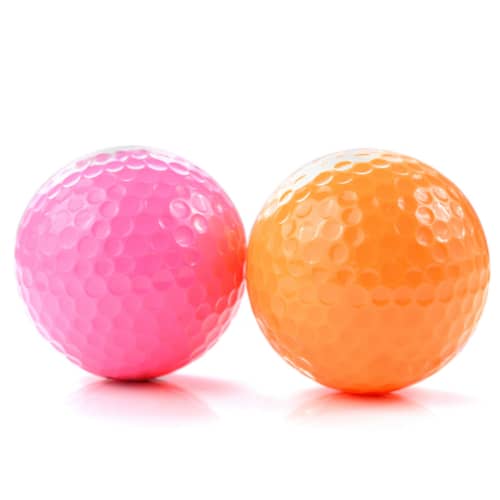 High-visibility golf balls are available in many different colors and can make it easier to track your ball in the air and on the course. These colored balls can be especially helpful for golfers with vision problems or those who tend to hit their shots off-course. The bright hues of high-visibility balls can help to spot the ball more quickly, which can lead to faster play and better course management.
Yellow golf balls, for example, are ideal for lower-light conditions such as early mornings or late afternoons. These balls are also perfect for those who play in areas with a lot of tree cover or shadows. On the other hand, green balls are better suited for overcast conditions, helping them stand out against the grey sky.
Another consideration is the finish of the ball. Some golfers prefer a matte finish because it reduces glare and makes the ball easier to see in bright sunlight. Matte golf balls are also less reflective than shiny balls, which can help prevent distraction during your swing.
Dimples
Dimples are an essential feature of a golf ball's construction and play a crucial role in determining its aerodynamic performance, particularly its distance.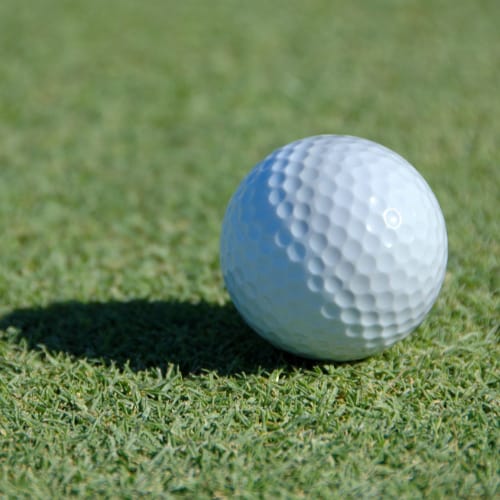 The dimpled surface of a golf ball helps to reduce drag, allowing it to travel farther through the air. The number of dimples on a golf ball varies, with most modern balls having between 300 and 400.
Different shapes, sizes, and patterns of dimples can affect the ball's stability and spin rate. For example, shallow dimples tend to produce less backspin, which can result in a straighter ball flight. Meanwhile, deep dimples can create more turbulent airflow, increasing lift and backspin, which can result in a higher launch angle and longer carry distance.
Dimples can also come in different shapes and patterns. Some common ones include circular, hexagonal, pentagonal, and square. Some balls even feature a combination of shapes and sizes. For example, Titleist's Pro V1 golf ball has a unique tetrahedral dimple pattern.
It can be challenging for the average golfer to predict the ultimate effect of a specific dimple configuration. Still, it's important to consider the brand's claims about a ball's dimples when deciding which one to use. Ultimately, you will need to experiment with a variety of balls and choose the one that works best for your game.
Price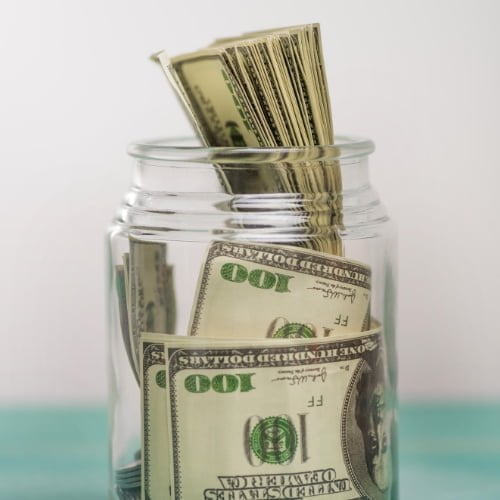 It's understandable that most golfers don't like spending too much on a single golf ball, and fortunately, distance golf balls are often priced affordably. However, it's important to note that there are exceptions to this, and quality distance golf balls can be found over a range of budgets.
One option to consider is buying recycled balls. This can be an affordable way to get some quality golf balls without breaking the bank. However, it's important to only look at AAA or above condition ratings to ensure the ball is still in good shape and performs as expected.
Conclusion
There you have it, our detailed reviews of the best golf balls for distance. Our selection includes balls from a wide range of prices, constructions, compression ratings, etc. The goal was to offer as much variety as possible so everyone finds the right balls for his/her game.
Selecting the right golf ball boils down to individual needs and preferences. It is crucial to try out different options and see how they perform on the course.
As a golfer, finding the best ball for your game can significantly improve your distance and lower your scores, so take your time in choosing the perfect one for you.
For any questions or comments, you may contact us via the comment section below or by email.
WRITTEN BY

My name is Jacob, a self-diagnosed equipment and golf enthusiast. I've been golfing since I was 15. Golf has always been my passion. I'm a bit of a golf equipment nerd and I've been that way since the moment I picked up a club for the first time. As someone who's been on both sides of the game, I know what it takes to be a good golfer. Of course, you need good equipment, but you also need to know how to use it. I hope sharing my experience with you will help you improve your game.
You May Also Like