Top 10 Best Golf Clubs For Women Review
First Published:
April 18, 2021
Last updated:
August 24, 2021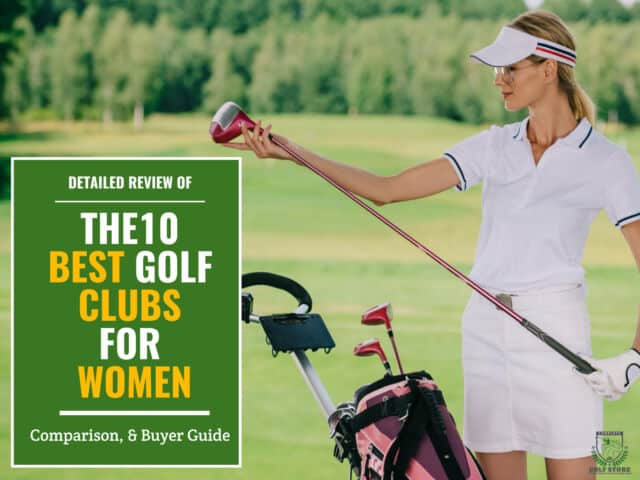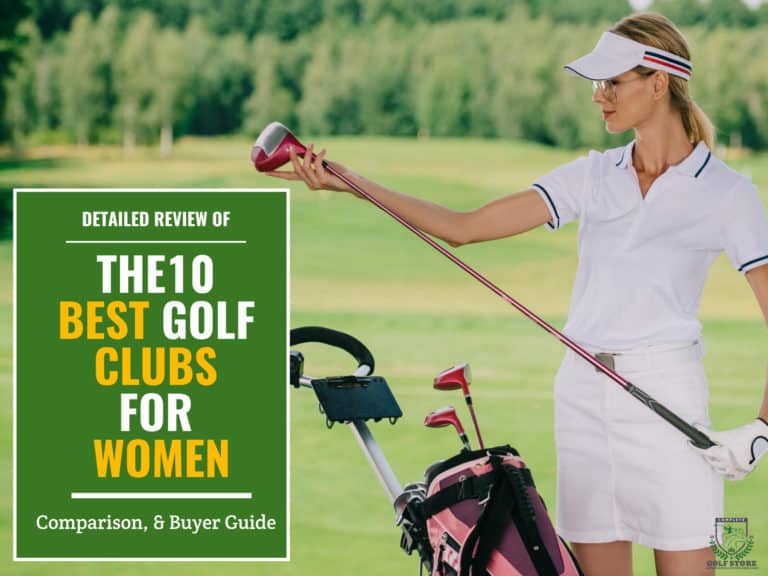 Golf is not a sport but an emotion in itself. We are in 2021, and men and women enjoy the game. There was a time not long ago when men guarded this sport with all their strength to make sure that women never entered it. Till recently, women that dared to dream and shatter glass ceilings used men's golf clubs to play. This was till the manufacturers realized the demand and began manufacturing clubs for women. 
Shopping for ladies' golf clubs can be quite a major buy. With lots of technology and equipment and scores of brands and types of golf clubs, we guarantee that everyone gets overwhelmed when looking for the best women's golf club.
It is natural to have doubts and questions when foraying out in the market. What is essential is to ask the right questions so that you know what direction you are going. This article reviewed by expert golfers is a step in that direction.
Difference between a ladies' and a men's club
There is a difference between how men and women swing their golf clubs. This is generally because of the difference in their hand power. Women use more rhythm and put more thought and finesse into their shots, while men use raw power to generate higher swing speed.
Research and comparative statistics between the PGA and LPGA tour states that men golfers achieve an average driver swing speed of about 113mph and their counterparts achieve an average of 94 mph.
The men's golf club is so similar, yet so different:
The club heads used by both genders are similar, but the difference lies in the shafts used. The LPGA tour players have flexible shafts, and they are also shorter. Shorter flexible shafts allow optimal spin, a great trajectory, good distance, and accuracy. Another area of difference is in the thickness of the club's grip. The center of gravity and the loft are varying too.
There are no regulations forbidding men from using women's golf clubs on the course. Men golfers whose swing speed is less than 80 mph enjoy using women's golf clubs. This is because men with low swing speeds lose on the height and distance if they continue to play with golf clubs only designed for men.
Men golfers below 5 feet and 7 inches also enjoy using ladies' golf clubs. The men's golf clubs are for an average height of 5 feet and 9 inches. Women's golf clubs are shorter; they enable shorter men to exercise more control over their shots. They can also close their wrists easier on them.
See Also: Types Of Golf Clubs
Golf Clubs For Ladies Buyer Guide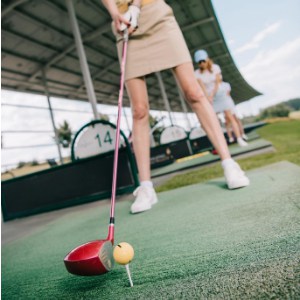 If you are a woman who has just picked up golf as a hobby, You might be wondering, what should I look for when buying golf clubs? 
There are so many different clubs, all of which are advertised to improve your game. (Many of the golf clubs that are promoted to women are pink as well.) To make matters worse, many of your new golf friends and partners will tell you that what they use is the best club out there and that you should buy it if you want to improve your game. So how should you choose?
Here is a great video on the subject:
When you are out looking for ladies golf clubs, here are the things you should keep in mind:
Forgiveness
The first thing you need to think about is the forgiveness of the clubs.
This is the area where you will see one of the most significant differences between men's and women's clubs. Men's clubs are built for performance and power, while women's clubs are designed with a more forgiving design in mind. 
You will likely have more fun playing golf if the clubs you choose are more forgiving.
Most golfers don't know what they should look for in clubs, and as a result, they tend to buy clubs that are too heavy and don't fit their games.
First of all, you need to find out whether the club will be in forgiving or if it will be a heavy stick. Look for a club made of graphite or titanium. Both of these materials are light and very forgiving.
Check Also: Best Golf Clubs For Beginners
Using Offset clubs
Golf club manufacturers have been referring to "offset" for years, and you've probably seen the term and wondered what it meant. In simple terms, offset refers to the distance that the clubface is set from the club's hosel. The hosel is the part of the club that attaches the shaft to the clubhead.
Offset golf clubs help the golfer make the ball go further and straighter when compared to standard sets.
Regardless of which club you choose from this list, all of the clubs we reviewed in this article have an excellent center of gravity and a big sweet spot to help you consistently hit the ball.
Flexible shaft
The golf shaft's flexibility determines distance, accuracy, and the trajectory of shots. Flexibility is directly related to the swing speed and the swing strength.
Golf clubs designed for men use raw power for the swing, so they use clubs with stiff shafts.
Different shafts, depending on the swing speed.
· Swing speed in the range of 90 - 100 mph - regular shaft
· Swing speed between 100 and 110mph - Stiff shaft
· Swing speed above 110 mph - Extra stiff shaft
Senior golfers use senior flex shafts or women golf shafts because they lose their muscle mass and have lower swing speed. Ladies flex shafts have the most flex of all the above.
· Swing speed within 60 - 80 mph - Women's golf club
 Length of the shaft
Golf clubs come in a variety of lengths.
Body type
Length of the arms
Swing power
Ball control
While men's golf clubs have standard length shafts for anyone that measures 5 foot 9 inches and taller, the best ladies' golf clubs suit women 5 feet 7 inches tall. The shafts on women's drivers are therefore about 2 inches shorter than on the men's.
Men driver shafts are 45 to 45 ½ inches long, and the shaft on women's drivers are 44 inches. The difference in length is proportionately applied to all the remaining pieces in the golf club set.
Women who are taller than 5 feet 9 inches or lower handicaps can play with standard length men's shafts. Women golfers that are less than 5 foot 3 inches must use a shaft that is about one inch shorter than the length of a shaft in the women's golf clubs.
Smaller Grip
The correct size of the grip is a critical component for a great shot. The proper positioning of your hand and the right amount of pressure all positively impact the shot. It is a given that the clubs' grip, whether for a man or a woman, must fit their hands correctly. If the grips are too thin, then a few tape layers under the grip should be a good trick to make it comfier.
Clubhead
The Clubhead design is also a crucial feature. The club head's speed and muscle strength determine the Clubhead used. Women's clubs are larger, but they are lighter in weight. The lightweight graphite shafts allow manufacturers to make large club heads without adding additional weight to the club.
You May Also Like: Best Golf Clubs For Kids and Juniors
The 10 best women's golf clubs Review
As a woman who wants to hit the links, you need a set of clubs designed specifically for you. Finding the right clubs is difficult, especially with so many options on the market today. To help make the search a little easier, we've assembled a list of the 10 best golf clubs for women. We've selected from the most popular club brands and models to create a solid list of clubs that any woman would be happy to own.
You May Also Like: Best Time To Buy Golf Clubs
1. STRATA Callaway Women's Golf Packaged Sets
With sterling reviews on various golfing sites and a stellar performance at various tours, we could not think of any other brand for the top-notch spot. The callaway golf club sets are for both right and left-hand orientations. This beautiful 16-piece set comes in lovely colors such as gold, pink, purple, and teal. The material used is Aluminum, and the shaft material is graphite. It weighs only 16 pounds, and the grip type is soft.
The set guarantees an out-of-this-world performance for women golfers that want to hit great shots from the tee to the green! The collection includes one driver, three woods, 4 and 5 hybrid golf clubs, 6 to 9 iron, a pitching wedge, and a sand wedge. It comes in a stand bag along with four head covers.
The driver has a forged lightweight 460cc clubhead that has a large sweet spot. Its titanium head increases both the distance as well as forgiveness. The aerodynamic fairway wood has perimeter weighting, is equally forgiving, and has an excellent shape for long shots.
The irons and the wedges are high-quality stainless steel and offer brilliant performance, high forgiveness, ball speed, and control.
Pros
The irons are high-grade stainless steel
The mallet putter has excellent accuracy
The set gives a combination of forgiveness and control
Cons
16 pieces include the golf stand and head covers
The set is for the quintessential woman golfer who knows what she wants from the game. The clubs are genuinely lightweight and come with excellent quality assurance.
2. Wilson Women's Complete Golf Set
Wilson is a household name when it comes to women's golf clubs. The board ratings are very high, and people who have bought it are sure shot happy with their purchase.
The set comes in great color combinations like gray and pink, gray and teal, purple and white, and tan and white. There is also full green color. The set has clubs for both hand orientations, and you can choose whatever suits you. The cart is petite and stylish. The club flex is of regular size and made from composite materials.
The shaft is made of graphite and is very lightweight. The clubs come with putter grips. All of the club heads except the putter are of graphite. The shaft is properly sized, and the grips are nicely weathered. The driver's loft has a large sweet spot, and the swing speed is excellent for long-distance and ball flight from the tee to the green.
Pros
Iron has weighted 431 stainless steel shafts
Improves accuracy
Premium cart bag with double padded shoulder straps
Cons
There is no stand attached to the bag
The stylish cart bag has fleece-lined, extra-storage pockets and a rugged handle. The sand wedge has low weighting and a wider sole for more control during shots.
3. Tour Edge 2020 Lady Edge Full Golf Club Set
This massive eye candy of a women's golf club set from Tour Edge is something you will want to own as soon as you see it. The ratings across the internet are very encouraging. There is only one size, but it has many classic color variants such as black, grey, and white.
This set is predominantly right-hand-oriented. The golf club loft is comfortably at 15 degrees for more accuracy and longer distance shots. The material used for the shaft is graphite, and that is why it is truly light in weight. The set's total weight is a little less than 20 pounds, and the grip handle is putter type.
The driver is high-lofted at 460 cc, and the fairway woods are of number 3 and 5. The hybrid clubs are numbers 6 and 7, and the irons are 8-SW. The clubs come along with a cart bag.
The clubs are specially designed for high accuracy and superior distances. The woods and the hybrids have head covers to protect them.
Pros
The irons made from stainless steel and are over-sized
They have a large sweet spot.
The product includes a mallet type putter and cart bag
Cons
Slightly costlier than other brands in its league.
Tour Edge is consistent in its quality clubs and ranks in the top 10 in almost all categories. A lot of professional golf players prefer to use their clubs on prestigious tours.
4. Powerbilt Golf Women's Countless 15 Piece Golf Complete Set
This complete set from PowerBilt for women consists of 15  golf clubs and other paraphernalia. The set is very well rated and comes in various shaft lengths; standard (43 inches) and petite (one inch lesser). The material used is velvet, and it weighs only one kilogram. The grip is putter type.
The set includes a high lofted driver, 2 fairways, 1 hybrid golf club, number 7 and 9 PW and SW Irons, a mallet putter, a nice sturdy cart bag with a rain hoody,  four protective headcovers for fairways and hybrids. The graphite shaft is high quality and very light in weight. The grip is proprietary and uses customized velvet for a soft grip.
The set is very attractive to look at and adds oodles of style to the greens. The lofts are high, and the irons have graphite shafts making it very easy to play long-distance shots. The driver is 460cc with a graphite shaft.
Pros
Comes with a premium quality cart
Comes with a rain hood
Driver made of forged Alloy
Fairways and hybrids are made of high-grade stainless steel.
Cons
Comes in only one color - silver
This is the best beginner's set. The quality is excellent, and the price is just right.
5. Tour Edge Moda Silk Women's 2020 Model
Tour Edge's 2020 model is a super-duper hit if the ratings and the pieces sold are anything to go by.
The set comes in three vibrant color combinations of black and light blue, black and rose gold, silver, and ruby. The hand orientation is on the right side, and the loft is comfortably adjusted at 15 degrees. It is a given that women golfers will find the loft size fun to use. The golf clubs are very light, thanks to their graphite shafts. It weighs only ten pounds which is impressive.
The 460cc driver has a graphite shaft. It is well lofted so that it gives an excellent distance. The titanium club head has a sweet spot. The headcovers are included for the fairway woods and the irons. The cart bag is premium in style and quality and comes with a divided top and plenty of room for storing all essentials.
Pros
Consists of oversized and low profile fairway wood
The woods are high-grade stainless steel
Has a heavy sole and a very low center of gravity
Cons
The price can be a bit on the higher side, but the quality is A1
All the clubs, from the fairways to the hybrids, inspire immense confidence. The stainless steel clubs are very accurate and more forgiving.
6. Precise M5 Ladies Women's Complete Golf Club Set
This is one of the best starter sets. Very durable, lightweight, and delivers incredible performance making it the perfect gift for a special woman golfer in your life. This golf set is right-handed and includes one driver, woods, fairways, and hybrid 5, 6, 7, 8, and 9. The set consists of the stainless steel iron, as well as a wedge and putter with graphite shafts, it also comes with 3 headcovers and an attractive stand bag which has spacious pockets and two elastic straps to secure a pushcart.
The stand bag has The M5 set is a solid companion, mainly because of its choice of material and durability. The set is suitable for women golfers in the range of 5 feet 3 inches and 5 feet 8 inches. The driver gives extensive distance and forgiveness.
If you love to get compliments for your choice of a golf set, get ready because, with this set, you are going to be the center of attraction each time you pull it out of your car.
Pros
Durable
graphite shafts for Woods and irons
The putter is wide and has a soft insert that helps to aim and putt on  line
The set is affordable and covers lots of bases. It is the quintessential beginner's set.
7. Wilson Women's Ultra Complete Package Golf Set
Wilson ultra complete golf set for women is best for experienced women golfers. The clubs offer solid off the tee performance. They are right-hand-oriented and come in the classic white and purple color.
The woods are solid quality and have a very low center of gravity that lets golfers manage good distances. The irons are cavity-backed. They give consistent performance each time. The golf set includes a very high-quality and durable bag that is remarkably roomy for all golf gear paraphernalia. The woods have protective head covers in the set.
The set includes one driver, putter, and three solid woods. It comes with five irons and a bag that is fully lined for protection. The set weighs 16 pounds, the grip is standard,, and the shaft is made of iron steel.
Pros
Best set for women beginner golfers
Standard height is from 5 feet 3 inches to 5 feet and 9 inches
Pocket friendly
Cons
The shaft is not made from graphite, and it can feel heavy for some
If you are looking to get a beginner golf set to test your taste for the greens, this might be the best model. The price is just right for the incredible quality you get.
8. Aspire X1 Ladies Women Complete Golf Club Set
The Aspire X1 is a fantastic golf club set that includes one driver, fairway woods and hybrids, irons, and a putter. That is not all; it also has a stand bag that is stylish and comfortable. The set comes with 3 headcovers to protect the club heads. The clubs come in only one color, purple, but it is a beautiful one. The clubs are regular and petite in size; the hand orientation is right hand only.
The golf club set is gorgeous to look at, and the bag matches the clubs. The women's set is entirely made of lightweight material that makes it easy and fun to play. The graphite shafts are very light in weight and are built explicitly for ladies. The swing and the speed of the shot improve by 40 percent.
This is the complete set. No more hunting for individual clubs and mixing and matching colors. The stand bag comes with a rain cover so that your clubs stay dry and safe even if it is raining. The bag also has straps for easy portability.
Pros
Made for women and therefore just right for them
Clubs come in two sizes; regular as well as petite
Style as well as performance
Cons
Not for professional golfers
Each one of the clubs fits together and offers excellent forgiveness. Aspire is the right mix of quality and style.
9. Aspire XD1 Ladies Women's Complete Golf Clubs Set
This set has been receiving a lot of reviews on various eCommerce sites. With an incredibly excellent price tag and a 4.8-star rating, it is slowly climbing the charts to become one of the best-selling ladies' golf sets.
The driver is titanium and is very lightweight. The rest of the contents include fairway woods, hybrids, irons, a putter, and a stand bag to carry all this in style. The set comes with 3 club head covers to protect them when not in use.
All the clubs are ultra-light high modulus 100 percent graphite shafts. The dual strap handbag is a beauty in itself. It can become a backpack so that you can walk hands-free on the course. It weighs 15 pounds only.
The hand orientation is right. A lot of customers who have bought it have recommended it to others. We wouldn't be surprised if the stocks become unavailable by the time you hit the stores for it.
Pros
Sterling reviews everywhere
Perfect set for beginners
Stylish and cool design
The golf set has clubs that will improve your game. It is a nicely constructed set, and you will receive way too many compliments for the style quotient.
10. Precise NX460 Ladies Women's Complete Golf Clubs Set
Precise NX460 premium quality ladies golf set includes one driver, fairway woods and hybrids, 4 irons, a mallet type putter, a perfect golf bag, and three headcovers for protecting your club heads.
The grips come in two sizes, regular and petite. The golf set is for golfers that have right-hand orientation. The shaft is graphite, and that is why they are all lightweight. The grip is very suitable for women golfers; it is made of non-slip rubber material. From its looks to its efficiency, it is a quintessential ladies' golf set. It comes in a beautiful sky blue color.
The club shafts are ultra-light material. The bag and the headcovers are matching in color. The set has everything that you need to get started on the greens. The bag has back straps that you may carry like a backpack too.
The golf club is available in two sizes. The regular size shaft is for women above 5 feet 3 inches but below 5 feet and 9 inches. The petite size of the clubs is for women golfers that are below 5 feet 3 inches.
Pros
Has everything to get you started
Not at all heavy to carry around.
Uses premium materials that are great performing.
Cons
Not great for women golfers with stronger swing
It is the perfect first golf set, especially when used for practicing, and is excellent for people with a slower swing. The price is just right.
Frequently Asked Questions About Golf Clubs For Women
How long should golf irons be for women? 
The standard length for a women's golf driver is about 43 inches. The golf clubs are similar for both men and women golfers except that women's golf clubs are lighter in weight.
Height is an important determinant:
We need to consider the height. Unless the swing speed is adequate, the golf ball will not have the correct flight. If the woman is above five feet in height, the club should generally be about 43 inches in length. If the woman is nine inches above 5 feet, then you must add another one inch to the club's length.
If the height of the lady golfer is between 5 feet 7 inches and 6 feet 1 inch, then the distance from the floor to her wrist will be about 34 to 37 inches, and she may use the standard 43 inches length of iron. If the height is between 5 feet 2 inches and 5 feet, then the floor's distance and the wrist will approximately be 27 to 29 inches. Less than 4 feet, the distance will be 25 inches, and so 2 inches must get subtracted from 43 inches.
Should I use ladies' golf clubs?
A ladies golf club has the following attributes:
- It is lightweight because the Clubhead is light
- It is shorter in length.
- The driver's loft is higher to help the ball gain extra distance when flying through the air.
- The grip is smaller in both length and diameter for smaller petite hands.
The market today is completely saturated with ladies' golf clubs. However, we notice that most women golfers are barring a very few on the LPGA and the famed LET tour and use men's golf clubs with lightweight graphite shafts. The shorter length of the women's club facilitates slow swing speed and lesser muscle strength.
Who should use ladies golf clubs:
- Golfers of either gender that have a slow swing speed that is around 80 mph or lower
- Golfers of either gender find standard 43 inches men's clubs too heavy to wield.
Golf club set or separate golf clubs?
A complete set can cost quite a fortune, so you must consider it seriously. If you are going to dedicate a lot of time to the game, then a golf set is what you need. Otherwise, it is good to invest club by club to build your ladies beginner golf clubs set.
While starting, it is difficult to understand the strengths and the weaknesses. That is why you must set out buying clubs that match your skill levels. Start with a few hybrids. Continue adding to the set as and when you learn new skills or improve on the existing ones.
There is a good market for the best ladies' golf clubs for beginners. Don't always sell your old ones to invest in new ones. It will be a great idea to speak to a pro or your trainer about what you must start investing in.
How do you pick a female golf driver? 
Here are tips to remember when you want to choose the best female golf driver.
Go with graphite: graphite clubs are light in weight; the best ladies' golf clubs are made of this material because it swings fast.
Shaft length matters. The ladies' driver is roughly about 1 inch shorter than the men's. This is directly related to their height and not to their swing speed and strength.
Higher lofts are a requisite because women have slower swing speeds.
Adjustable driver is the way to go. It is easier to get the right fit if it is adjustable.
Finally, whatever driver you put your money in steers away from purchasing a men's driver if you are a lady player.
Can an oversized golf grip improve your game?
Oversized golf grips help golfers who have large hands. It improves their wrist action, decreases grip pressure, relieves pain, and betters the ball's trajectory also. But do they help the average golfer too? Let us find out.
Grip Pressure
If the golf grip is small, it is easier to grab it tighter. Increased grip pressure for a regular golf player leads to poor performance in the game.
Wrist Action
Your wrists need to turn comfortably over during the golf swing. When a golfer uses an oversized golf grip, it will eliminate wrist action and lead to poor control over the ball.
Ball Trajectory
The ball's trajectory with oversized golf grips will improve only for golfers with arthritis complaints and those with large hands.
Comfort and Pain Relief
If the golfer is experiencing debilitating pain, then an oversized golf grip will give him relief from it.
Is senior flex the same as ladies flex? 
Shaft flexibility may sound minor, but it has a significant bearing on the game. The more flexible the shafts, the greater potential they have to produce long-range shots.
Ironically, it is not so easy. The more flex the shaft is, the less accurate they will have since they tend to twist more than others. Evaluating your swing performance is the best way to assess your flex needs.
Golf manufacturers have a rating for the degree of flexibility. Based on their flex, there are five types of shafts.
Extra stiff [XX]
Extra stiff [X]
Stiff [S]
Regular [R]
Senior [A]
Ladies [L]
Senior male golfers tend to choose the senior flex because they can drive the ball within the 200-yard range. It is for golfers that can swing between 70 and 90 mph. Ladies Flex, on the other hand, is the softest flex on the market that is available. They are ideal for women golfers and also for those who drive the ball below 200 yards.
So, technically, both flexes get manufactured separately, and seniors and ladies flex requirements are the same.
Final Thoughts
A lot has changed for women in golf. There are women-only golf courses and coaching sessions that are exclusively maintained and run for female golfers. Some clubs have crèches so that mothers of younger children can relax around on the greens and even meet up with friends in the clubhouse. So a lot of great things are happening, and it is very heartening!
We have strived very hard not to leave a single stone unturned in bringing you the top ten women's golf sets; We've found the Callaway golf sets to be the best option available for ladies' golf clubs today. The set is comprehensive and offers excellent value for the money spent on it.
It has all the clubs that you will need for a great round, and most of all, they are lightweight, forgiving, and superbly effective. One piece of advice that we would like to give is to make sure you assess your skills, needs, and your budget before investing in the best women's golf club sets for beginners so that you can continue using them for a long time to come.
Well, now that you have all the information that you require to know for investing in a golf club set, what are you waiting for? Just let your hair down, let those hands swing, and bring out the best game.
Happy Golfing!!!