The 10 Best Golf Clubs For Women (2022 Reviews)
Last updated:
September 28, 2022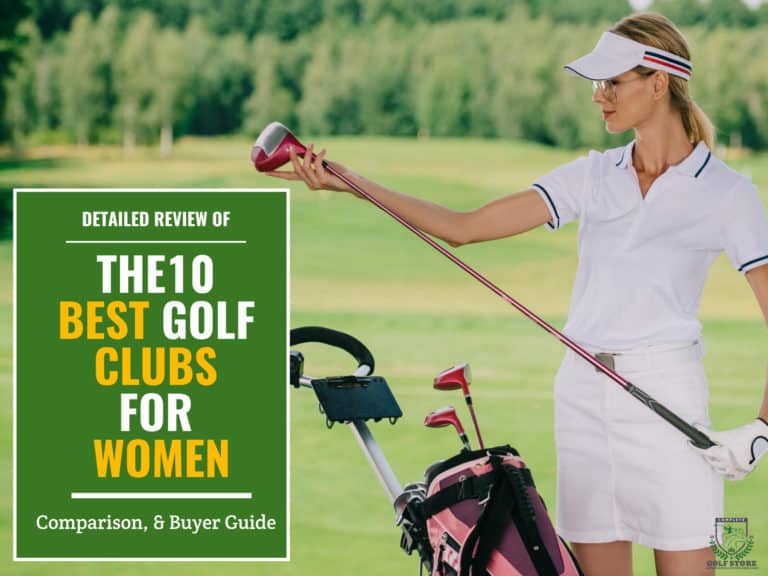 We are supported by our readers and we may earn a small commission when you click on some of the links at no additional cost to you. Our full disclaimer can be found
here
. Thank you.
Key Takeaways
It's time to get down to the nitty-gritty of choosing the right golf club set for your game. When it comes to choosing a golf club, there are two types of players: those who need distance and others who need forgiveness. Discover why the Callaway Strata topped our list, again, among 10 of the best options in the market, along with a comprehensive comparison and buyer guide.
Golf is not a sport but an emotion in itself. We are in 2022, and men and women enjoy the game. Not long ago, there was a time when men guarded this sport with all their strength to make sure that women never entered it.
Till recently, women that dared to dream and shatter glass ceilings used men's golf clubs to play until the golf industry's top manufacturers realized the demand and began making clubs designed specifically for women.
Shopping for golf club sets can be quite a significant buy. With all this technology, equipment, and scores of brands and types of golf clubs, we guarantee that everyone gets overwhelmed when looking for the best available options.
It is natural to have doubts and questions when foraying out in the market. However, the essential is to ask the right questions to know what guidance you are going for, and this article reviewed by an expert golfer is the right step in that direction.
At a Glance: Here Are Our Top 3 Picks for the Best Ladies' Golf Club Sets as Of 2022
Last updated November 27, 2022. Those are affiliate links, we may earn a small commission when you click on the links at no additional cost to you. Product images are served from Amazon Product Advertising API.
The 10 Best Women's Golf Club Sets Detailed Reviews
As a woman who wants to hit the links, you need a set of clubs designed specifically for you. And to help make the search a little easier, we've assembled a list of the ten best golf clubs for women.
We've selected the most popular club brands and models to create a solid list of clubs that any woman would be happy to own.
Frequently Asked Questions About Golf Clubs For Women
Final Thoughts
A lot has changed for women in golf. There are women-only golf courses and coaching sessions that are exclusively maintained and run for female golfers. Some clubs have crèches so that mothers of younger children can relax around on the greens and even meet up with friends in the clubhouse. So a lot of great things are happening, and it is very heartening!
We have strived very hard not to leave a single stone unturned in bringing you the top ten women's golf sets; We've found the Callaway Strata to be the best option available for ladies today. The set is comprehensive and offers excellent value for the money spent on it.
It has all the clubs that you will need for a great round, and most of all, they are lightweight, forgiving, and superbly effective. One piece of advice that we would like to give is to make sure you assess your skills, needs, and your budget before investing so that you can continue using them for a long time to come.
Well, now that you have all the information that you require to know for investing in a golf club set, what are you waiting for? Just let your hair down, let those hands swing, and bring out the best game.
Happy Golfing!!!