Wilson Deep Red Junior Complete Golf Club Set Review
Last updated:
November 18, 2023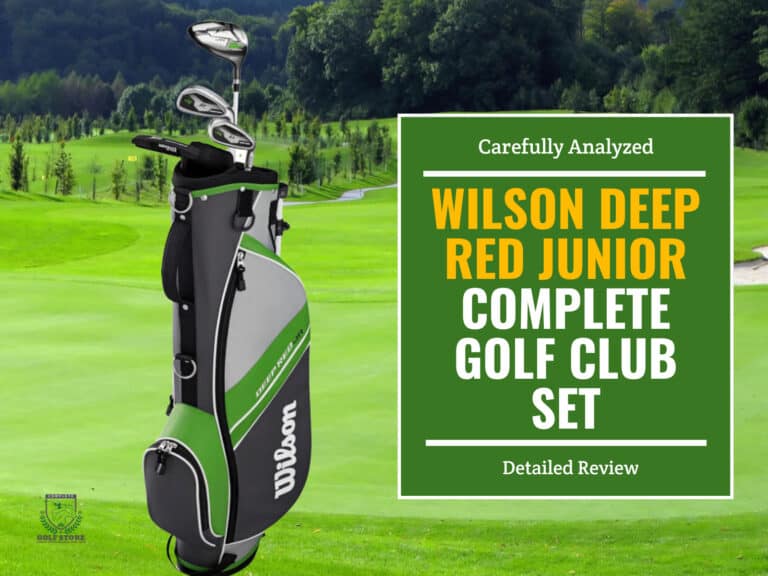 Disclaimer: We may earn a small commission from some of the links on our website. However, our reviews and comparisons remain fair and unbiased. Our goal is to help you make the best choice. For more information, please see our
disclosure statement
. Thank you for your support.
Key Takeaways
Wilson Deep Red Junior sets are tailored for different junior ages with lightweight graphite woods and oversized forgiving irons.
Vibrant colors and matching bags simplify carrying clubs.
Technologies suit progressive skills - from 4 clubs for beginners to 10 clubs for improving teens.
Affordable pricing provides quality starter sets for parents.
Equipment builds junior confidence through proper sizing and game-improvement engineering.
For over a century, Wilson Sporting Goods has been a leader in the golf equipment industry. Founded in Chicago in 1913, Wilson revolutionized the game with groundbreaking club technologies like its renowned Staff model blades and ultra-forgiving Deep Red franchise. While the company caters to all skill levels, they are particularly focused on beginners looking for quality, confidence-inspiring gear.
The Wilson Deep Red Junior Complete Set is a prime example of the brand's approach. Specially engineered for youth and novice players and one of the best sets available for juniors and kids, this 14-club package has everything a young golfer needs to learn the game from tee to green.
For parents seeking a comprehensive starter kit for their aspiring Tiger Woods, the Wilson Deep Red Junior Set delivers essentials minus the hassle of piecing clubs together.
In this detailed review, we will break down the composition, technologies, performance, and benefits of the Wilson Deep Red Junior Set. Key questions like suitability across ages and skill levels will be addressed. Pros, cons, and comparisons with other leading junior club packages will be analyzed as well.
First Impressions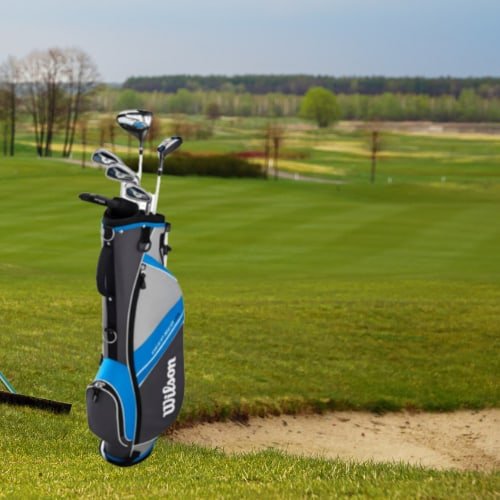 The Wilson Deep Red Junior Set makes a strong first impression for young, aspiring golfers. The lightweight graphite woods and hybrid shafts allow easy swinging without getting bogged down, promoting faster clubhead speed. The clubhead colors provide an eye-catching flair that resonates with youths accustomed to colorful gear in other sports. This engaging hue helps the set feel fun, not intimidating.
The oversized clubhead profiles also build confidence, framing the ball gracefully at address while presenting a broad, forgiving face area. Beginners will feel like they have ample sweet spot room for solid contact, reducing anxiety. Even the matching lightweight cart bag ties the full set together, rather than seeming like piecemeal clubs.
The set is also available in three different colors to suit junior ages and sizes:
The green club set is for young players between 5 and 8 years.
The blue club set for golfers aged 9 to 11 years.
The (candy-apple) red club set for 12 to 14 years of age.
The Yellow club set - Deep Red Tour Teen.
Overall, the Deep Red Junior Set's confidence-inspiring lightweight design, vibrant youthful aesthetics, and completeness convey that this is a set specially made for aspiring young players. The look, feel, and integrated bag will get kids eager to start learning with clubs built just for them. Wilson clearly optimized the set to get youths excited about playing while building early skills through equipment designed specifically for juniors.
Wilson Deep Red Junior Set Technologies and Performance
First, let's explore the technologies used to produce these highly forgiving clubs as well as their performance and feel.
Club Technologies
Several key technologies are engineered into the clubs to make them perfect for junior players:
Woods and Hybrids
Oversized titanium heads for a forgiving sweet spot
Low, deep CG positions to launch shots high
Graphite shafts flex for faster swing speeds
Irons
Cavity backs move weight perimeter for forgiveness
Undercut, beveled grooves for spin on short irons
Matching lofted wedges cover 100 yards and in
Putter
Heel-toe weighting keeps the putter stable
Alignment aids help aim correctly
Performance and Feel
The lightweight clubs allow smooth, fast swings to generate speed. Woods launch the ball high with low spin for improved distance.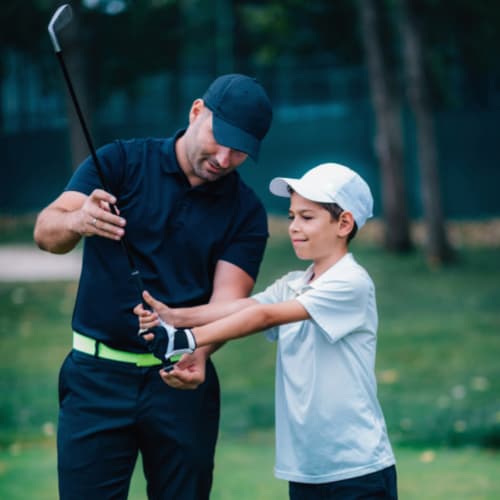 The cavity back irons minimize loss of distance on mishits. The wedges dial in short-range scoring shots. Also, the putter provides more stability on the greens.
So in summary, the Wilson Deep Red Junior Set delivers a full-featured package to elevate the juniors' game using proper-sized equipment.
Confidence-Boosting Design
With game-improvement technology tailored to their age, the Wilson Deep Red Junior Package gives junior golfers the right blend of playability and forgiveness to step up their skills with confidence.
Wilson Deep Red Junior Package (12-14 Years - Red Color)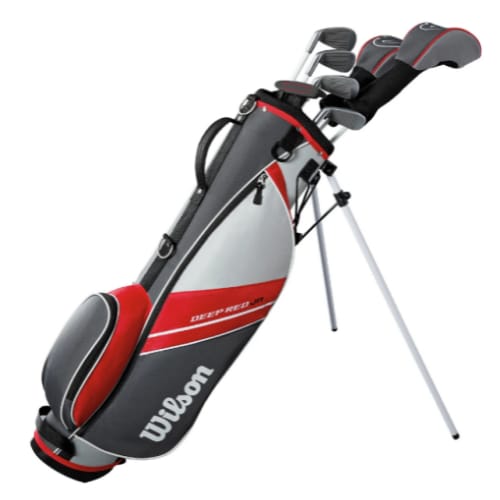 This Wilson Deep Red Junior Package is an ideal set for young golfers aged 12-14 who are looking to take their skills up a notch with high-performing equipment tailored to their age group.
Geared towards intermediate junior players approaching their early teens, this set encourages proper technique and enhanced shot-making.
Package Features
The included Stand bag is a Lightweight dual-strap bag with an AUTO-ACT stand system for easy maneuverability. Multiple pockets are included to store all your accessories.
The flexible graphite shafts on all 7 clubs promote faster swing speeds, and the oversized irons and woods offer increased forgiveness. The iconic putter also improves accuracy.
Design Highlights
The Graphite shafts match a junior's developing swing tempo and promote proper shot-shaping. In addition, the Special grip sizes fit growing hands for better control and comfort.
Club Composition & Pricing:
The 12-14 Deep Red club set costs around $265; it comprises the golf bag and 7 clubs in total. It is an 8-piece set with a driver, fairway wood, a long-iron, a short-iron, a mid-iron, a wedge, and a Putter.
Wilson Deep Red Junior Set (8-11 - Blue Color)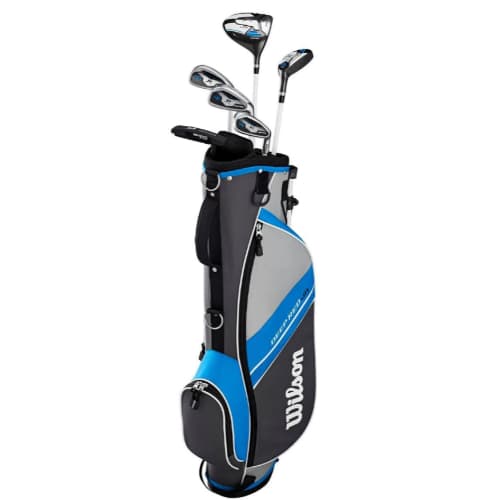 The Wilson Deep Red Junior Set (8-11 years) is designed specifically for junior golfers ages 8-11 years old.
The set includes 6 clubs - a driver, hybrid, mid iron, short iron, wedge, and putter.
The clubs feature lightweight graphite shafts with junior flex, oversized clubheads, and appropriate grip sizes for young players.
Build Materials
The clubheads are made of stainless steel for durability. In addition, the graphite shafts are lightweight and flexible to help generate clubhead speed for junior players.
The stand dual-strap carry bag is lightweight, too to simplify transportation around the course.
Technical specifications and target players
The set is designed for players 50-56" tall (127 to 142cm), ages 8-11 years old. The clubs feature junior flex graphite shafts, oversized clubheads, and grips sized for children's hands.
Pricing
The Wilson Deep Red Junior Set 8-11 years retails for around $236 depending on retailer. This price point positions it as a mid-range affordable set for parents looking to buy their child their first real golf clubs.
Wilson Deep Red Junior Set (5-8 Years - Green Color)
The Wilson Deep Red Junior Set for ages 5-8 delivers a high-quality, performance golf club package designed for young beginners.
This set targets golfers just starting out. With only four clubs, it provides a fun and confidence-boosting introduction to the game.
Club Features
Oversized, high loft fairway wood for easy launch off tee or fairway
Mid iron with a large sweet spot makes solid contact more forgiving
Wedge gets the ball airborne fast on short shots
Mallet putter with alignment aid improves accuracy on the green
Stand Bag
The lightweight dual-strap stand bag with green color accents suits a small beginner. An automatic stand, multiple pockets, and a lift handle allow easy transport (just like the bag included with the other versions of the set).
Pricing and Payment
The 5-8 club set costs around $108, which makes it very affordable and a great way to introduce younger golfers to the game of golf.
Wilson Deep Red Tour Teen Golf Set (Yellow Clubs & Bag)
The Wilson Deep Red Tour Teen Set provides a high-performance 10-club (14-piece, with 3 club head covers) equipment package allowing junior golfers to take their game to the next level as they approach their teenage years.
While limited to right-handed models, it offers advanced skills development. The set costs around $400.
Product Features
The driver, fairway wood, hybrid, irons (6-SW), and putter cover all club types. Also, the lightweight graphite woods/hybrid shafts offer more balanced swing speeds.
The durable steel iron shafts ensure longevity and individual headcovers for the driver, fairway wood and hybrid clubs protect and organize the clubs. A matching carry bag is included for walking the course.
Target Audience & Material Composition
The set suits junior golfers seeking their first adult-level golf clubs as they enter their teens. The clubs come with graphite shafts on woods and hybrids, while the irons and the putter have steel shafts.
With golf clubs designed to match their maturing games, teens can play their best with the high-quality Wilson Deep Red Tour Teen Set. The complete package promotes skill progression into the junior tournament level.
Pros & Cons
After testing the Deep Red club sets, there are a few things that we absolutely loved, as well as a few things that could be improved; they are as follows:
Pros
Lightweight graphite shafts match young swing speeds
Oversized clubheads and large sweet spots add forgiveness
Specialized grip sizes fit growing junior hands
Packages include game-improvement woods, irons, wedges, and putters
Cons
Limited availability for left-handed juniors
Sets best suited for given age ranges and skill levels
Final Thoughts
Overall, Wilson's Deep Red Junior golf club sets provide high-quality equipment tailored to different age groups of young, aspiring golfers. From beginners in the 5-8 range to improving teens, Wilson outfits junior players with the right blend of game-enhancement technology, forgiveness, and confidence-building designs.
Driven by Wilson's renowned golf engineering, Deep Red Junior sets provide technology tailored to juniors' skills. Building confidence through quality equipment, Wilson gives youth golfers an ideal path to lifelong enjoyment of the game.
If you have any questions or comments, please contact us.
WRITTEN BY

My name is Jacob, a self-diagnosed equipment and golf enthusiast. I've been golfing since I was 15. Golf has always been my passion. I'm a bit of a golf equipment nerd and I've been that way since the moment I picked up a club for the first time. As someone who's been on both sides of the game, I know what it takes to be a good golfer. Of course, you need good equipment, but you also need to know how to use it. I hope sharing my experience with you will help you improve your game.
You May Also Like