The 10 Best Golf Balls for Seniors to Improve Your Shots
Last updated:
July 12, 2023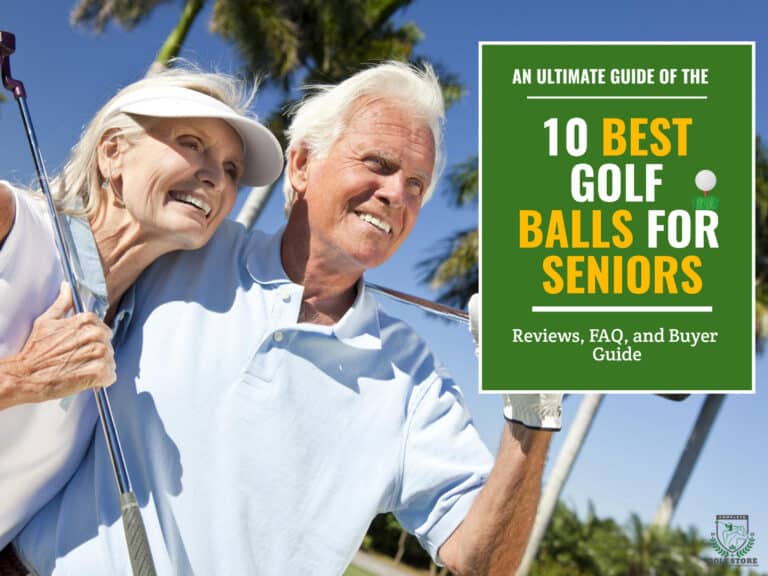 Disclaimer: We may earn a small commission from some of the links on our website. However, our reviews and comparisons remain fair and unbiased. Our goal is to help you make the best choice. For more information, please see our
disclosure statement
. Thank you for your support.
Key Takeaways
Senior golfers will benefit greatly from softer balls with lower compression and higher launch, which compensate for the relatively slower swing speeds. That's why The Callaway Golf SuperSoft Golf Ball made it to the top position as our best overall ball.
The Titleist Pro V1 is second as the best for slower swing speeds, and the Srixon Soft Feel is in the third position as the best budget option. Golf balls from Titleist, Taylormade, Wilson, and Bridgestone cover other categories and purposes.
We strongly believe that most seniors are pretty young at heart and do not want to let age get in the way of their golf game. After all, it has to be enjoyable and fun regardless of age, gender, style, or any other factors.
Choosing the right one among different golf balls will give your golfing style the much-required push, allow you to be competitive again in your favorite game and enjoy the whole experience without any compromises.
This article introduces you to our top 10 golf balls that specifically suit seniors and their style; it additionally uncovers our top pick: The Callaway Golf SuperSoft Golf Ball, which is the best quality golf ball for seniors based on our tests and the latest extensive customer reviews we considered in our research.
Read on to see the rest of the list!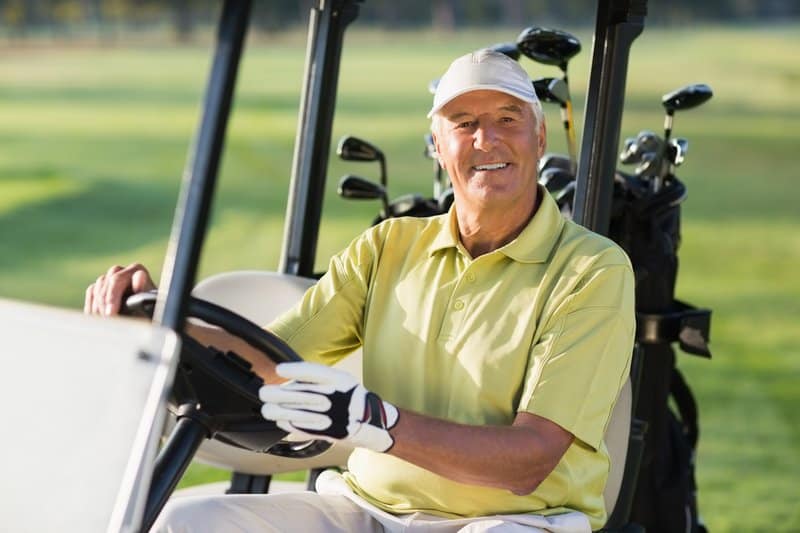 No time to read the whole article? No worries. We've done the work for you and compiled a list of the top performers.
| Product | Features | Our Rating | |
| --- | --- | --- | --- |
What Are the Key Differences Between a Regular and a Senior Golf Ball?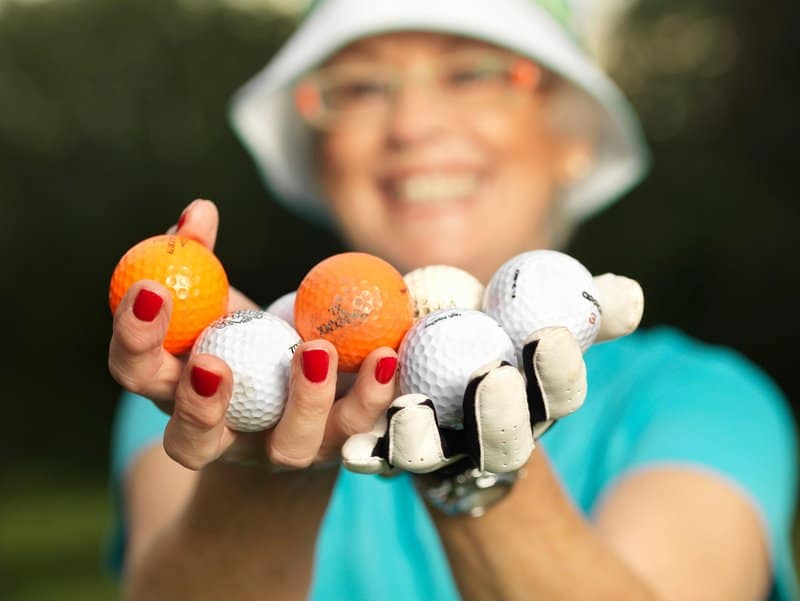 In the past few years, golf ball manufacturers have made incredible advancements, creating a plethora of different types of balls to suit every single player's style, age, strength, needs, etc.
Senior golfers need to choose their golf balls based on many criteria such as compression, cover, construction, and dimples. The goal is to select one that requires less effort to travel the longest possible distance.
Compression: Low or High?
The compression of a golf ball simply means how tightly wound the threads inside it are, and the level of compression is usually expressed using a rating of around 120 and below.
In the end, there are two types of balls: low compression (80 or lower rating, also referred to as softballs - with the softest balls having a rating as low as 40) and high compression (or hard balls, having a compression rating of 100 or higher). The higher the compression, the harder the ball, and vice versa.
These two types of balls mainly differ in performance. Softer balls require less strength and travel for a longer distance due to their softer texture physically reacting to the golf club and their higher spin rate, making them more useful for longer, straighter shots.
On the other hand, harder balls require stronger swings and have a reduced spin rate; but they provide more accuracy and control.
Overall, low compression balls are better suited for senior players and slow swingers, while harder balls are better for younger, stronger, or even professional players with faster swing speeds.
Ball Cover: Surlyn or Urethane?
The majority of golf balls, both regular and practice, nowadays are covered either in Surlyn [1] or Urethane [2].
Surlyn-covered balls are less expensive, more durable, and provide more distance than urethane-covered ones, making them a better choice for most amateur players using budget or mid-range balls.
The only major disadvantage is that they lack the backspin that many professional and demanding amateurs need to control the ball.
Urethane is a softer and more flexible material that is used for the covers of higher-end golf balls. Urethane covers offer better spin and feel around the greens, as well as improved control and accuracy on approach shots. However, urethane covers are also more susceptible to scuffs and cuts, making them less durable than Surlyn covers.
Simply put, surlyn provides more speed and impressive distance, while Urethane provides more control and feel for green or approach shots despite being more expensive.
Construction: Two-Piece or Three-Piece?
Two-piece golf balls are usually composed of a solid core with a hard surlyn cover, while three-piece balls are made of either a solid core or soft inner core, an outer rubber layer along with a soft outer urethane cover or similar material.
Two-piece balls are less expensive and more durable than three-piece balls. They are also harder and cover greater distances.
Three-piece balls (multiple-piece), however, provide better backspin and feel, which may make them more appealing, especially among more skilled golfers. Multi-layer golf balls are designed to provide a balance of distance, spin, and control, and are usually of higher quality.
Seniors will benefit more from two-piece (distance) golf balls and their enhanced distance coverage.
Dimples: Average Number of Dimples
The average number of dimples on a golf ball varies between 300 and 500 depending on the model and manufacturer of the ball. The dimples are usually spherical in shape, even though some makers may opt for different shapes, as is the case with Callaway's HX ball having hexagon-shaped dimples. The average depth of the dimples on a ball is about 0.010 inches (0.25 mm).
Those are not a simple aesthetic addition to golf balls, as dimples on the ball are scientifically proven to create a layer of air around it that makes its trajectory more predictable, thus providing more control and smoother ball flight, which helps significantly with the ball's performance.
Moreover, a back spinning ball in the air creates a lifting force by the air that goes underneath it; dimples can magnify this force by about 50%, making it fly higher and cover a longer distance.
In a nutshell, dimples are essential to the speed, consistency, control, and smoothness of the golf ball flight.
For seniors, we recommend balls with fewer or average dimple count (no more than 350) that offer enough spin to achieve higher ball flight and longer distance, without going too high to the point of reducing the latter.
The 10 Best Golf Balls for Seniors Reviews
The following are our top selections based on our own testing, research, and experience:
Our Top Pick: Callaway Golf SuperSoft Golf Balls
The Callaway Super soft balls are currently topping our list of the best choice for most senior golfers, especially if you have issues with consistent ball flight. They are some of the softest golf balls available for purchase.
Designed to give you more distance and straight shots every time, they come with the innovative HEX Aerodynamics technology for straighter ball flight and improved control and spin.
The ultra-low compression core gives a good feel off the clubface. It is ideal for people who have been experiencing a slower swing.
These soft golf balls are ideal for your short irons, chipping, and pitching. They are also priced affordably and are definitely a good option for seniors. Available in bright colors, the balls are to spot the ball when you hit them too far. Many users love the distinct color and use it as a means to identify their ball.
The ball's soft matte feel has quite a few fans, and golfers love the sound of the club head hitting the ball. It also has a beautiful line on the side to help the players with aiming. The matte finish also maintains a good grip while you are handling the ball.
Callaway golf supersoft golf balls can also be a perfect gift for your golfing partners and companions.
Pros
Improved speed and accuracy.
Softer trigonometry cover for better greenside control.
Comes in a variety of bright colors.
Affordable supersoft golf ball.
Gives you a straighter drive.
Ideal for golfers with consistency issues.
Cons
Not all golfers are a fan of the matte finish.
The cover is relatively thin and may come off when the ball hits hard surfaces.
The Callaway Supersoft balls are our top pick due to the fantastic feel and distance they can cover. While some feel they are way too soft, these balls are perfect for seniors who feel their swing speeds have slowed down over the years. They are also an affordable option in the low compression golf balls category.
Best for Slow Swing Speed: Titleist Pro V1 Golf Ball
Designed to achieve maximum distance and provide the best short game control, Titleist Pro V1 aims to help golfers achieve lower scores. Players will have the best ball control as these golf balls come with exclusive cast thermoset urethane elastomer covers.
The extremely thin urethane cover may not contribute much to the speed. However, it is ideal for creating a high spin on approach shots. Cover thickness has been reduced to add more speed while also giving more control and spin.
As the core is made with the superior new 2.0 ZG process, the Titleist Pro V1 provide an unmatched feel and low compression that even slow swingers can cover extraordinary distances and consistent flight.
These premium golf balls also come in different colors, such as pink, white, and yellow, which helps greatly with visibility.
Additionally, the Pro V1 provides more ball speed, produces less spin in the long game and offers the best drop-and-stop control among the products we included in our tests.
Pros
17% thinner urethane cover for better speed.
Larger casing layers with more fast materials.
Gives unmatched feel, low spin, and high speed.
Provides a penetrating trajectory.
Enhanced side stamp for better aim and accuracy.
Cons
Slightly more expensive than the competition.
Experienced golfers love the soft feel of the ball and its durability. They also make a great Christmas gift for your parents, partner or best friend.
Most people have a complaint about the high price, and we do agree it is on the higher end. Still, the unmatched performance totally justifies the price you pay.
Best Budget Option: Srixon Soft Feel Golf Balls
These soft golf balls have a dimple pattern that will give you good and straight flight. They come with an ionomer cover for a great feel. A lower compression rating of 60 delivers more distance even at relatively low swing speeds, which is ideal for seniors.
The soft feel, as the name goes, makes these balls great for easy chipping and putting. The Energetic Gradient Growth Core is softer at the center and firm on the outside to launch higher off the tee and produce less spin for maximum distance, especially for players with average swing speeds.
The soft, thin cover is known to provide higher greenside spin and a remarkable consistency with each shot.
A well-rounded ball pack with no major drawbacks available for around $30 is a must-buy for every golfer irrespective of their skill level or age. You can get them in packs of 2 or 4 dozen. They are available in white and yellow colors.
Pros
338-speed dimple pattern for more accurate shots.
Longer driver distance and consistency.
Moderate amount of spin.
Fits a wide range of players
Soft feel on the pitch and Easy Target alignment.
Cons
The cover is less durable (Something expected from softer golf balls).
These affordable golf balls may not have the unique characteristics required for professional golfers. They may also not be the masters of any specific trait, but are definitely all-rounders, which is sure to give your golfing skills the required push.
Despite concerns about the thin cover and durability, it should not be a major worry as the balls are priced adequately.
Best for Soft Feel: Titleist TruFeel Golf Balls
This is yet another best soft golf ball for seniors from the house of Titleist. It is softer than the earlier versions we have reviewed so far; it will give you the feel of hitting a bouncy rubber ball.
The R&D of Titleist has a unique formulation of a new core combined with an innovative cover design that offers a low spin on your long shots. It also provides fantastic distance and short game playability.
The ball has an excellent compression that gives a nice leap to it once it leaves the clubface. These white, matte red or yellow-colored golf balls for seniors are attractive and easy to spot. They are also ideal for golfers with a swing speed within the 75 to 90 mph range.
DT Trusoft technology is what provides the soft feel, be it off the tee, on your approach shots, or around the green. The Truflex cover technology also contributes to the smooth feel and better holding and dropping capabilities.
The aerodynamic design enhances the flight capacity of the ball and helps in covering maximum distance. This feature also gives you constant straight ball flights that will help players get to their target.
Pros
Softest compression in the Titleist brand.
Superior quality from a trusted golf ball manufacturer.
2-piece construction with softcore and firm, thin, durable cover.
Penetrating trajectory at 75 to 80 mph swing speeds.
Cons
May not be suitable for golfers who are used to urethane golf balls.
Slightly expensive
Being a leader in the golf industry, Titleist never compromises on quality, which is evident in the many positive reviews of these DT Trusoft golf balls. The fact that they give incredible distance at lower swing speeds makes them ideal for seniors.
Also, DT Trusoft is a relatively cheaper option than V1 that still manages to provide decent performance in and around the greens.
Best Performance for Mid Handicappers & Technical Golfers: Titleist Tour Soft Golf Balls
If you happen to be a senior golfer that managed to keep a decent swing speed and good mastery of the techniques, the Titleist Tour Soft Golf Balls are exclusively made for you, as these buttery soft golf balls improve the playability of your shots around the green.
However, seniors should note that these balls do require a good swing speed and perfect contact to make the most of your shot. They are geared towards the more technical golfers who know how to swing the club and hit the ball properly.
Tour soft gives you superior distance and a responsive feel provided that it gets in motion following a medium to high swing speed. Titleist engineers have designed this golf ball with the largest core ever to deliver increased ball speed and response.
The ultra-thin 4CE grafted cover manufactured using the TCU process technology is ideal for better control in short game. With a spherically tiled 342 Cuboctahedron dimple design, the ball provides good trajectory penetration and steady flights. This feature also reduces the spin rates on your long shots, resulting in improved distance coverage.
The balls were designed with the right compression and soft feel required to achieve good distance as well as excellent control over short-distance shots. Overall, golfers are big fans of this ball's all-around performance around the course and greenside.
Pros
Unique simple design for steady high ball flights.
Improved durability with Ultra-thin 4CE cover.
Good solid feel with a driver.
Excellent stopping ability on greens, and very good straights off the tee.
Cons
May not be ideal for amateur players or those with slower swing speeds.
Titleist is a famous brand with high-quality equipment. However, you may also want to check if the ball suits your swing style and speed before buying it. If you are looking for the longest traveling ball, there are other options, even with slow swing speeds. Tour soft is sure a good performer in the hands of decent golfers who are looking for more control and spin around the greens.
Best Spin and Distance: Callaway SuperHot Golf Ball
If you are looking for more spin and good distance, the Callaway Superhot is an ideal option. It sure gives you great distance with its 3-piece construction, coupled with an ionomer cover that helps achieve higher spin rates than the 2-piece construction variants.
The main factor that sets the Callaway SuperHot apart from other golf balls is the super-thin ionomer that is softer than Surlyn while still being harder than other expensive urethane models.
This unique 3-piece construction gives more spin on approach shots and even on the greenside. These balls do not tend to skid and roll on fast when compared to other options.
It comes with the same aerodynamic Hex dimple pattern that is similar to our top pick - the supersoft option from Callaway. However, the three-piece design offers a softer feel and adds to the flight capacity.
The soft cover tends to get damaged if the ball hits any hard surface. However, you will not witness much damage from your usual shots. When it comes to pricing, it definitely belongs to the higher-end category in the senior range. However, the top performer tag justifies the high price.
Pros
A unique style of construction.
Golfers love the surface texture.
Available in a matte finish and bold colors.
Ideal for long and straight shots.
Bright-colored balls are easy to spot in the grass.
Ideal for senior golfers with moderate swing speed.
Cons
The ionomer cover scuffs when the ball hits hard surfaces.
Pricey
The Super-thin ionomer cover combined with the 3-piece construction is a unique combination that gives you long-distance shots with more spin control.
If you hit a hard surface or rocks, you will surely have to replace the ball. However, it is more durable than a urethane cover golf ball which is more expensive.
Good Value for The Price: Wilson Smart Core Golf Ball
Smart Core Technology is the unique feature of this golf ball that can adjust to the swing speeds. The ball tends to spin less for your fast swings, and for your shorter games, it spins more, thus giving you more control over your shots. The unique design is what helps reduce the spin to give the ball a more accurate and straight distance.
It comes with a highly durable ionomer cover that provides excellent playability through varied conditions. Even though these golf balls look cheap, they deliver more or less the same performance as any other golf ball in the same price range. If you happen to play a lot in hazardous areas, you would want to have these balls handy.
The price is the attractive feature of this smart core ball. Even with a few drawbacks, players are willing to overlook these because of the affordable rates. It is ideal for beginners to practice with these not-so-expensive golf balls as you can play without the fear of losing them.
You get an exceptional feel around the green with a soft response, while for those long-distance shots, the ball offers a firm response.
Pros
Better swing speed possibilities with smart core technology.
Ideal spin control on both long and short-distance shots.
Decent performance at affordable prices.
Suitable for novices.
Works well with slow swing speeds.
Cons
Not suitable for professional golfers.
With the price of these golf balls, anybody would think they do not deliver much. However, you still get an acceptable level of performance in terms of distance and feel. They are great to get started with your game. A great bargain!
Acceptable Performance: Bridgestone e6 Soft Golf Ball
Apart from some of the big names such as Titleist and Callaway, we also have some exceptional golf balls from Bridgestone's lesser-known brands. Designed to deliver consistency, accuracy, and straight distance coverage, these balls are one of the favorites among senior golfers.
The E6's improved aerodynamics help achieve extra distance and provide a soft feel to it. Primarily available in white color and a 12-ball pack at an affordable price, this two-piece construction ball has been redesigned to work well even at moderate swing speeds. A great choice for seniors with slow swing speeds!
The advanced features give players confidence to achieve a good performance on the greenside. The reduced spin means better control over both long and short games. The softness of the ball adds an excellent feel to achieve straight ball flights.
The advanced mantle layer cover combined with the soft layer improves the ball's performance around the greens. It also comes with a low-compression core for good ball flight and better speeds.
The exterior design pitfalls have probably pulled it down to a good-quality golf ball rather than being the best in class.
Pros
Straighter flights.
Ideal for chips and putts
Perfect combination of feel, distance and spin.
Excellent greenside performance.
Improved visibility with yellow color balls.
Decent product at a reasonable price.
Consistent shots even at moderate swing speeds.
Cons
Alignment aid on either side is not very useful.
The logo placement may be a distraction.
As senior players, you witness a decrease in the swing speeds. This golf ball comes as a game-changer for an experienced player who can continue to give their best shots even with slower swings. Apart from the exterior's visual design flaws, we do not have much of a complaint about these balls.
Good Graphics and Visuals: Callaway Golf Chrome Soft Truvis Ball
Have you ever seen a golf ball with football-like graphics on it? These funky graphics on the golf ball are sure to make a few heads turn in surprise. Those who are keen on trying the most unconventional things can try this one.
Similar to other urethane golf balls, the Callaway Golf Chrome Soft Truvis gives players good control and spin in and around the greenside. However, some pros of the game have complaints about the distance and durability.
The outside of this golf ball resembles a soccer ball with a pentagon over it arranged symmetrically. Designers claim to have created the design to ensure you get a better view of the ball while aiming and aligning it. It is a sight to behold to see the spinning ball on your chips and putts.
This golf ball is highly recommended for seniors who are looking for backspin and stop power while also aiming to hit the ball to the right height and length.
Pros
Comes with the right spin for the greens
Stands out on the course.
Works great on chips and putts.
Some players prefer the marking for better alignment.
Works well for golfers with mid to high swing speeds.
4-piece construction.
Cons
Some find the design very odd on a golf ball.
Distance coverage is not very impressive.
While there have been mixed reviews on the ball's appearance, golfers love the increased focus, visibility, and ultra-soft feel. These balls are perfect for minimizing driver spin and enhancing the high launch for long distances.
Looks and performance-wise, these golf balls are worth a try for seniors.
Good Distance Ball: TaylorMade Distance Plus Golf Balls
If you are looking for a long-distance ball on a tight budget, TaylorMade Distance Plus is the ideal option for you. This easy-to-play golf ball gives you maximum distance. The low drag aerodynamics, coupled with a REACT speedcore adds more velocity, so it reaches a farther distance.
Seniors who hit the ball straight and short, and players who keep their chips low benefit the most from these distance balls. Senior seasoned players with slower swing speeds can still cover a good distance with these balls.
This is a firmer fast ball that can give you a low and sharp ball flight. It does not have a soft feel like the other variants reviewed here. The ball works well for the bump and run shots due to its firmness. It also works great for putting and chipping. For high trajectory, spinning shots, and flop shots, you will need to look elsewhere.
Appearance-wise, TaylorMade Distance Plus is a modest-looking ball with dual alignment and aiming points. People who like to have a long line can look at the TaylorMade logo to align the ball. You could also use the alignment line on the sides mentioned as "Distance +" with arrows on either side.
The distance Plus offers excellent value for money and with its quite firm cover, it is highly durable.
Pros
342 aero dimple design adds to the ball speed.
Ideal for short game
ACT speedcore.
Good price point.
Gives more consistent drives.
Bright-colored and easy to find.
Cons
Most players do not like firm cover and core.
May not be suitable for professionals.
The price is the most attractive feature of this golf ball; it also does a decent job in terms of distance, spin, and control around the greens. This hardcover golf ball is also quite durable and lasts longer than any of the expensive ones.
Buyer guide: Things to Look for When Buying Golf Balls for Seniors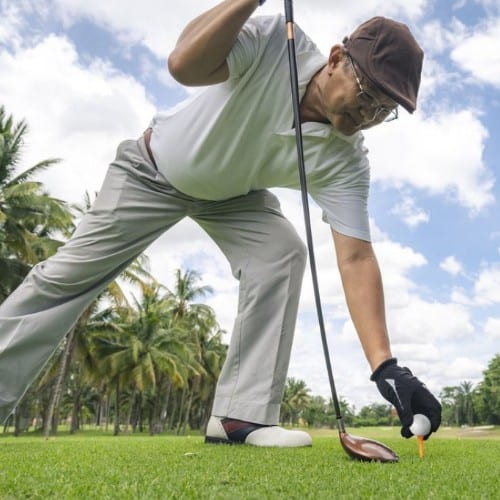 Choosing which golf balls for seniors to buy is a highly subjective matter. Many factors need to be taken into consideration before making the decision depending on the person's preferences and abilities.
Distance
The most basic goal for senior golfers is to achieve the longest possible shots requiring the least amount of energy and strength. In this case, low compression softballs tend to achieve longer distances compared to high compression balls.
The ball cover also matters here, as Surlyn-covered balls can perform better than urethane balls. Simply put, to achieve a longer distance, seniors may opt for either low compression balls or ones covered in Surlyn (or both). Yet, control will be slightly sacrificed.
Durability
If durability is your main criterion while choosing your golf balls, then your options range between high compression hard balls, Surlyn- covered, and two-piece balls. These are the ones to look for if you want your golf balls to last a bit longer.
One may also look for brands offering balls combining more than one of the options, such as two-piece, Surlyn-covered balls. Some performance will be gained, but at the expense of control and feel.
Feel/Spin
Some senior golfers may still have a preference for control, feel and spin. The best balls to offer better control are High-compression balls, ones covered in Urethane, and three-part balls. These are more expensive, but if this is not an issue for you, then these are your best choice.
Again, one may look for balls combining two or more of these criteria. These types of balls offer a better feel and spin but require more power, as they need stronger swings to achieve better results and distances.
Color and Visuals
As we grow older, it is normal for vision to decrease; we are not able to see some smaller things as well as we used to when we were younger. It's just how life works. Yet, vision is of utmost importance when it comes to golfing; the whole game relies on it.
Senior players need golf balls that can stand out in the middle of the surroundings and can be perfectly tracked at all times - be it mid-air or on grass. Golf balls come in many different colors, even though white is considered to be the default color. If a different color is to be chosen, it will be better to avoid blue balls, as they don't contrast very well with grass or the sky (mid-flight).
Orange (especially high-optic) is a very good option, but it may cause problems during autumn with tree leaves on the ground.
The best ball colors to offer better visibility and tracking in the air and on the ground are vivid green (like the Volvik vivid golf balls), pink and high-optic yellow. They offer the best visibility anytime, anywhere. Generally, brighter and more vibrant colors tend to be more visible than duller or darker colors.
Value for Money
Usually, golf balls that favor performance over control are relatively cheaper. If budget is an important factor for you, then you need to strike a balance between price and performance.
That is, you need to get balls that are a bit cheaper without sacrificing too much on the performance and control departments.
Balls like the Srixon AD333, the Titleist Tour Soft, and the TaylorMade Tour Response provide some of the best value for money in the market.
Frequently Asked Questions
Now is the time to find answers to all those questions you have on golf balls for seniors.
We may not be able to address all of your queries, but we have taken down a few of the most common ones that senior golfers may have.
Why Are Golf Balls for Seniors Different From Other Balls?
Golf balls for seniors are different due to many reasons.
One of the main reasons is the compression. We need balls with low compression so that they can be set in motion with relatively minimum effort. There is a need for softer balls with improved design and engineering to launch the ball even with slow swing speeds.
Another reason is visibility; as you may have noticed, most of the golf balls we reviewed come in bright colors so that you can spot them easily.
Ball Compression for Seniors: Low or High?
Golf ball compression refers to the way the core threads are wound together. For instance, when we say a ball has low compression, it means that the threads are not wound together very tightly. Balls with low compression tend to traverse more distance than the ones that have high compression.

Senior players with slow swing speeds do better off with low compression balls as they give them the distance and spin. Even beginners, juniors, and women prefer these golf balls for improved playability.

The hardest hitters use high compression balls. They use enough force to flatten the ball at impact. So, high compression balls may not be ideal for senior players.

The verdict is that low compression balls can also be the longest golf balls for seniors. This is also why we have the best low-compression golf balls for seniors as a separate category.
What Is the Average Swing Speed for a Senior Golfer?
The average swing speed for senior golfers varies based on several factors, such as age, gender, physical fitness, and skill level.
According to a study published by TrackMan, which analyzed data from over 20,000 golfers, the average swing speed for male senior golfers (over 50 years old) is around 76 mph, while the average swing speed for female senior golfers (over 50 years old) is around 62 mph. However, this is just an approximation and does not take into account individual differences in age and physical condition.
It's important to note that swing speed is just one factor that affects a golfer's game, and other factors such as accuracy, ball flight, and course management also play a crucial role.
Which Golf Construction Is Best for Senior Golfers?
Golf ball construction comes in 2, 3- and 4-piece construction. Most of the options we have reviewed belong to the two or three-piece category.

Experts believe that senior players find a two-piece or 3-piece construction useful to gain more distance. These usually come with a durable yet thin cover made from ionomer, surlyn, or urethane. Soft balls are more likely to give the best results to senior players with slower swing speeds. Firm balls will need more effort to set them in motion.

These softer balls tend to give more yardage and good distance coverage. Seniors will have to make slight adjustments to their playing style by hitting short and allowing the ball to roll up to the greens.

Players with a single-digit handicap can play well with the 3-piece construction, which most probably has a urethane cover.
What Color Golf Ball Is Easiest for Seniors to See?
Balls with vivid colors are more likely to be visible and trackable by senior golf players. That's why almost all ball manufacturers are now trying to expand the color options and finishes of their golf balls.

However, since colors like blue, purple, or orange may cause issues of contrast in specific conditions (blue and purple not contrasting very well with the grass, and orange being problematic during autumn), the best golf ball color to consider seems to be yellow and green. They are favored by seniors (or anyone having vision issues) because they provide perfect visibility in the air, on grass, and in any weather conditions. There are even glow-in-the-dark golf balls for added visibility.
Do Soft Feel Golf Balls Go Further?
The answer is yes, especially for seniors or any players with low to average swing speeds. Soft feel or low-compression balls have a compression rating of 80 or less, which means their core is softer than that of high-compression balls.

When hit with a golf club, a soft feel ball, thanks to its softer core, will rebound off the club's face, which will help it go a little further compared to a high-compression ball. They also require less strength and swing speed, which makes them perfect for senior golfers wishing to achieve longer distances.
What Are the Best Golf Balls for Seniors With Medium Swing Speed?
This is a tricky question, as we have mentioned before that the right choice of golf balls depends on the players' personal preferences and playing styles. In addition, in this same article, we have covered a selection of our top 10 golf balls for seniors.

But one ball stands out of the lot and seems to be the perfect ball for seniors with medium swing speeds: The Bridgestone e6 soft golf ball. It is an all-around solid performer that manages to bring the best of both worlds, providing longer distances with plenty of feel and control. We believe it is the best ball to use for senior golfers with low to medium swing speeds.
Are There Any Other Considerations When Choosing the Best Golf Ball for Seniors?
Most of the brands we discussed in the golf balls for seniors category consider factors [3] such as compression, spin, durability, softness, vision, budget, etc., while putting forth their products in the market. It is up to the players to choose the right one based on their preferences and skill levels.
Vision – In addition to all the factors covered earlier, this is one of the crucial aspects of choosing a golf ball for a senior player. As they age, the decline in vision is quite common, and it is ideal to select ones that are brightly colored so they are easy to spot. They also allow seniors to differentiate their golf balls from those of other players. Today you also have some luminescent varieties available.
Budget – may be another critical aspect as senior golfers may end up losing balls to hazards or other obstacles, and that's why they may not want to invest in the most expensive balls out there.
Also, Golf balls can vary in price, so it's important to choose a ball that fits within your budget. But it's also important to remember that a more expensive ball may offer better performance and durability. Striking a balance between price and performance is the best way to choose your new golf balls.
Brand - Many seniors have brand loyalty when it comes to golf balls. However, it's important to keep an open mind and try different brands and models to find the best fit for your game.

Final Words
All our recommendations carefully consider the different aspects of choosing the best golf ball for senior players, such as affordability, visibility, quality, durability, etc. Now, it is up to you to choose based on highly subjective likes and preferences to achieve your best possible performance, fully exploit your abilities, and compensate for any age-related issues that may prevent you from achieving the best results.
We have reviewed some of the best brands like Callaway, Titleist, and other brands that do not compromise quality even if they are available at a comparatively lower affordable price.
Out of all the best golf balls for seniors, our top pick is the Callaway Golf SuperSoft. They are super soft, give more straight shots, and are ideal for players with slow swing speeds. They are also available at affordable prices.
---
References:
Ionomer. Wikipedia. Retrieved from https://en.wikipedia.org/wiki/Ionomer#:~:text=Surlyn
What Is Urethane? Sciencing. Retrieved from https://sciencing.com/what-is-urethane-4609711.html
Do You Know Your Most Suitable Golf Ball? HERO Sports. Retrieved from https://herosports.com/golf/do-you-know-your-most-suitable-golf-ball-arar
WRITTEN BY

My name is Jacob, a self-diagnosed equipment and golf enthusiast. I've been golfing since I was 15. Golf has always been my passion. I'm a bit of a golf equipment nerd and I've been that way since the moment I picked up a club for the first time. As someone who's been on both sides of the game, I know what it takes to be a good golfer. Of course, you need good equipment, but you also need to know how to use it. I hope sharing my experience with you will help you improve your game.
You May Also Like