The 10 Best Golf Balls for Women: Review and Buyer Guide
Last updated:
July 25, 2023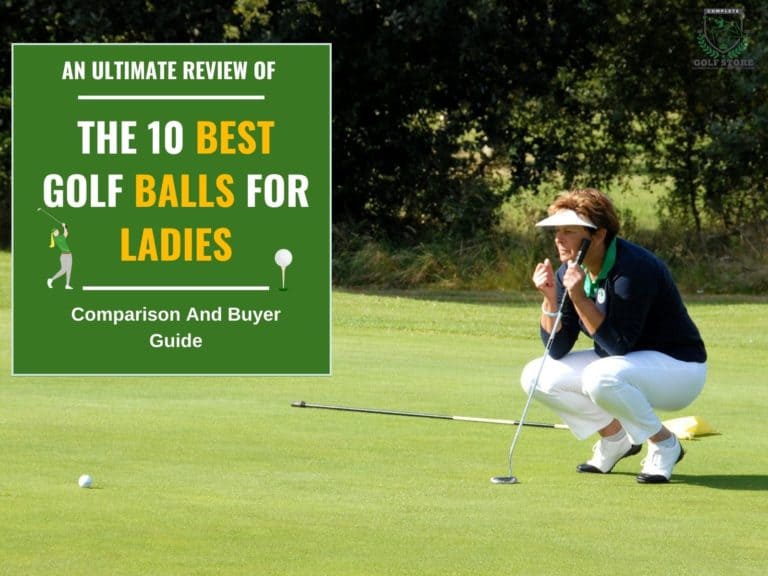 Disclaimer: We may earn a small commission from some of the links on our website. However, our reviews and comparisons remain fair and unbiased. Our goal is to help you make the best choice. For more information, please see our
disclosure statement
. Thank you for your support.
Key Takeaways
Women usually have slower swing speeds than men, and that's where female golf balls come into play to compensate for the lower speeds and improve distances.
In this regard, our top pick is the Bridgestone Lady Precept, followed by Callaway's 2021 REVA and Volvik Vivid Golf Balls. Other excellent brands also made it to the list, including Taylormade, Wilson Staff, Titleist, and Nitro Glycerin.
More details in the reviews!
For years now, men have dominated golf. According to the U.S.G.A., the country's 25 million golfers are 79% male and 21% female [1].
But that's not to say that women aren't golf fanatics, far from it. According to the National Golf Foundation, 25% of all golfers are women [2], and one in four women play the game regularly.
It is not compulsory that a woman golfer only use women's golf balls. However, the key to a good game is to choose the ball that matches your game and style!
In this article, we tested plenty of women's golf balls to come up with our final list of the 10 best. We also included the crucial factors to consider while choosing the best options to help improve your game.
In a Hurry? Here Are the Top Options We Like the Most.
| Product | Features | Our Rating | |
| --- | --- | --- | --- |
Our Picks of the Best Golf Balls for Women
The following are our top selections based on our own testing, research, and experience:
Bridgestone Lady Precept
Topping our list is the Bridgestone Lady Precept Ladies Ball. The brand was the first to come up with soft balls designed specifically for lady golfers.
Soft balls guarantee longer distances and produce consistently straight and accurate shots. The low-compression allows women to have leverage over their handicaps. It also has a soft feel on the greens and comes in lovely pink, white and yellow!
Bridgestone has received great reviews and five-star ratings across golfing communities. The material used in Lady Precept balls is ionomer. It has 330 seamless dimples helping achieve long distances and better flights.
The company has researched and developed its ladies' ball range, which are specifically engineered for slower swing speeds. The ball produces a high launch, and lower spin and gives the maximum distance. Besides, it also has a soft feel around the green.
Pros
Softest ladies' golf ball
Specially engineered for women golfers for soft feel and distance
Cover made with 2-piece soft ionomer material
Has a soft gradational core
Cons
Thin cover, so they get scuffed up quickly
These colorful balls, especially the yellow, are so easy to find in the deep green grass that you will waste less time searching for them and more time perfecting your game. These are definitely our top recommendation for female golfers!
Callaway 2021 REVA
Callaway is a famous company specializing in golf equipment (among other things). They always provide high-quality products to ensure their customers' satisfaction.
The new REVA balls are made from a hybrid tri-blend Ionomer (surlyn) cover in a two-piece construction, which maximizes durability, distance, and forgiveness. They are specifically designed for female golfers, meaning that they are oversized, and their diameter is a bit larger than that of a regular ball (but still conform to the rules).
These balls can help you achieve higher launch angles and low spin. As a result, they can fly higher and travel straighter for longer distances.
You can buy the Callaway REVA in packs of twelve for a really competitive price. They are also available in white and pink colors; they are easy to spot anywhere on the course, meaning that you will be losing fewer balls from now on (if any at all).
Pros
Oversized construction that really works: Better distance and consistency.
The two-piece construction with a hybrid Ionomer cover means the balls are very durable.
Competitive pricing.
The available colors provide excellent contrast with the course elements. The balls are easy to spot.
Cons
Although the larger diameter helps make the balls easier to hit, this may cause issues with your regular ball washer or retriever, as they may not fit in them!
Callaway's new REVA balls are great for women who want to improve consistency as well as distance without compromising too much on control.
The two-layer construction ensures the balls will last a long time before you need to replace them. Moreover, they provide great value for the price, as they are sold in large packs of twelve for an affordable price. We are sure that you will adopt these balls once you try them out!
Volvik Vivid Balls
Don't get fooled by these balls' bright and cheery appearance! They are some of the best-performing balls on the market.
The Volvik balls come with a higher compression rate of 80 and are best for women with mid-range or high swing speeds in the range of 70 and 100 MPH. These 3-piece balls have the edge over other 2-piece construction in terms of distance and spin control on the green.
They also have the softest impact. Female golfers with slightly better swing speeds must try them out because they do not know what they are missing. The outer cover is Surlyn and zirconium and helps to rebound and effectively amplify your hits. Whether you are just beginning or have been playing forever, it will be just right for you.
Pros
392 dimples providing lower air resistance and more speed
Budget-friendly balls
High visibility vibrant colors
Cons
Not suitable for women with higher swing speeds.
They chip and wear off easily.
The soft cover is perfect for slow and mid-swing speeds. This golf ball is available in different colors. However, for some reason, the blue balls seem to be extremely overpriced, at almost $57 for a dozen. The best value is provided by the orange and vivid green balls, which cost around $13/ dozen.
If you are interested in getting highly visible balls to use in low-light conditions, you can check out our review of the Best Glow-in-the-Dark Golf Balls.
Titleist Velocity
These premium balls from Titleist provide a higher launch and good distance. The velocity balls are especially recommended for recreational female golfers who have mid and higher handicaps. If you have a slow swing speed and can do with more distance, opting for these balls will solve all your problems and improve your game tremendously.
The balls come with a soft, high-speed LSX core that is instrumental in providing initial velocity. The innovative NAZ+ cover optimizes flight, gives more speed to the ball, and lets it cover a longer distance with a lower spin. 328 tetrahedral dimples make every shot nothing less than perfect.
The balls are affordable and help build great confidence. The colors are vivid and best for sunny weather where you don't have to keep wasting time searching for them in the deep grass. They feel amazing on all the club faces, and putting with them is a great new experience.
Pros
Greater distance and higher flight
Extremely low spin
More accuracy in every shot
Lovely colors such as pink, green, orange, and white
Cons
We received the balls in a green mesh bag, not a box.
Distance is the main theme of all Titleist balls. The company is known for tweaking its balls and other products with subtle changes to outdo its own performance. The Titleist Velocity are aptly named balls!
Wilson Staff Fifty Elite
The Wilson Fifty Elite Balls provide a unique blend of high-performance materials, innovative design, and an attractive color scheme that is sure to appeal to avid golfers. The twelve-pack of yellow balls is a product of renowned brand Wilson, indicating an assurance of quality and reliability.
These balls' unique 302 PhD aerodynamics dimple pattern design helps the balls rip through the air and create a stable, penetrating flight. This can provide you with more control over your shots, enhancing the overall performance on the course.
In addition to the distinctive dimple pattern, the Wilson Fifty Elite also feature an advanced rubber core that delivers longer carry distance with high greenside spin, allowing you to cover more ground with each stroke.
The balls also have a responsive cover that combines a low-driver spin for powerful acceleration with effective softness around the green. This balance of power and control makes these balls suitable for golfers of all skill levels.
The Fifty Elite are labeled "unisex adults" meaning that they are good for both men and women, further increasing their versatility and use. They are also available in five distinct colors: white, yellow, green, orange, and pink.
Pros
Reasonably priced
Responsive cover for balanced acceleration
Unisex, suitable for males and females
Advanced rubber core for extended distance
Stable flight thanks to the Unique 302 PhD dimples
High-quality material ensures durability
Cons
Nothing we could think of
Wilson's Fifty Elite Golf Balls provide power, control, and aesthetic appeal all in the same package. They incorporate high-quality materials and innovative design features to optimize their performance. Given the brand reputation and the product's promising features, these balls could be a great investment for both amateur and professional golfers.
Finally, the extra soft core and compression rating of 50 not only make these balls excellent for ladies, but they are also some of the Best Balls for Seniors.
Callaway SuperSoft
The Callaway Supersoft balls are available in three colors- traditional white, optical yellow, and an eye-catching pink; they offer a variety of features that make them stand out on the green. The most prominent aspect of these balls is their softness. With a 35 compression rating, they are some of the softest balls available on the market. This not only adds to the overall feel of the ball but can also significantly impact the performance of your swing.
The Ultra Low Compression core also aids in reducing spin and eventually increase distance, providing an added advantage to those looking to cover more ground with their shots. The low spin design also ensures a straighter ball flight, an essential attribute for anyone aiming to improve their accuracy on the course.
In addition to performance, these balls offer a great aesthetic appeal. The vibrant colors not only add a fun element to your game but can also improve visibility, making them easier to spot in the air or on the ground.
Pros
Ultra Low Compression and low spin for greater distance.
Softest golf balls on the market.
Available in several vibrant colors for better visibility.
Solid build quality and durability.
Help achieve straighter ball flight.
Cons
Minimal color options
The softness might not suit all styles.
Despite a few minor drawbacks, these balls have received overwhelmingly positive feedback from customers (4.6 out of 5) and are a popular choice for players of all skill levels. They have been widely praised for their soft feel and increased distance. Customers appreciate the straight ball flight, which has notably improved their accuracy. These balls are definitely worth considering for your next round on the green.
Callaway Diablo Tour
The Diablo Tour Balls are engineered to provide a powerful tour performance, something evident from their construction. The larger power core design ensures optimum control with every club, promising the spin that golfers seek for superior control. With the soft center core, these balls promise increased spin with shorter clubs, improving greenside control.
The HPF inner cover layer further accentuates spin control, making it a highly playable ball for different skill levels. The HEX aerodynamic dimple pattern reduces drag and ensures penetrating flight, contributing to the overall performance.
The Diablo Tour are constructed with an ionomer material that balances durability and soft feel. The white color provides excellent visibility, while the pack of 12 ensures you have enough supply for your game sessions.
The Callaway Diablo Tour Balls cater to a wide range of players seeking to optimize their game. Users rave about the enhanced control the balls offer with each club, the aerodynamic flight, and the improved greenside control. A minor drawback is the balls' durability, as they tend to get cuts or lose bits of plastic after a few rounds of play.
Pros
Improved greenside control with soft center core
Durable ionomer material construction
Reduces drag for a penetrating flight
Adequate supply with a pack of 12 balls
Enhances control with every club
Cons
May not last very long without cuts
If you're seeking a ball that enhances your game control and provides a powerful tour performance, the Callaway Diablo Tour is worth considering.
The superior control, impressive flight, and great feel it offers justify the price point and popularity among golfers. However, keep in mind the slight concerns about durability if you plan to use them for extended periods or in rough conditions.
Nitro Glycerin
If you are looking for some out-of-the-world balls for ladies, these semi-translucent balls that come in varied colors and packs of 15 are definitely worth considering. The 2-piece construction provides a soft feel. It is consciously designed for women with slower swing speeds. The titanium core is firm but is super reactive too. You won't find a more stylish ball in the market today!
This quality product is available at a reasonable price. It's also almost impossible to lose these balls because they're so brightly colored. Straight hits are ensured without sacrificing distance or trajectory.
The company's mission is to help women improve their performance on the course. In the last two decades, Nitro has maintained consistent quality and has listened to customers to manufacture the best women's balls.
Pros
The titanium core is fantastic and super reactive
Beautiful balls to look at and play with
The spin ratio is lower, excellent for frequent slicers
Cons
Not ideal for professionals
The golf balls conform to all USGA rules. This multi-color pack of 15 nitro balls is forever in demand. Their super low spin rate is excellent if you suffer from ugly slices or frequently hit hooks.
TaylorMade 2021 Distance+
As the name suggests, the TaylorMade Distance Plus balls are for anyone looking to improve their shot and add a few more yards. The design helps deliver speed without compromising control.
These two-piece balls have a low compression rate of about 60. The pricing is good and aimed at the average golfer. The high-react core stores energy and releases it when the ball comes in contact with the club.
The ball comes in two classic colors: white and yellow. The material used is synthetic, and the high-react core helps achieve low spin. The ball's aerodynamic pattern has 342 dimples that help it launch high up in the air and still deliver a great amount of distance by hugely reducing drag in the air.
The built-in alignment aid helps you aim better before using the ball's innovative features to hit straighter and longer shots. TaylorMade has always believed in innovating and outdoing its previous performance through cutting-edge technology and dedicated research and development, and the Distance+ balls are no exception.
Pros
Excellent distance
Affordable
Consistent performance
Simplistic yet effective design
The alignment aid is a plus
Cons
Only available in white and yellow colors
These are the best balls for ladies who are good at most parameters but lack distance. They are great for beginners and intermediate golfers.
Taylor Made 2022 Kalea
The 2022 TaylorMade Kalea is designed with precision to cater to the needs of enthusiasts seeking superior performance and a soft feel. As one of the offerings from TaylorMade, a trusted brand in the industry, these balls promise to deliver an impressive blend of power, control, and soft feel.
Engineered with a high-energy REACT core, these balls are designed to maximize distance off the tee. The core retains energy and works in conjunction with the two-layer construction to provide optimal driver launch, specifically designed for moderate swing speeds. The aerodynamic 342 dimple pattern helps maintain lift, promoting further distance. This construction aligns with the product's promise of being built for distance, a critical factor for any golfer's performance.
However, the TaylorMade Kalea does not compromise the soft feel for distance. The ionomer cover with an extra-large core generates a soft 60 compression for an enhanced feel and responsive short-game performance. Moreover, for the Peach and Purple models, the UV-resistant matte paint adds visibility and unique aesthetics, providing not just performance but style on the green.
Pros
High-energy REACT core optimizes distance off the tee.
342 dimple pattern for added lift and distance.
Superior feel around the greens.
UV-resistant paint offers visibility and style.
Extra-large core for better short-game performance.
Cons
The colored balls may not align with some players' aesthetic preferences.
The TaylorMade Kalea promises to deliver an exceptional experience with its superior features designed for optimal performance. It's engineered for both distance and feel, catering to various aspects of the game.
Although there are minor issues with visibility for some users, the majority seem delighted with the product, affirming its overall quality and value for money. It is a highly recommended product for those seeking a reliable, high-performing ball.
What Is the Difference Between Men's and Women's Golf Balls?
Compression
Dimples
Design & Aesthetics
Buyer Guide: What Are The Key Factors in Choosing a Golf Ball for a Female Golfer?
When it comes to choosing the right ball, women golfers face a myriad of options on the market. Finding the ideal ball can be challenging, especially when you're unsure of what factors to consider. That's why we will walk you through the essential aspects to look for when selecting balls tailored to women's needs, ensuring that you make an informed and satisfying purchase.
1. Ball Compression
The compression rating of a ball plays a vital role in its performance. Measured on a scale ranging from approximately 30 to 120, the compression rating determines how much the ball deforms upon impact with the clubface. A lower compression rating results in easier compression and enhanced distance, making it suitable for golfers with slower swing speeds.
Given that women typically have slower swing speeds, it's crucial to opt for balls with lower compression to maximize distance without sacrificing control. While a general rule of thumb suggests matching the swing speed with the compression rating, it's essential to note that some balls with low compression ratings may cater well to swing speeds beyond their specified range.
Temperature can also influence a golf ball's compressibility, with heat making it more compressible and cold weather reducing compression. Keeping this in mind, ladies can choose balls with compression levels that complement their swing speeds and environmental conditions.
2. Cover Material
The cover material of a golf ball significantly impacts its overall performance. Two primary cover types are commonly available: Surlyn and urethane. Surlyn and ionomer-covered balls offer durability, reduced spin, and slightly longer distances. Moreover, they are often more budget-friendly compared to their urethane-covered counterparts.
On the other hand, balls with urethane covers offer more spin, a softer feel, and superior control, especially with shorter irons. Technological advancements have narrowed the performance gap between urethane and Surlyn-covered balls. However, it's worth noting that urethane-covered balls tend to be pricier and may not optimize performance for golfers with slower swing speeds.
For women, who generally benefit from lower compression balls, Surlyn or ionomer-covered balls are often the preferred choice due to their ability to maintain distance while still providing ample control around the greens.
3. Dimples
While dimples may seem like a minor detail, they play a crucial role in a ball's aerodynamic performance. Most modern balls have between 300 and 500 dimples, with different shapes and patterns used by various manufacturers. The purpose of dimples is to reduce drag and increase lift, resulting in enhanced distance.
While it may be challenging for the average golfer to predict the exact impact of specific dimple configurations, it's beneficial to consider what the brand claims about the dimples of a particular ball and assess if it aligns with your desired performance goals.
4. Color & Design
The color and design of a ball may not directly affect its performance, but they can significantly impact your overall experience on the course. High-visibility balls, available in various colors like green, yellow, orange, and red, are designed to make tracking the ball in the air and locating it on the course much easier. Some high-visibility balls may also feature a matte finish to reduce glare from sunlight.
While traditional white balls remain a popular choice, colored ones offer a unique aesthetic appeal and practical advantages. Many balls designed for women come in "girly" colors such as pink, purple, and red. However, it's advisable to avoid colors that might hinder visibility, like purple, and opt for brighter shades that stand out against the course backdrop.
5. Budget
Price is undoubtedly a critical factor when selecting balls. Fortunately, there are options available to suit various budgets. While premium balls may offer advanced features and performance benefits, more affordable options can still provide satisfactory results.
For women, it's essential to strike a balance between cost and performance. Balls with lower compression and Surlyn covers often prove to be cost-effective choices, delivering adequate distance and control for their slower swing speeds.
Additionally, consider exploring the option of buying recycled balls from reputable sources, which can save you money while still offering decent performance. Keep an eye out for balls with condition ratings of AAA or above to ensure you receive a quality product.
Does Golf Ball Choice Have Any Effect on Your Game?
Is it more distance that you are looking for?
Are you looking to get more control of the shot?
Are you a beginner or a mid-handicapper?
Is it the accuracy and straight shots that you are after?
Are you looking for any particular look and/or feel of the ball?
How much money can you spend on them?
Is your swing speed slow or fast?
Do you dig colorful balls that are easy to trace even on long grass?
Do you have a favorite brand that you cannot stop recommending?
Why Is the Dimple Pattern Such an Important Factor for Women and Not Men?
The dimple pattern on a golf ball is essential for both men and women, as it affects the ball's aerodynamics and overall performance. The dimples reduce aerodynamic drag, allowing the ball to fly farther and more efficiently through the air. This benefit applies to golfers of all genders, as the laws of physics and aerodynamics are the same for everyone.
However, it's crucial to note that manufacturers design balls with various dimple patterns and specifications to accommodate different swing speeds and playing styles.
Men and women, on average, tend to have different swing speeds, with men typically having higher speeds. Manufacturers may create specific ball models for women to cater to their swing characteristics and help optimize distance and performance with slower swing speeds.
What Golf Spin Is Better for You?
Do I Need a Ladies' Golf Ball?
Final Thoughts
---
References:
USGA Forges Collaboration With Fore the Ladies. Retrieved from https://www.usga.org/content/usga/home-page/articles/2021/03/usga-forges-collaboration-with-fore-the-ladies.html
Participation and Engagement Rise Again. Retrieved from https://www.ngf.org/participation-and-engagement-rise-again/
WRITTEN BY

My name is Jacob, a self-diagnosed equipment and golf enthusiast. I've been golfing since I was 15. Golf has always been my passion. I'm a bit of a golf equipment nerd and I've been that way since the moment I picked up a club for the first time. As someone who's been on both sides of the game, I know what it takes to be a good golfer. Of course, you need good equipment, but you also need to know how to use it. I hope sharing my experience with you will help you improve your game.
You May Also Like