The 10 Best Golf Balls for Women: Review and Buyer Guide
Last updated:
June 15, 2022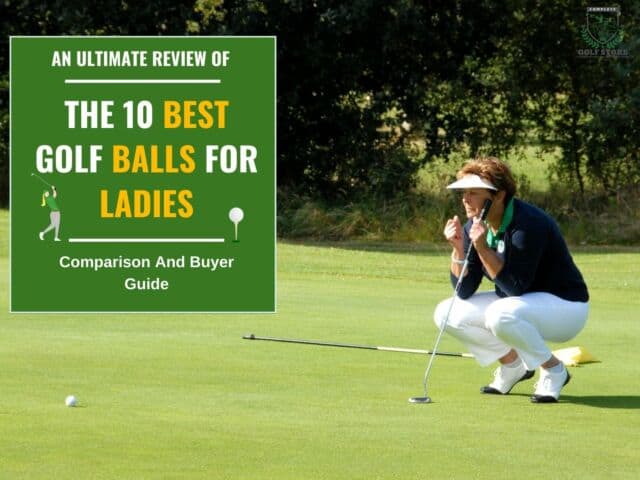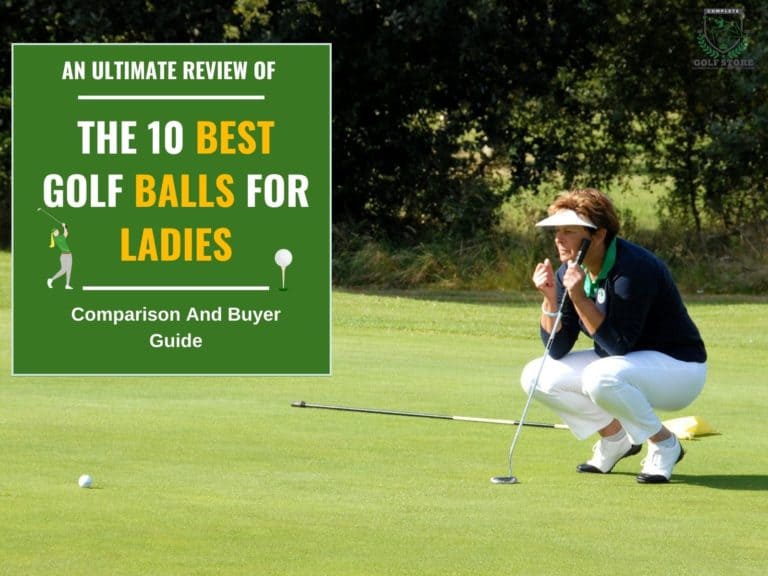 Have you been looking for women's golf balls, which made you think about how the game focuses on men alone? Do you find it challenging to buy the right women's golf balls suitable for you?
Stress not, because we have reviewed the best women's golf ball brands just for you. The difference between men's golf balls and women's balls depends on the swing's speed.
Women have a slower swing speed barring a few exceptions, and that is why a ball that helps gain some leverage works in terms of distance very well in their favor. Golf ball manufacturing brands specifically market their golf balls designed for women separately. They mention the words 'women' or 'lady' on their packaging.
For years now, men have dominated golf. According to the U.S. Golf Association, the country's 24.2 million golfers are 77% male and 23% female, with the average male golfer shooting a 78, compared with a 93 for the average female. But that's not to say that women aren't golf fanatics, far from it. According to the National Golf Foundation, 23% of all golfers are women, and one in four women play the game regularly.
It is not compulsory that a woman golfer must only use a women's golf ball. However, the key to a good game is to choose the ball that matches your game and style!
What Is the Difference Between a Men's Ball and a Women's Golf Ball?
Male and female golfers have different body types, strengths, and flexibility. While it's true that the ladies' game has come a long way, it's still a sport that favors men in terms of strength and physicality. This is why you rarely see a woman on the leaderboard at the end of a major PGA event.
The most significant difference between female and male golfers is the average physicality and power of each gender; ladies golfers are super flexible but lack muscular strength, which is natural. Here is a great video ( 5 minutes 38 seconds) explaining the key physical differences between the two genders:
Men's and women's golf balls differ in three main attributes.
1. Compression: one of the main differences between men's and women's balls is the compression rating. Men's golf balls have a compression rating between 70 and 110. 70 denote softness, and 110 denote hardness. The higher the compression rate, the more suitable they are for a faster swing.
Since women have slower swing speeds than their counterparts, the best regular and practice golf balls for women have a compression rating of only between 45 and 70. A low compression ball help women golfers get more distance with their slow swing speed.
2. Dimples: they may look all the same with an equal number of dimples, but the reality is that the number of dimples is another main difference between men's and women's golf balls. Women's golf balls are specially designed to increase the ball's lift and let it stay up for some time, increasing the distance. Check out our detailed article about golf balls dimples here.
3. Design: most companies still make white-colored golf balls in a bid to maintain monotony. But women golfers have it all going for them with colored covers in bright and eclectic colors. There are women's golf balls in all white, too, but colored ones are a collector's delight. Most women's golf balls are two pieces. The outer layer is usually made of a material called Surlyn. They are easy to hit and travel longer distances. They are often hailed as the best balls for beginners.
What are the key factors in choosing a golf ball for a female golfer?
The key factors in choosing a golf ball for women golfers are:
a. Compression of the Ball
The golf ball's compression rate is directly related to the swing's speed and the distance that the ball will travel. In the simplest of terms, compression is the golf ball's impact when it gets hit with the club.
A faster swing can compress (flatten) the ball much more than a slower speed swing. A powerful swing needs a golf ball with a high compression range to manage that kind of force.
To cite an example, a swing with a speed of about 100 or higher needs a golf ball with a compression range of 80 or 90. Women golfers have an average swing speed of 70, and so a golf ball with a compression rate in the range of 45 and 70 suffice as much as it increases the distance of their shot.
b. Softness of the Ball
Golfers of both genders have their own choice when it comes to golf balls. This is purely a matter of personal preference. However, the ball's feel greatly depends on the compression rate and the material used as the ball's outer covering. Women golfers often tend to pick a softer ball that has a glossy finish. Some brands make balls in a matte finish, but those are soft when hit by the golfer.
c. The Spin of the Ball
It is easy to determine the spin of the golf ball. Most golf ball companies mention it in their packaging. More spin on the ball means that your shorts are very accurate. They also travel straight and launch high in the air. However, the downside of having a lot of spins is that it will not stop on the approach shots. Women golfers with low handicaps can put a lot of spin on the ball to control their shots.
d. Distance
Many golfers are stuck with the dilemma between choosing a ball that gives them more control over their high approach shots or more distance. The easiest answer to it is to go for what you want to get from it. For mid-handicappers, it may prove like a difficult call. It is a matter of distance and straighter shots with low spin versus more spin-on approach shots with greater control over the ball on the green.
If you play a fairly straight shot down the fairway, you want a ball that will give you more distance. In case you already have a good distance and usually, launch the ball in the air, ask for a ball with more spin and control on the green.
e. Ball Cover
The cover of a golf ball is the most important part of the ball. It is what determines how well the ball performs. The cover is the ball's layer directly in contact with the clubface and is responsible for the ball's flight and distance.
A golf ball's cover is typically made of either Surlyn or Urethane. The primary disadvantage of Surlyn balls is that they don't provide the backspin needed by professionals and many handicappers. That's where urethane steps in.
Urethane golf balls are suitable for women and high handicappers because it is softer than Surlyn and produces higher spin rates on iron and wedge shots. The grooves of a wedge can grip the ball better for high spinning shots.
Surlyn-covered golf balls are cheaper, long-lasting, and may produce a better distance than Urethane but don't fit the spin required to stop shots quickly around the greens. If you don't mind spending more on Urethane in the short game, you may see some benefits while giving up very little on distance and durability.
Does Golf Ball Choice Have Any Effect on Your Golf Game?
The choice of your golf ball has a one hundred percent effect on your golf game. There are more than 500 different types of golf balls sold on the market today.
What type of ball you choose and what brand you use will determine your score. It is a good idea first to find out more about your shots and game style.
Here is a list of questions that you want to ask yourself when you are standing in front of racks of colorful packages of golf balls and don't know which one to go for:
Is it more distance that you are looking for?
Are you looking to get more control of the shot?
Are you a beginner or a mid-handicapper?
Is it the accuracy and straight shots that you are after?
Are you looking for any particular look and/or feel of the ball?
How much money can you spend on them?
Is your swing speed slow or fast?
Do you dig colorful balls that are easy to trace even on long grass?
Do you have a favorite brand that you cannot stop recommending?
Our Recommendations: 10 Best Golf Balls for Women
We compiled a list of the top 10 soft golf balls; if you've been looking for the perfect golf ball to improve your game, the following section will be of big help. One of these ten best golf balls for women will fit your game style.
#1 - Bridgestone Lady Precept Ladies Golf Ball
Topping our list is the Bridgestone Lady Precept Ladies Golf Ball. The brand was the first to come up with soft golf balls designed specifically for lady golfers.
Soft golf balls guarantee longer distances and produce consistently straight and accurate shots. The low compression golf ball allows women golfers to have leverage over their handicaps. It also has a soft feel on the greens and comes in lovely pink, white and yellow!
Bridgestone has received great reviews and five-star ratings across golfing communities. The material used in Lady Precept balls is ionomer. It has 330 seamless dimples aiding long distances.
The company has researched and developed its lady's golf ball range. That is why they are specifically engineered for a slower swing speed. The ball produces a high launch, and lower spin and gives the maximum distance. Besides, it also has a soft feel around the green. In all, it is the best investment if you find this golf ball suitable for your game.
Pros
Softest ladies' golf ball
Specially engineered for women golfers for soft feel and distance
Cover made with 2-piece soft ionomer material
Has a soft gradational core
Cons
The ball leaves nothing more to desire.
The colorful balls, especially the yellow, are so easy to find in the deep green grass that you will waste less time searching for them and more time perfecting your game.
#2 - Callaway 2021 REVA Golf Balls (One Dozen)
Callaway is a famous company specializing in golf equipment (among other things). They always provide high-quality products to ensure their customers' satisfaction.
The new REVA golf balls are made from a hybrid tri-blend Ionomer (surlyn) cover in a two-piece construction, which maximizes durability, distance, and forgiveness. They are specifically designed for female golfers, meaning that they are oversized, and their diameter is a bit larger than that of a regular golf ball.
These golf balls can help you achieve higher launch angles and low spin. As a result, they can fly higher and travel straighter for longer distances.
You can buy the Callaway REVA golf balls in packs of twelve balls for a really competitive price. They are also available in white and pink colors; they are easy to spot anywhere on the golf course, meaning that you will be losing fewer balls from now on (if any at all).
Pros
Oversized design that really works: Better distance and consistency.
The two-piece construction with a hybrid Ionomer cover means the balls are very durable.
Competitive pricing.
The available colors provide excellent contrast with the golf course elements. The balls are easy to spot.
Cons
Although the larger diameter helps make the balls easier to hit, this may cause issues with your regular ball washer or ball retriever, as they may not fit in them!
Callaway's new REVA golf balls are great for women who want to improve consistency as well as distance without compromising too much on control.
The two-layer construction ensures the balls will last a long time before you need to replace them. Moreover, they provide a great value for the price, as they are sold in large packs of twelve for an affordable price. We are sure that you will adopt these balls once you try them out!
#3 - Volvik Vivid Golf Balls, Prior Generation
Are you looking for matte-colored balls to match your golf gear? Presenting Volvik Vivid Matte golf balls that are bright and cheery! Wait, don't get fooled by their appearance! They are one of the best performing golf balls.
The Volvik balls come with a higher compression rate of 80 and are best for women golfers with mid-range or high swing speed in the range of 70 and 100. These 3-piece balls have the edge over other 2-piece construction in terms of distance and spin control on the green.
They also have the softest impact. Women golfers with slightly better swing speeds must try this one out because they do not know what they are missing. The outer cover is Surlyn and zirconium and helps to rebound and effectively amplify your hits. Whether you are just beginning or have been playing forever, it will be just right for you.
Pros
Has 392 dimples providing lower air resistance and more speed
Budget-friendly balls
High visibility because vibrant colors
Cons
Not suitable for women with higher swing speeds.
They chip and wear off easily.
The softcover is perfect for slow and mid-swing speeds. This golf ball is available in varied colors. If you are interested in getting highly visible golf balls you can check out our review of the best glow-in-the-dark golf balls.
#4 - Titleist Velocity Golf Balls
Titleist is one of the most premium golf ball brands. These premium golf balls provide a higher launch and good distance. The velocity golf balls are especially recommended for recreational women golfers who have mid and higher handicaps. If you have a slow swing speed and can do with more distance, opting for this ball will solve all your problems and improve your game tremendously.
The balls come with a soft, high-speed LSX core that is instrumental in providing initial velocity. The innovative NAZ+ cover optimizes flight, gives more speed to the ball, and lets it cover a longer distance with a lower spin. 328 tetrahedral dimples make every shot nothing less than perfect.
The balls are affordable and help build great confidence. The colors are vivid and best for sunny weather where you don't have to keep wasting time searching for them in the deep grass. They feel amazing on all the club faces, and putting with them is a great new experience.
Pros
Provides greater distance and higher flight
Gives extremely low spin
More accuracy in every shot
Comes in lovely colors such as pink, green, orange, and white
Cons
A lot of people do not get a higher flight with it.
Distance is the main theme of all Titleist golf balls. The company is known for tweaking its ball and other golfing products with subtle changes to outdo its own performance. For example, the Titleist pro v1 is a favorite of women golfers on the LPGA tours.
#5 - Wilson Golf Staff Fifty Elite Golf Balls
Wilson staff fifty elite golf balls are a custom fit for women golfers who are beginning their golf journey. They are soft and provide a lot of comfort on the shot. The dimpled design is such that it decreases the drag when the ball is in the air. Naturally, you can expect more control out of shots.
They are also used professionally as tour balls, and they fit into the tightest of budgets. The cover not just increases speed but also filters air. The balls last a long time. The energy transfer on its rubber core facilitates longer and higher shots even with the slowest swing speed. The balls take a great flight trajectory thanks to their low compression rating of 50.
The balls promise great performance, and you won't need to spend much on them. Its 2 piece construction is great for use in all types of weather. The balls are available in colors white, bright orange, and yellow.
Pros
The core is interiorly blended and very durable
Unique shallow dimple design facilitates low drag
Increases speed
The balls are of premium quality yet highly affordable. It is 22 percent softer than most balls in its category.
#6 - Callaway SuperSoft Golf Balls
If you are looking for an all-around golf ball with exceptional performance and is affordable, your search ends here. Callaway SuperSoft Golf Ball, with its soft matte feel, low compression, and lower spin, is a dream come true for golfers with average to slow swings. The ball provides distance as well as control over shots. It is particularly recommended for senior golfers and women because both have slower ball speed and are mid to high handicappers. If you're a senior, consider using these golf balls.
The ball has passed tests for average driving distance, and it rolls for up to 245 yards. The ball has a two-piece cover that has a Trionomer blend which makes it tear or scuff resistant. The core is made of high-resolution polybutadiene that gives out exceptional energy when it comes into contact with the clubface. The 332 dimples are set in a hexagonal design pattern to cut through the air and reduce drag.
The ball is specifically designed for players with the lowest Clubhead speed, less than 90 mph. The golfers will have a field day launching the ball high and still getting a decent distance on the shot. It is good for intermediate as well as tee shots.
Pros
Low compression
Extremely soft golf ball
It is the brand's number one seller
The ball has the lowest compression rate of only 38! The cover is extremely soft, guaranteeing long, straight drives, even with a very slow swing.
#7 - Callaway Diablo Lady Golf Balls
Are you still searching for super soft golf balls with the lowest compression rate on the market? Callaway Diablo is the one you are looking for!
The diablo lady golf balls from Callaway are the softest in the brand series. Many women golfers love how Callaway builds their confidence and inspires them to do better. Lower compression means that they get higher launch as well as greater distance. Like all other Callaway balls, it has Hex-shaped dimples that effectively resist air. The aerodynamic design is a wonder in itself!
The balls give the women golfers a lot of control over their shots. The Trionomer outer cover gives a softest-soft feel to the ball when hit with the golf club. The balls also work like magic when hit by wedges.
Lady golfers usually do not expect a soft ball to perform equally well on chips, pitches, and bunker shots, but it will come as a surprise that Callaway balls can do it all. Their versatility is unbelievable.
Pros
Softer feel
The ball covers an excellent distance
Worth every penny spent on it.
Cons
Slightly costlier than other brands
The ball is a good example of high quality. It comes in various colors and improves the shot and its accuracy.
#8 - Nitro Glycerin Golf Balls 15-Pack
If you are looking for some out-of-the-world women's golf balls, then go for these semi-translucent golf balls that come in varied colors, a pack of 15. Their 2-piece core has a soft feel. It is consciously designed for women golfers that have a slower swing speed. The titanium core is firm but is super reactive too. You won't find a prettier golf ball in the market today!
This quality product is available at a reasonable price. It's almost impossible to lose these balls because they're so brightly colored. Straight hits are ensured without sacrificing the distance or the trajectory.
The company's mission is to help women golfers improve their performance on the course. In the last two decades and more, Nitro has maintained consistent quality and has listened to customers to manufacture the best women's golf balls.
Pros
The titanium core is fantastic and reactive
Beautiful golf balls to look at and play with
The spin ratio is out-of-this-world
Cons
Not ideal for professional golfers
The golf balls conform to all USGA rules. This multi-color pack of 15 nitro balls is forever in demand.
#9 - TaylorMade 2018 Distance+ Golf Ball
As the name suggests, the TaylorMade Distance Plus golf ball is for anyone looking to improve their shot with a few more yards. Its design helps to deliver the speed, also not once compromising on the control of the shot.
The two-piece golf ball has a low compression rate of about 60. The pricing is good and aimed at the average golfer. The high-react core stores energy, which it releases as soon as the ball comes in contact with the club. The medium-soft feel is thanks to its proprietary Iothane cover.
The ball comes in two classic colors white and yellow. The material used is synthetic, and the high-react core has a low spin. The ball's aerodynamic pattern has 342 dimples that help it launch high up in the air and still deliver a great amount of distance. There is zero drag in the air.
TaylorMade has been a company that has always believed in innovating and outdoing its previous performance. Its cutting-edge technology and dedicated research and development hope to explore more and bring about women's next best golf ball.
Pros
Excellent distance
Affordable
Capable of consistent performance
Cons
It may feel hard and greenside spin and control may be lacking
This is the best ball for women golfers who are good at most parameters but lack distance. It is great for beginner golfers and intermediate golfers too.
#10 - Wilson Staff F.L.I. Golf Balls
Wilson's two-piece golf balls are a custom fit for women golfers. You do not have to worry at all about your slow swing because its high-powered inner core is so energetic that the ball will gain speed of its own as soon as it touches your clubface. The balls come in only one color - classic white.
The balls come with a unique dimple pattern that is scientifically proven to help lower air resistance. This is especially important for quicker ball flight towards its target. The dimples efficiently reduce spin for longer shots. With a softcore, you will feel that hitting them is so easy and fun. With Wilson balls, you get guaranteed shot accuracy.
The ball covers a good distance with a lot of speed and offers an excellent feeling. Compared to other low-mid compression balls, they are cheaper, promise great spin, and provide great improvement to your game. What more can anyone want!
Pros
Great ball for a beginner golfer
Soft feel when hit
Best ball in town for slow swingers
Cons
Do not offer the best spin on short wedges and irons
The dimple design is unique and extremely effective. The ball is of ionomer that is cut-proof, so no harm can come to your ball except the external scuffs.
Why Is the Dimple Pattern Such an Important Factor for Women and Not Men?
The higher the number of dimples, the more height and distance you can acquire on your shots. Dimples are an important factor when it comes to women's golf balls.
Beginner women golfers are always advised to look for higher trajectory dimples in the balls. The number of dimples is also significant. Together they create a good distance even with the slow swing.
In a detailed study, engineers tried to determine the ball's launch conditions vis-a-vis the number of dimples on the golf ball. It has been conclusively shown that the clubface on the ball is momentary and lasts only for 1/2000 of a second. But this is enough to establish the velocity, launch angle, and spin rate of the ball.
The ball's trajectory gets influenced by:
Thus the aerodynamic optimization achieved thanks to its dimple-pattern design helps in determining the shot. Even hit by a professional golfer, a smooth golf ball will travel half the distance of a dimpled ball. Golf balls usually have anywhere between 300 and 500 dimples.
What Golf Spin Is Better for You?
Most of the time, golfers do not purchase the right ball for their swing. They pick any ball that is on sale. This is what hurts their game.
Golf ball spin can be good and bad at the same time. When hitting a driver, a good amount of backspin is required to get the ball in the air. But too much spin can ruin the shot by ballooning up and not going far enough.
A golf ball has two main parts, its core, and a cover. There can be any number of covers. That is why they are often referred to as one-piece, two-piece, etcetera. Most women golfers do extremely well with a two-piece and a three-piece ball. It has a lower spin and lower compression rate. The right golf ball will give them the maximum distance, better launch, less curve, and softer feel while hitting. Lady golfers do very well with soft golf balls.
Do I Need a Lady Golf Ball?
Golfers must use golf balls that aid them in their best performance. For this, they must understand what their game is and what their swing speed is. A SWOT analysis (Strengths, Weaknesses, Opportunities, and Threats) of their game will give a clear idea of whether they need a lady golf ball or not.
If your swing speed is lower than that of men, it is best to use balls specifically made for lower compression and lower spin. They can come in different shapes, sizes, and colors. Female golfers have an advantage with colorful balls to easily trace them without wasting too much time searching for them on the course. They also come in classic white.
To combat a slower swing speed and gain distance, the best solution is to choose golf balls tailor-made for these shots.
Final Thoughts
There is a wide range of golf balls available in the market to choose from. You can choose from a one, two, three, four, and five-piece golf ball. Each ball is different and accentuates the different strengths of the golfer. In our opinion, two and three-piece balls are the best for female golfers as they give complete value for your money.
A four and five-piece ball are a tour ball design for professional golfers. For long and straight shots, the two-piece golf ball is your best option. They last longer and are budget-friendly. In case you are looking for better control over the ball, go for the 3 piece golf ball. They are slightly more expensive than 2 piece ones and wouldn't give you much distance. However, they will be easier to hit and will stop quicker on the green.
To sum up, an average player that needs distance and straight shots can go with the two-piece, and if versatility is in the cards, then perhaps three-piece is the best ball for you.
Now that you know what ball is the best for you, see you soon in the green!