The 8 Best Glow in The Dark Golf Balls (2023)
Last updated:
August 3, 2023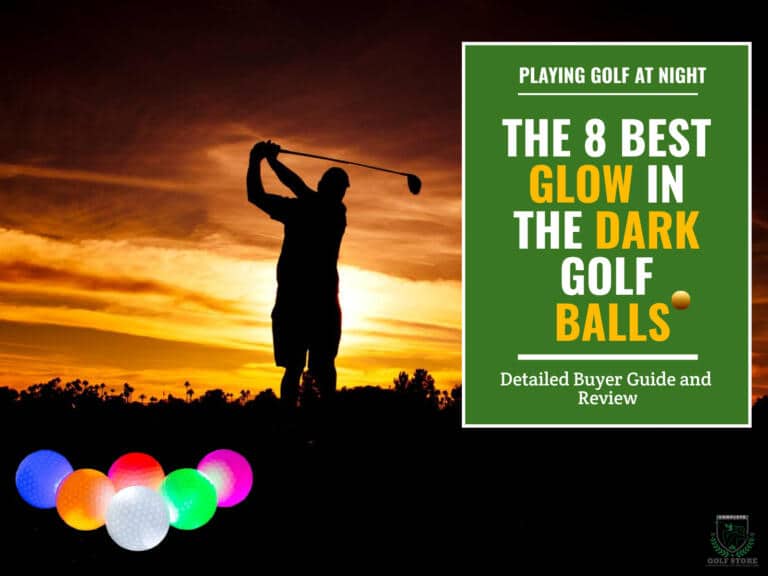 Disclaimer: We may earn a small commission from some of the links on our website. However, our reviews and comparisons remain fair and unbiased. Our goal is to help you make the best choice. For more information, please see our
disclosure statement
. Thank you for your support.
Key Takeaways
Based on our own testing, the BattlePulse Glow Golf Balls are the best overall option, followed closely by the ILYSPORT LED Light Up and Champkey Premium Glow In The Dark Balls in second and third positions. R&L's Glow Golf Balls are fourth, while the Glow V1 Night Golf Balls are fifth.
Overall, the entire list is worth considering.
Sadly, there aren't enough opportunities for some of us to go to the local golf course and enjoy a good old round.
That's why Twilight golf [1] is increasing in popularity. Many golfers embrace the idea because it sounds fun or because they don't have any other way to play and improve except twilight or night golf.
In this article, we will go through the best available golf balls that glow in the dark. We have tested several products and come up with our list based on factors like playability, performance, price, glow level, etc.
So, if you're considering playing in low-light conditions, you've come to the right place. We will help you choose the best glowing golf balls to use and enjoy your favorite game anytime you want.
No time to read the whole article? No worries. We've done the work for you and compiled a list of the top performers.
| Product | Features | Our Rating | |
| --- | --- | --- | --- |
Glow Golf Balls Usage
Glow golf balls are the same shape and weight as standard ones. Therefore, they conform to the regulations of the P.G.A and U.S.G.A ball requirements [2]. As a result, glow balls can be used the same way as any other regular golf ball.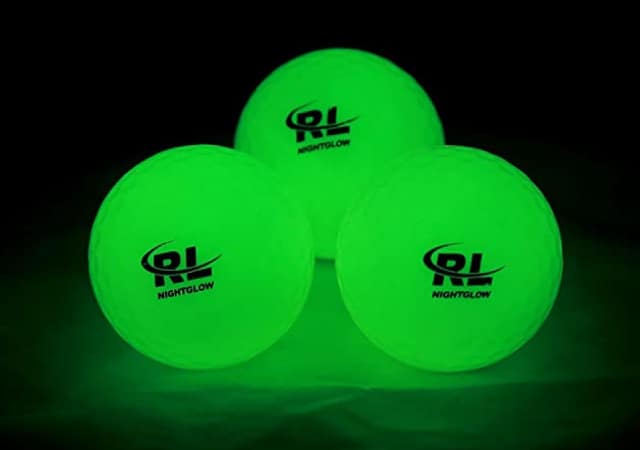 However, a glow-in-the-dark ball can be seen and followed even during low-light conditions thanks to the luminescence they emit. They are usually used by people who love to play under low-light conditions such as at night or early morning hours.
Glow golf balls are also useful for those who do not have access to daylight due to their working schedule. In addition, these balls make it easier for players to see where they hit the ball so they can aim more accurately. This means that they are ideal for beginners and intermediate players.
Of course, other special gear needs to be used too, including LED flag markers, a UV flashlight, UV light ball markers, etc. Everything needed to make the course, ball, players, etc. visible under low light conditions.
See the awesomeness of night golfing in action! Here is a great video (4 minutes 10 seconds) from Skratch. Watch an Epic battle between two PGA TOUR pros: Jonathan Byrd and Max Homa.
Types of Glow in The Dark Golf Balls
There are two types of glow-in-the-dark balls: One type (UV) emits its own light while another (LED) uses an external source. Another older type is the "glow stick golf balls", these use a glow stick inside to produce the glow effect, but since this type is not very popular (or useful, to be honest), we will be focusing solely on the more popular types.
The first type, UV [3], has no batteries inside them. Instead, they contain chemicals that produce light once activated. These can be exposed to a UV light source to charge and glow in dark conditions. They are rechargeable (and thus, reusable). Usually, charging occurs by exposure to a UV light source (like a flashlight) for about one minute.
On the other hand, the second type of glow ball, LED [4], requires batteries to operate. Therefore, they can not be recharged and stop glowing once the battery inside them dies out.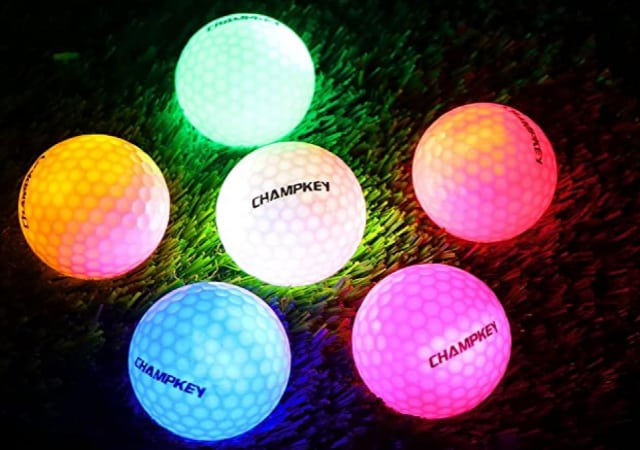 Both types of glow balls are made from plastic materials and are designed to last a long time. Some manufacturers offer different levels of brightness depending on the model.
It is important to note that both types have advantages and drawbacks. LED night balls tend to glow much brighter, which makes them easier to spot in the dark, but they can only be used until the internal battery is dead. UV balls provide a lower glow but can be used for a much longer time thanks to their fast rechargeability feature.
8 Best Glow In The Dark Golf Balls as of 2023
Since night golfing is a spectacular sport that is gaining more popularity, many manufacturers are now turning their attention toward the glow balls market. As a result, we are starting to see more variety and innovation.
The following are our picks of the best glow balls available for purchase today. Our testing and review are based on criteria such as price, performance, customer reviews, and glow.
BattlePulse Glow Golf Balls
Topping our list are the BattlePulse Glow Golf Balls. These are LED balls that have an integrated battery to provide power for a shiny glow that is hard to miss in the dark after each colorful shot you make.
The guys at BattlePulse did their best to develop these premium balls, providing a shinier glow that lasts up to 10+ minutes after you hit the ball. No more worries about losing balls as you have plenty of time to spot and recover them.
The integrated battery will last you an entire 50 hours in total. That's the equivalent of 800 or more strokes without the need to replace the ball.
Moreover, this is a 3-layer ball with a thick Resin layer for added durability and a thin outer Surlyn cover to provide a better feel and control. To understand what a 3-layer ball is (and ball construction in general), you may refer to our guide dedicated to Different Types of Golf Balls.
The BattlePulse glow balls come in packs of six different balls with bright and vivid colors: white, blue, green, yellow, purple, and red. You can choose your favorite color from the set, and you can play as a group using a single pack thanks to the different provided ball colors.
The ball feels and looks the same as a regular one, but once hit, the shiny LED glow lights make the ball easy to detect and follow in low-light or dark conditions.
Key features
Longer glow time and overall battery life compared to the competition.
Packs with balls of six different vivid colors for easier night golf.
Best of both worlds: Sturdiness and control combined.
Pros
Premium, good-quality balls.
Thin Surlyn for control; thick Resin for durability.
Variety of color choices.
Possibility for groups of players to use the same pack of balls.
Three-layer design.
Cons
The six-pack of balls is a little pricey.
These LED glow balls from BattlePulse are good-quality balls that provide excellent performance and glow. The variety of colors in the same pack is an excellent addition since it allows more players to compete at the same time without any confusion about which ball belongs to whom. If you are looking for a good ball pack to use in the dark, we highly recommend this one!
ILYSPORT LED Light Up Golf Balls
This is another pack of glow balls from IlySport. They provide an extra bright glow for easier ball recovery during a low-light game. Once the ball is hit, the bright LEDs light up and stay on for up to eight minutes.
The balls come in official size and weight, meaning they comply with the P.G.A. and USGA regulations for competition balls.
Furthermore, they are covered in a durable Surlyn cover which translates into more durable and sturdier balls that will last longer. In addition, the integrated battery is designed to last for up to 40 hours (around 800 strikes per ball).
The IlySport LED glow balls can be purchased in packs of three or six balls, but the six-ball pack provides a better value for the money.
Moreover, if you choose the six-ball pack, you can choose between packs of the same color or with mixed colors without any price difference. The available bright colors include white, blue, green, yellow, purple, and red.
Key features
Forty hours of battery life.
8+ minutes of continuous glow after the shot.
Wide range of colors and options to choose from.
Pros
inbuilt LEDs are super bright.
Enough glow time to find the ball in the dark.
Sturdy design with Surlyn cover.
Variety of color options (single vs. mixed color packs) for no price difference.
Cons
Reduced distance compared to normal balls.
These glow balls offer some of the best glow intensity among the balls we tested. Thanks to this, you will be sure not to lose any balls in the dark. We simply loved the many available options for these balls.
GlowGear Golf - GlowV1 Night Golf Balls
The GlowGear GlowV1 Night Balls are primarily renowned for their tour-quality performance, even in the dark. They replicate the energy transfer and distance characteristics of a regular daytime ball, which is an impressive feat.
This is made possible through the use of a high-performance core and soft urethane skin, ensuring that the balls do not feel like 'rocks' when hit. The full compression core feature certainly adds to the velocity and overall performance, making the balls easy to play with while maintaining the safety of your clubs.
Moreover, the ultra-bright and long-lasting glow of these balls is another standout feature. They can glow up to 12 minutes at full brightness, with shine retention of up to 6 hours. This ensures the balls are easily trackable during night play.
However, the fact that these balls require a UV light source to charge, which is not included in the package, might be a bit inconvenient for some users.
The fast recharge time is another significant advantage. These balls are ready to glow brightly again within just 30 seconds, providing a convenient solution for continuous play. The safety and reliability of the GlowGear GlowV1 Night Balls are also worth mentioning, with a design that prevents the balls from cutting out even under hard hits.
Key features
Sturdy outer layer with speed inner layer for optimal performance.
Great design with rainbow packs.
Sturdy and durable LED core.
Pros
Tour-quality performance: Plays like a regular ball.
Ultra-bright, long-lasting glow: Ensures the balls are easily trackable.
Full compression core: Provides the right combination of distance and control.
Fast recharge: Ready to glow in just 30 seconds.
Safe and reliable: Designed to withstand hard hits.
Cons
Requires a UV light source: This is not included in the package and needs to be bought separately.
A bit pricey.
In summary, the GlowGear GlowV1 Night Balls prove to be a great asset for night golf enthusiasts. While they might require an additional purchase of a UV light source and are on the expensive side, the unparalleled performance and aesthetic appeal they bring to your game make them well worth the investment. You will certainly love the look of these balls during a night game!
R&L Glow Golf Balls for Night Sports
The R&L is the second UV ball on our list. Even though color options are not available with UV glow balls and they all come in fluorescent green glow, they still offer a good value and performance.
The R&L balls provide a much better feel and control than LED balls because nothing is integrated into them. They are built like regular balls and provide a closer performance and distance. The only difference is that these glow in the dark for better visibility.
Even though these balls are not as bright as LED ones, they still provide enough glow to be found in low-light conditions thanks to the use of double fluorescent layers that offer a relatively brighter glow for longer.
The included UV. flashlight (with 21 UV LEDs) can be used to recharge the balls in almost no time (around ten seconds are needed), meaning no time will be wasted, and you can spend more time enjoying night golf. Moreover, the low-compression core and soft urethane cover ensure that the feel and control of the balls will be excellent.
The balls come in packs of three, six, or twelve balls, including the UV. flashlight. As an option, you can get ten glow-in-the-dark tees that can be extremely handy while playing at night.
Key features
Perform like regular balls because nothing is added inside.
High-performance balls, thanks to the soft cover and low-compression core.
The brightest UV-powered ball available to buy. Charging is extremely fast.
Pros
High-speed charging.
Good control, feel, and distance.
UV. flashlight included in the packs.
Cons
Glow better when it's dark but hard to spot during twilight time.
The R&L UV glow balls are some of the best in the UV category. They perform very well after sunset when it's completely dark. Still, the visibility is a tad lower during twilight time. So if you like to play golf at night, these balls are the right ones for you!
GlowV1 Night Golf Balls
GlowGear's GlowV1 balls can be purchased in packs of two, six, or twelve balls, with the UV flashlight included.
The balls offer a full compression core as well as a soft Urethane skin cover that provides performance closer to that of real balls. They provide the longest distance among night glow balls.
They have been compared to some regular daytime balls and they were only a few yards shorter in distance. The reason is that these balls are constructed like regular ones, be it with night golf in mind!
When being charged, the maximum glow capacity of the balls can be reached in one minute, and the high fluorescent glow lasts after that for seven to ten minutes. Moreover, the company offers a 30-day return period. If you are not satisfied with the product, they offer a full refund!
Key features
Proprietary technology by GlowGear provides a brighter glow than other UV balls.
Excellent performance that could be compared to regular balls.
Fast charging and long-lasting glow.
The longest night glow ball; hits longer than the competition.
Pros
Fast charging.
Included UV flashlight.
Excellent performance.
Brighter than any other UV balls.
Cons
The AAA batteries are not included in the LED UV flashlight.
The GlowGear GlowV1 night balls, as the name suggests, are best used at night (when it's completely dark). Even though the glow is not as bright as LED balls, the Glow V1 is still very visible at night. If your passion is to play at night time, then the Glow V1 is the perfect ball for you!
Crestgolf Led Glow Golf Balls
The CrestGolf's LED ball integrates four LEDs to provide an extremely bright fluorescent glow and provide better visibility in the dark. In addition, the premium construction and internal electric layer include a battery life of over 50 hours. The total glow time is over eight minutes.
The three-layer construction combines a soft feel and elastic materials to a Surlyn+ outer layer to further protect the internal electric elements and increase the life and functionality of the balls.
These super bright LED balls are sold in packs of three. The package includes three different colors: Red, blue and green. Moreover, the physical color of each glow ball matches that of the bright LED lights inside. As a result, you don't even need to hit the balls to choose your favorite color as they can be distinguished from the surface color!
Key features
Four included LEDs provide a brighter glow compared to the other 2 LED balls.
Premium build with extra protection for the LED core.
The premium battery offers 50 hours of glow time.
Pros
Extra durable construction.
A protected electric core means durability.
4 LEDs translate into more luminous balls.
Cons
Sold in 3-ball packs only.
Crestgolf's extra bright balls are perfect for a night game. They can be easily spotted in low-light or dark conditions. If you want the best possible visibility and brightness, then these are the balls to choose.
The only downside to these balls is the lack of more pack options. Luckily, we managed to find more variety and buying options in the form of the Crestgolf Flashing Glowing Golf Ball. These are exactly similar to our reviewed Crestgolf balls. The only difference is that these offer more options: you can choose the colors as well as the number of balls to buy.
Night Eagle CV LED Golf Balls
Night Eagle has brought some innovation to night golf with its LED glow balls. The activation mechanism is different from traditional glow balls. To light up the internal LEDs, all you need to do is point a strong source of light towards a circular marking on the ball (a flashlight or your phone flash).
Once the light is detected, the ball lights on and stays lit until you point the light toward the circle again. This means that once the glow is activated, it will stay on until you turn it off yourself. So you won't lose your glow balls again! The estimated battery life is around 30 hours.
The buying options also provide a lot of variety. For example, you can buy 6-ball packs of the same color (blue, white, pink, green, yellow) or different packs of mixed colors.
Furthermore, Night Eagle offers the option of single balls that can change their glow color; the same ball can be used in seven different colors. A good addition by the manufacturer.
The price of these balls is a little on the high side, but the quality is impressive, and you get a lot of control over the colors of your night balls.
Key features
Bright LED balls.
Glow easily to activate and turn off.
Excellent 3-layer construction.
Pros
Large choice of different packs to buy from.
More control over the glow.
Easy to activate and turn off the glow.
No glow timer. The ball stays on until you find it.
Cons
The battery only lasts for 30 hours.
You always must ensure that the circle switch is down before hitting the ball. Otherwise, it may get broken.
The Night Eagle glow balls are more expensive than the competition, but the amount of innovation and control that are provided outweigh any extra money you pay for them.
These are sturdy balls that allow you to control everything from the color of individual balls to when they are on or off.
The LEDs are lit until you manually turn them off, meaning that you will never lose any of your precious shiny balls again!
THIODOON Glow Golf Ball for Night Sports
Thiodoon is considered by many golfers to make some of the best glow balls. These super bright LED balls offer a bright light that lasts for up to eight-ten minutes after each shot, giving you enough time to find the ball. In addition, the built-in battery provides 40 to 50 hours of overall glow time (around 800 strokes).
Thiodoon's light-up glow balls are sold in packs of 6 or 12 balls of mixed colors. The available colors include red, green, blue, yellow, white, and pink. Once hit, the bright glow ball will light up and draw a beautiful arc in the dark night sky.
These luminous balls are engineered to have the same size as regular balls with 342 dimples and a 42.6 mm diameter (around 1.67 inches).
They provide excellent elasticity and strong impact resistance and combine materials like rubber and synthetic resin. The result is that they can travel for longer distances compared to other LED balls.
Additionally, Thiodoon offers a 30-day money-back guarantee. So if you don't like the balls for whatever reason, you can return them and get a full refund!
Key features
Designed with glow and distance in mind.
Excellent glow.
Good battery life and glow time.
Pros
These balls are the same size as regular balls.
They provide excellent distance, compared to the competition.
Excellent build quality and durability.
Cons
May need to be hit hard to light up.
A little too expensive.
The Thiodoon glow golf balls provide excellent quality and glow. A lot of golfers consider this to be the best and most reliable brand of balls for night golf. The price is a little too high, but quality comes at a price!
Things to Consider When Buying Glow in the Dark Golf Balls
There are many options of glow balls to choose from. So, it won't be easy to pick the ones that will serve you best. However, there are some criteria to take into consideration while choosing the best glow balls for your twilight golf experience. Let's go through these individually in more detail.
Effectiveness and Glow Time
To begin with, both LED and UV glow-in-the-dark balls have an almost equal glow time of around eight minutes. This is plenty of time for any golfer to track and find the ball. Some models can glow for up to 15 minutes before the light fades away.
In the end, both models seem to provide enough glow time to be found. Still, UV. balls keep emitting an afterglow that is lower than the usual glow; the afterglow can go on for up to six hours, something very useful in case you have trouble finding your ball.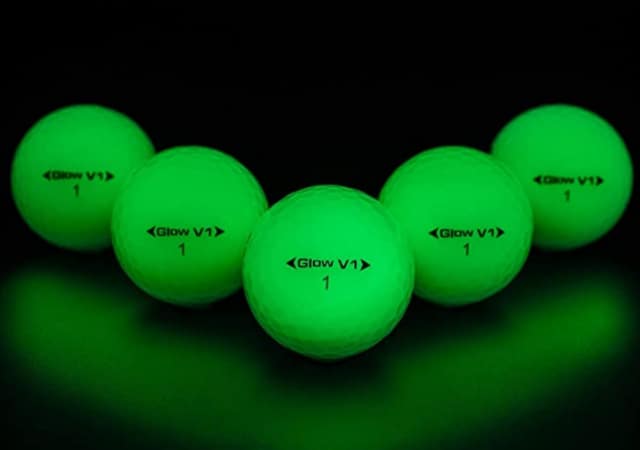 A UV. ball emits white light while being charged but starts emitting green light when used in the dark. Thus, UV. balls do not provide any variety when it comes to color.
When it comes to effectiveness, LED balls provide a much stronger glow compared to UV. They are much easier to track and find after you hit them. Moreover, LED balls also come in many different colors such as white, blue, red, green, etc. This is particularly useful if you decide to play with a group of friends: Recognizing each player's ball will be much easier due to the color difference.
Value for the Money
The objective is to choose glow balls that will serve you as long as possible while providing the best possible performance.
UV. balls are usually covered in urethane [5] with a compressed core. Thus, they are close in performance and feel like a regular daytime ball. On the other hand, LED balls are usually covered in harder plastic that produces a different feel when hit by a club.
LED balls provide a much brighter glow that lasts long enough for the player to find the ball, but they can't be recharged and become useless when the internal battery dies. UV. balls provide long-term performance and need a short time to charge using a simple flashlight. Still, the glow is weaker, which may constitute an issue for some players.
It seems that whichever type of glow balls you end up choosing, you will need to make compromises as both have advantages and drawbacks. It's up to you to select a type based on personal preference.
Price
Price is another criterion to consider while choosing your glow golf balls. While you may be tempted to go for cheaper models, it is recommended to choose pricier models that provide better quality and performance.
Good quality glow balls use better manufacturing materials and are more likely to provide a much better performance and last much longer than cheaper balls.
Frequently Asked Questions
Let's now delve into the most common queries surrounding the innovative world of glow-in-the-dark golf balls.
Are Glow-In-The-Dark Golf Balls Suitable for Professional Games?
While glow-in-the-dark golf balls bring an exciting twist to the game, they're typically not utilized in professional matches. Their unique attributes, such as the increased weight and density in LED-lit versions, or the shorter visibility duration in UV-lit ones, make them more suited to casual, fun rounds of golf, particularly night games. If you're a professional seeking to maintain your competitive edge, it's better to stick with conventional balls during formal play.
A pro player is better off practicing anytime with a golf simulator system; and we have a selection of the Best Indoor Sims For Home.
What Is the Lifespan of Glow-In-The-Dark Golf Balls?
Glow-in-the-dark balls have lifetimes that depend on the type of lighting mechanism they employ, whether that's UV or battery-powered. UV-illuminated balls, based on the data available, tend to stay lit for about five to 12 minutes. Once the glow fades, it can be rekindled using a UV light source, such as a flashlight.
In contrast, golf balls with LED illumination employ internal timing systems to switch off after approximately eight to ten minutes post-strike. Each swing reignites the LED and resets this timer. However, once the battery is completely drained, the ball won't be able to light up. The lifespan of a LED-lit ball battery typically ranges from 30 to over 70 hours.
Is It Possible to Use a Driver with A Glow-In-The-Dark Ball?
Certainly, particularly with UV-illuminated balls. However, extra care should be taken when striking an LED-lit ball with a driver. LED-lit balls, being denser and heavier than standard balls, pose the risk of causing damage to driver heads.
Are Glow-In-The-Dark Golf Balls Any Good?
The appeal and effectiveness of these balls depend on personal preference and the specific needs of the golfer. These balls have made it feasible to play at night, adding a new dimension to the game. There is a wide array of these balls available on the market, catering to various tastes, from golfers seeking a conventional golf ball feel and performance to those simply looking for an enjoyable and visually appealing night-time golfing experience.
What Is the Best Way to Store Glow-In-The-Dark Golf Balls?
To extend their lifespan and maintain optimal performance, it's best to store glow-in-the-dark balls in a cool, dry location away from direct sunlight. This applies to both UV-lit and LED-lit balls. For UV-lit ones, this storage method helps to preserve their phosphorescent properties, whereas, for LED-lit balls, it can aid in prolonging the battery life. Also, remember not to subject them to excessive force or impact outside the course to avoid potential damage.
Final Thoughts
This article provided a list of our top picks for glow-in-the-dark golf balls. We tried to test and review both LED and UV balls. In the end, the final reviews were based on our own testing as well as customer reviews of the products.
Our final list contains the best of the best products, so you will surely be satisfied with whichever you choose. You may have noticed that the list includes more LED balls than UV ones. The reason is that LED balls are more versatile in that they are perfectly visible in both dark and low-light conditions which greatly helps elderly golfers in their games. On the other hand, UV balls are hard to spot during twilight but perfectly visible in complete darkness.
Still, UV glow golf balls offer much better distance, feel and control over LED balls because they don't contain any internal elements that could affect their weight and overall performance. We could confidently say that UV balls are real balls that glow in the dark. If you always play in the dark, UV balls will be perfect for you.
In the end, we suggest having both types in your golf bag because they can be useful in different situations.
If you still have any queries or comments, please contact us. We will be happy to help!
---
References:
Twilight rates in golf: What they are, how to get the most holes in before sunset. Retrieved from https://thegolfnewsnet.com/golfnewsnetteam/2017/06/03/twilight-rates-golf-are-holes-sunset-105294/
Equipment Standards. USGA; USGA Home Page. Retrieved from https://www.usga.org/equipment-standards.html
UV Radiation. Centers for Disease Control and Prevention. Retrieved from https://www.cdc.gov/nceh/features/uv-radiation-safety/index.html
Learn About LED Lighting. Energystar.gov; Energy Star. Retrieved from https://www.energystar.gov/products/lighting_fans/light_bulbs/learn_about_led_bulbs
What Is Urethane? Sciencing. Retrieved from https://sciencing.com/what-is-urethane-4609711.html
WRITTEN BY

My name is Jacob, a self-diagnosed equipment and golf enthusiast. I've been golfing since I was 15. Golf has always been my passion. I'm a bit of a golf equipment nerd and I've been that way since the moment I picked up a club for the first time. As someone who's been on both sides of the game, I know what it takes to be a good golfer. Of course, you need good equipment, but you also need to know how to use it. I hope sharing my experience with you will help you improve your game.
You May Also Like