Best Golf Simulator Under $1000: How To Build Yours (2023)
Last updated:
July 13, 2023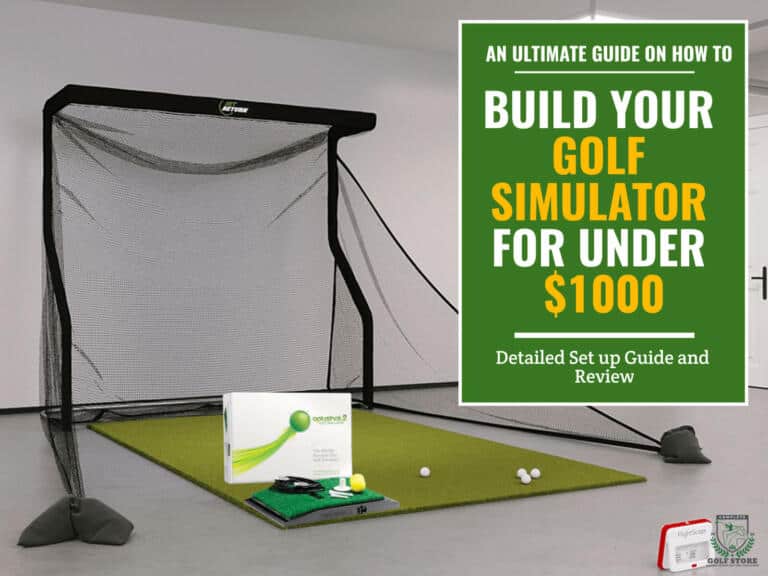 Disclaimer: We may earn a small commission from some of the links on our website. However, our reviews and comparisons remain fair and unbiased. Our goal is to help you make the best choice. For more information, please see our
disclosure statement
. Thank you for your support.
Key Takeaways
After ample research and testing, we found that the best options to enjoy virtual golf on a very tight budget of $1000 or less was to go with either of three packages:
The Optishot 2 Golf In A Box is our top pick, followed by Garmin's Approach R10 and Phigolf's Smart Golf Simulator With Stick.
The excellent Rapsodo Mobile Launch Monitor (MLM) and the amazingly portable and simple Swinglogic SLX Microsim are also included.
If you like fiddling around, then our DIY guide, based on the Optishot 2 standalone sim, may be of interest to you.
Most golf simulator packages today are costly, making them out of budget for many players. Companies like Trackman, Golfzon, HD Golf, and Full Swing offer some of the best products, but they are expensive commercial-grade systems with prices that can go beyond $70,000.
Other companies like Skytrak, Trugolf, Flightscope, Foresight Sports, etc., offer very good, relatively cheaper products that cost anywhere between $4,000+ and as high as $20,000+ and beyond.
Luckily, you don't need to pay that much for a home sim package. This article's primary focus will be to provide affordable options that cost around or less than 1,000 dollars.
We will provide everything you need to know to choose an affordable simulator without compromising too much on quality.
No time to read the whole article? No worries. We've done the work for you and compiled a list of the top performers.
| Product | Features | Our Rating | |
| --- | --- | --- | --- |
Best Golf Simulators Under $1000
We did our homework and came up with a list of our favorite cheap golf simulator packages for under $1000. Here are our top picks:
The following are our top selections based on our own testing, research, and experience:
OptiShot 2 Golf In A Box
Topping our list is The Optishot 2 Golf In A Box. This package comes in many variants, but the problem is that the basic option is the only one that fits into our tight budget of $1000. All other available variants exceed our set budget.
This is an award-winning product suitable for players of different levels. It also includes everything you need to enjoy playing golf indoors anytime— no need to buy any additional components.
The simulation software provides realistic 3D recreations of 15 of the world's most renowned golf courses and offers the possibility to compete against your friends (up to 4 players).
You can also choose between 6 different game modes, weather conditions, and numerous camera angles.
Moreover, if you buy the season pass, you will be able to compete in Optishot's virtual tournament and play against players from all over the world. You also get access to 40 more courses and the possibility to win prizes.
As you would expect from an affordable package, the Optishot 2 uses 48 MHZ Infrared sensors to track your club swing and provide instantaneous feedback. The readings are quite accurate (for Infrared tech).
What's included:
Infrared Optical swing pad
Downloadable Optishot 2 simulation software
10 ft. USB cable
Adjustable rubber tees
Two foam practice balls
OptiShot Hitting golf Mat (Size: 4' x 5')
OptiShot Full Portable Hitting Net (Size: 10' wide x 8' tall)
Pros
Portability
Simplicity
Ease of use/installation
Use a foam or a real golf ball
Easy on the computer (even if the graphics are a tad lower)
Cons
Putting on this simulator is not very good. (as with many other products).
Garmin Approach R10 launch monitor
For this one, we suggest getting a great value launch monitor and coupling it with a hitting net and mat.
You will be able to pair the unit with your smart device and monitor your progress through the data provided by the R10. It is a radar launch monitor, so you can expect pretty accurate readings of your club and ball.
The R10 was the very first monitor to offer simulation capabilities in the sub-1000 dollar price point. You can access a virtual driving range through the Garmin Golf app and thousands of courses if you get a subscription to the Home Tee Hero software.
The unit has an amazing battery life of up to 10 hours, meaning it can be used indoors and out.
You may also opt for third-party software options, as the E6 Connect, Awesome Golf, and TGC 2019, among others, are all supported!
The R10 comes with a tripod stand as well as a phone mount that you can use to take videos with your smart device.
Couple this amazing little unit with a cheap hitting mat and net, and you can get the best simulation experience possible with a budget under 1000 dollars.
Pros
Accurate and comprehensive data
Portable and easy to use
Multiple game modes
Great battery life
Cons
Performs better outdoors.
The R10 is as good as it gets for a budget under 1000 dollars. All that's left to do is to get a cheap golf net and hitting mat without exceeding the budget and you'll be good to go.
Rapsodo R-Motion Portable Launch Monitor
Rapsodo's mobile launch monitor (M.L.M) uses machine learning technology to provide accurate readings of every single shot you make.
All you need to do is connect the MLM to your mobile device via Bluetooth, download the software and you're all set.
The monitor then auto-calibrates to start measuring things like ball speed, club head speed, carry and total distances, smash factor, launch angle, and launch direction.
The readings are highly accurate mainly thanks to Doppler radar technology, which is the most precise type of measuring technology and is usually used by much more expensive devices.
This tiny device offers multiple features like:
Instant video playback with stats
Shot tracer technology using videos to analyze ball flight
Satellite range mapping to know where each shot lands
Smart club recognition
A shot library that contains every shot you ever make for comparison and game improvement purposes.
What's included:
MLM launch monitor
Carry case
USB cable
Storage for 100 videos
Free MLM app for mobile
Quick setup guide
Pros
Guaranteed accuracy with radar Doppler tech.
Small size.
All you need is your phone.
Instant feedback + useful features
Cons
Only compatible with IOS mobile devices.
Better for outdoor use; doesn't work as well when hitting into a net.
The Rapsodo M.L.M is a fantastic device that works with your mobile device to provide useful feedback and shot comparison and help you improve your game.
It uses Radar detection to provide the most accurate readings. The device easily fits in your pocket (10.2oz weight / 1.6" height / 5.3" length / 3" width).
It is a highly portable device that can assist you anywhere you go. Please note that this is not a complete simulator setup, but a standalone launch monitor. For under 500 dollars, this monitor can be as useful as devices that cost ten or twenty times its price.
Finally, even though the R-Motion is not a simulator package per se, it is still an extremely useful product with a multitude of features. Even if the manufacturer doesn't recommend it for indoor use with a golf net, it can still work great indoors.
The following video (6 minutes 54 seconds) gives a suggested indoor setup and test of the R-Motion. All you need to buy is a golf net and a hitting mat (a golf simulator projector would be a plus, but that will undoubtedly bump the cost of the simulator well over $1000):
Phigolf Mobile and Home Smart Golf Game Simulator with Swing Stick
With this simulator package, Phigolf brought some innovation to the world of golf simulators. The package includes three different software packages that are beloved by a lot of golfers around the world.
First, Phigolf's software is used to provide multiplayer games, 3D swing analysis, and much more. Second, the WGT can be used to combine your preferred app with your real golf swing. Lastly, the famous E6 Connect golf simulation software provides high-quality virtual courses (including Pebble Beach, Pinehurst, Royal St George's, Torrey Pines, St Andrews, Whistler, and many more) to play at home, in addition to virtual driving ranges and many customizable features.
The package includes a state-of-the-art swing stick and a 9-axis sensor for 3D swing analysis. It provides feedback on your swing, driving, chipping, and putting. The provided data includes club speed, tempo, angle of attack, face angle, swing path, and estimated distance.
You don't even need to swing a real golf club to get readings. The included swing stick can be used to simulate a golf shot and provide feedback. If you prefer otherwise, the sensor can be attached to your real clubs for a more realistic game of golf.
The software can simply be displayed on your TV without the need to buy any extra components.
What's included:
3 in 1 app (Phigolf's, E6, WGT)
Phigolf's swing stick
9-axis 3D swing sensor
Wrist strap for the swing stick
Multiplayer support.
Pros
Highly portable product.
Use the golf stick or a club with real balls
Very competitive price tag
3 different software included
Components feel well-built
Cons
Additional courses need to be purchased separately (Only a few are available out of the box)
At around 250 dollars, this simulator package is competitively priced. It provides many features and readings for a very low price. To fully benefit from the package, some extra money needs to be invested in Phigolf's pass and additional courses for the E6 software.
Overall, this package provides an enjoyable experience for less money. The remaining money (our limit is 1000 dollars) can be invested in a hitting mat and net for an even better experience; we suggest the Cimarron Super Swing Master and 5X5 hitting mat.
Swinglogic SLX Microsim
Another great alternative to the Optishot that many consider to be more accurate and better for game improvement. The SLX is an amazingly small and light device (7.9g) that spares you the hassle of connecting multiple components to enjoy virtual golf.
It also supports the E6 Connect software with a resolution of up to 4K. For $9.99/month, you can access 40 virtual courses and many features and game modes.
This golf simulator is compact, portable, and easy to use. It's perfect for anyone who wants to practice their swings at home or in the office.
The SLX Microsim comes with a precision motion sensor that captures your swing in real time. This allows you to see how you hit the ball and adjust your swing accordingly.
The device also comes with a virtual golf course that you can play on, which adds to the fun and entertainment factor.
One of the best features of the SLX Microsim is its ease of setup and use, and the software is user-friendly. It's also portable, so you can take it wherever you go, making it an excellent option for travel.
Pros
Portable and easy to set up.
Accurate swing analysis: The device's motion sensor provides accurate feedback on your swing, allowing you to identify and correct any flaws in your technique.
Virtual golf course included
User-friendly software.
Cons
Limited number of virtual courses and data parameters.
Limited accuracy for short game: The device is primarily on full swing analysis, and it may not be as accurate for short game shots such as putting or chipping.
Overall, the Swinglogic SLX Microsim is a great investment for any golfer looking to improve their game. It's easy to use, portable and provides accurate feedback on your swing, all while providing a fun and entertaining experience. We highly recommend it for beginners and casual golfers!
Things You Need To Consider When Opting For a budget Simulator (Cheap Simulators VS Quality Ones)
A good quality item usually costs much more than a lower quality one. However, as I always love to believe: cheap doesn't always mean bad, and expensive doesn't necessarily rhyme with quality.
When it comes to golf simulators, sometimes the prices can be slightly exaggerated simply because they are made by renowned companies. The goal here is to strike a balance between affordability and quality.
Moreover, It is pointless to invest money in a cheap product that is useless or easily broken. An affordable simulator still needs to be durable and accurate. If these two criteria are lost, the investment will be like throwing your money out of the window.
Let's get started with a short comparison between cheap simulators and pricier ones.
Durability
It's not logical to expect an affordable golf simulator to be as durable as the most expensive ones. Pricey golf simulators are usually made with the best quality materials and undergo thorough testing to provide customers with the best possible virtual golf experience.
On the other hand, cheaper simulator packages need to cut corners so as to lower the final price as much as possible. If you buy a simulator for about 1,000 dollars, you already know it's not going to be as durable as the Trackman 4, for example. It is something you know and expect before even making your decision.
However, you would expect your affordable simulator to serve you for as long as possible. If it is going to break after a short time, then it's not even worth buying in the first place.
Manufacturers know this, and that's why they usually try their best to provide products that are minimally durable and which can be used for a long period of time. Otherwise, they would be just hurting their company's image and negatively affecting their businesses.
The bottom line is, don't worry about durability, as there are other manufacturing compartments, other than durability, where companies can reduce production costs.
Rest assured, as your cheap simulator will serve you for a reasonable period of time!
Game Data Accuracy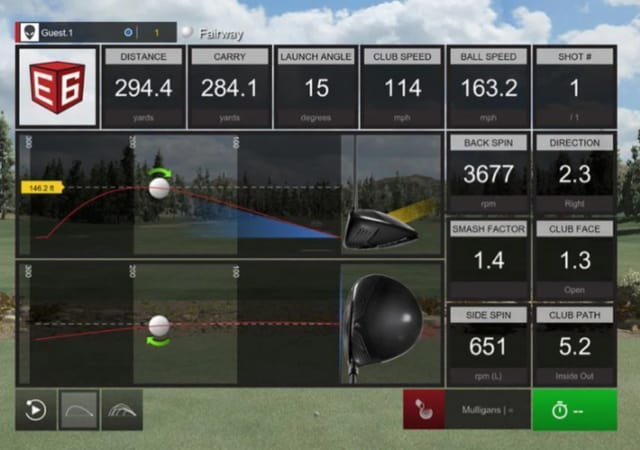 Accuracy is another crucial factor to consider while choosing a golf simulator, regardless of how much it costs. If the readings and numbers are just going to be all over the place, then the product is not worth buying. Even a cheap simulator must be minimally accurate and consistent.
Once again, the pricier products will be more accurate than the cheapest ones. Still, it's worth noting that the difference in accuracy levels may not be too big between the most expensive and cheapest golf simulator packages, as we stated in our article about golf sim accuracy.
If you try to compare the data accuracy of one of the best and most expensive available golf launch monitors (used with the Trackman simulator) to one of the cheapest options (the Optishot 2), you will certainly be surprised.
In the end, the results would not be conclusive for Trackman simply due to the huge price difference.
If you can afford to invest more money, you could choose Skytrak. No need to spend a whole lot of money to get accurate readings!
To further explain the huge difference in price between the priciest and cheapest products, we have to consider the different tracking and measuring technologies used by golf simulators today.
Simulator Technology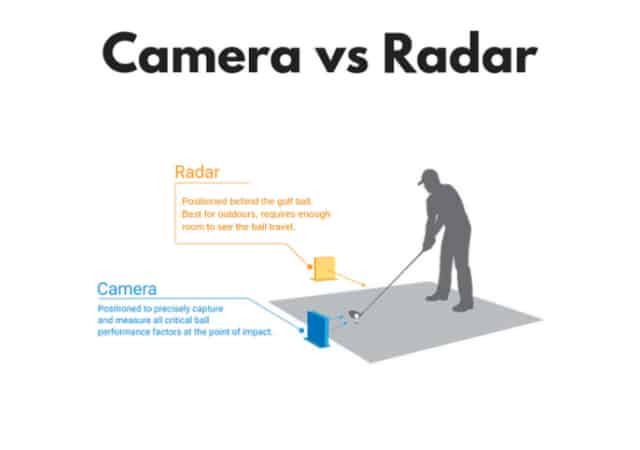 To keep things as brief as possible, there are three main types of technology used by golf simulators today to track your ball, club, clubhead, etc., and give different useful data. These are Photometric, Radar (Doppler), and Infrared (I.R).
As a general rule, Infrared simulators are usually the cheapest, compared to Photometric or Radar (Doppler) simulators. However, Infrared technology is less accurate than the other two technologies.
The technology the simulator uses determines its final price tag. Your affordable golf simulator is more likely to use Infrared technology to keep costs lower. This translates into slightly less accurate readings compared to other technologies (let's say between 2% and 5%).
As a golfer, I would say that a difference of even up to 5% or more in accuracy between an extremely expensive simulator and a cheap one will be an acceptable margin, especially with the huge price gap between the two categories.
So unless you are a professional golfer working on the tiniest details and to whom perfectly accurate numbers are vital, I'd say you will do just fine with a cheaper product for entertainment and even your game improvement. However, do take note that a launch monitor is different from a golf simulator.
Once again, no need to worry; your affordable simulator will be accurate and help you become a better golfer!
Cost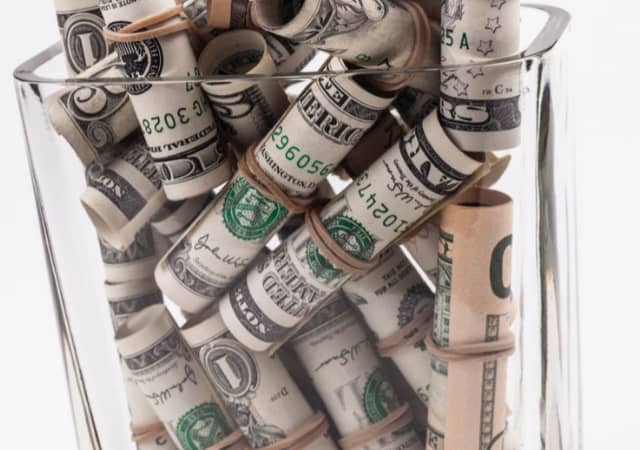 This is the main criterion that sets both worlds apart. Expensive golf simulation packages can cost tens of thousands of dollars (sometimes beyond 70K), while a complete setup such as the Optishot 2 Golf In A Box will cost you around 1,000 dollars (at the time of this article update). Using simple math, the expensive simulator will cost 70X the price of the affordable option, if not more.
To be fair, the expensive simulator provides many features and is undoubtedly more accurate and consistent than the cheap one. Still, many people would wonder if the difference in quality and accuracy justifies the price difference... For the average Joe, the answer will be a big NO!
When buying a cheap golf simulator, you just need to make sure you get the best possible quality for your money. Ideally, you want a product that will hold a respectable long-term value after you purchase it.
While it's likely that no golf simulator will tick every one of your boxes, many options will come pretty close to doing so. If you want a higher-quality golf simulator experience, consider increasing your budget to a unit that costs up to $5000.
How To Build a Golf Simulator For Under 1000?
When it comes to budget simulators, many people opt for building their own DIY system, including components they like or that fit into their budget and available space.
For an average golfer, there is a wide range of options to choose from. However, we came up with a list of components that are decent performers for a small price. Here they are:
Optishot 2 Stand Alone Golf Simulator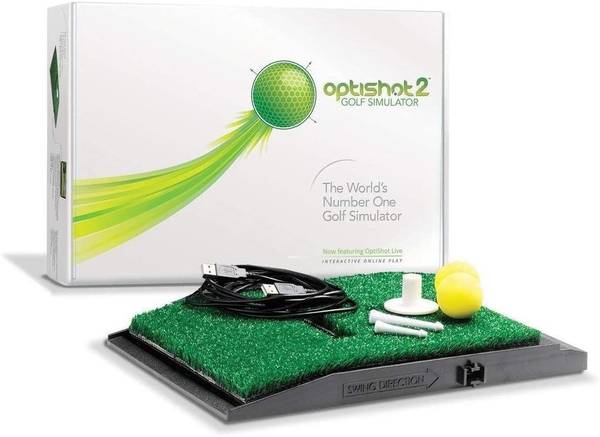 For $449, you can buy the Optishot 2 standalone Golf simulator. It is a good simulator with a respectable performance. It uses 18 infrared sensors to track your shots and provide data on your club swing speed, club path, and clubface angle.
The package contains the simulator as well as an optical swing pad, a USB cable, two adjustable rubber tees, and two practice foam balls. The software can be downloaded and installed on your PC and displayed on your TV.
This is a good budget option to enjoy virtual golf for an affordable price.
The Cimarron Golf Net or Enclosure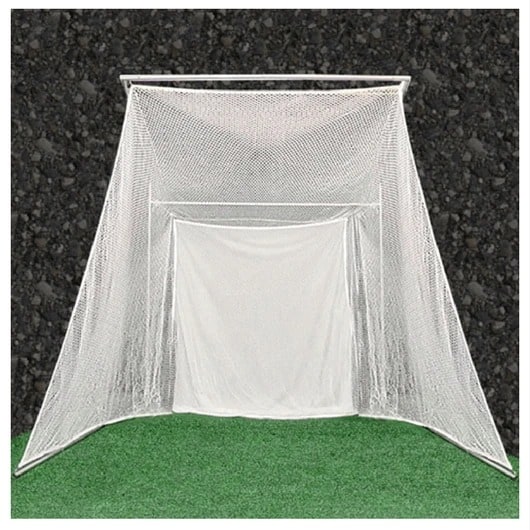 For a price range between $199 and $269, The Cimarron hitting nets and frames are an excellent option to use with our Optishot 2 simulator (given our budget restrictions). Both options are made from durable and sturdy materials (steel for the frame and polyester for the netting).
The main difference between the two options is that the Super Swing Master Golf Net (9' H x 6' W at Top, 12' W at Base x 7' D) is a little taller than the Swing Master Net and Frame (7' H x 11' W with 3.5' Sides) and comes with an integrated baffle net. The Super Swing is also 70 dollars pricier.
You can choose either of the two options, as they are within our $1,000 budget limit.
Hitting Mat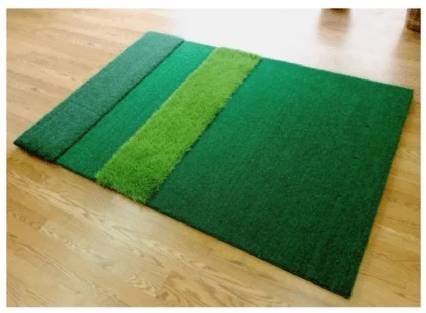 A hitting mat is essential because it provides the feel and stability you need for your shots and contributes to a better overall experience.
We have chosen two options to use for your entry-level simulator setup: The Cimarron 4'X6' Ultimate Golf Mat and the Cimarron 5'X5' Premier Golf Mat.
Both mats cost the same, $299.99, but differ in shape, so choosing one will be a matter of personal preference.
Computer or Tablet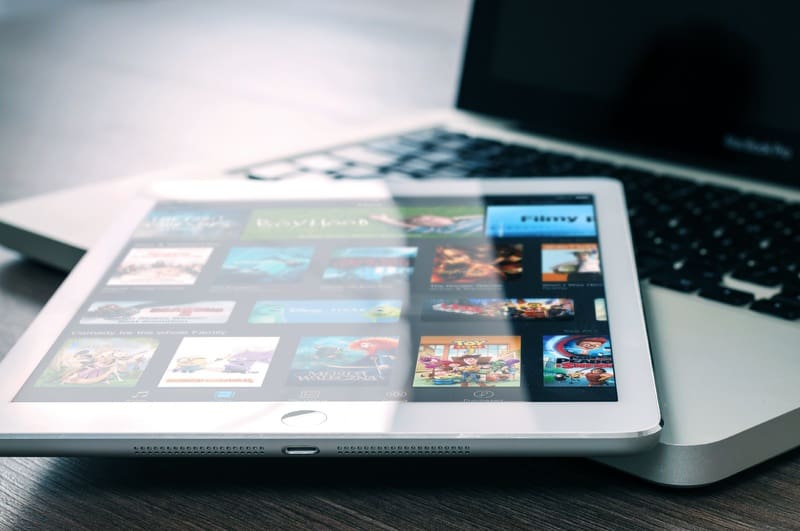 Unfortunately, as of the time of writing this article, the prices of golf simulator components have gone up, which affected our calculations for the whole entry-level setup.
Normally, a decent computer or iPad to run the Optishot simulator will cost around 300 to 350 dollars. Sadly, it's a luxury we don't have right now because of our budget limit, which was heavily affected by the inflation in our components' prices.
Luckily, the simulator does not require a powerful computer to run, which means we can still improvise and enjoy our affordable virtual golf experience. You can use your own iPad, Android tablet, laptop, or desktop computer to run the simulator.
Most (if not all) of us have computers at home that can do the job without any problems. Here are the specs needed to run the simulator for both Windows and Mac operating systems:
Windows Minimum System Requirements:
Windows® Vista, 7, 8, or 10 (latest service packs)
Graphics Card: 256MB available Adapter RAM with OpenGL 2.0 support and the latest Video Drivers (no more than 18 months old)
3GB Hard Disk Drive Storage
Internet connection for software installation, updates, Platinum course delivery, and online play
4GB RAM
USB 2.0 port
Mac Minimum System Requirements:
NVIDIA® GeForce® 8600M GT or ATI Radeon™ HD 2600 or Intel Iris Pro or better
OpenGL 2.0 Support
3GB Hard Disk Drive Storage
Mac® OS X 10.8
Intel® Core 2 Duo
USB 2.0 Port
Internet connection
Total Cost So Far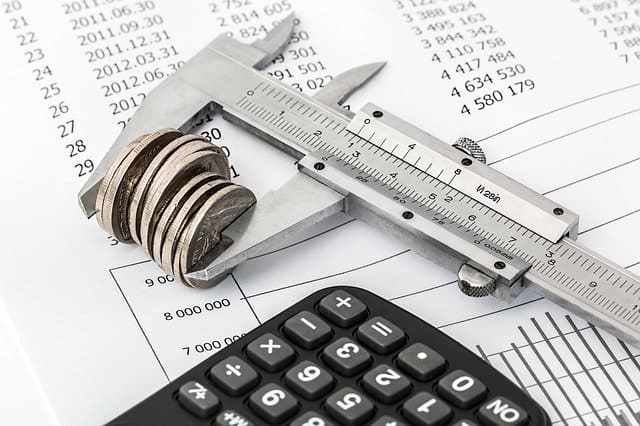 Our budget simulator package is now complete! We provided all the components that we needed to build our golf simulator for under 1,000 dollars. We had to cut some corners due to the sudden inflation in prices, but I believe we still managed to achieve our goal: To build a golf setup for under 1,000 dollars.
In the end, our golf simulator costs around 950 dollars:
The Optishot 2 Standalone simulator - $449
The Cimarron Golf net - $199 (If you choose the second option, the budget will be exceeded by about $18)
The Cimarron golf mat - $299.99
The Optishot 2 is a decent simulator that you can enjoy for a long time. It provides everything you need to enjoy the whole experience and is not too demanding in terms of computer hardware. You can use a computer you have at home to install the software and start playing golf indoors.
Please bear in mind that this is still an entry-level budget simulator software. For a better experience, you may consider a future upgrade to the Skytrak launch monitor for an even more realistic and immersive experience. This is something you can plan for the future; for now, just enjoy your new budget golf simulator!
Final Thoughts
In this article, we tried to guide you on how to enjoy the virtual golf experience for cheap by getting an affordable home golf simulator. We started by comparing expensive and affordable simulators in terms of accuracy, durability, and budget.
After that, we provided our top pick of the best packages that can be purchased for under 1,000 dollars. Our number one choice was the Optishot 2 golf Golf In A Box simulator package because it offers everything you need to virtually indulge in your favorite sport. We also provided some decent alternatives that fall within our budget range.
Finally, we provided a selection of components you can buy to build your own setup at a fraction of the cost. It's up to you to choose which option to go for.
If you have any questions concerning the topic or the products we tested, feel free to comment below or contact us. We will be happy to provide any possible assistance to our fellow golfers!
WRITTEN BY

My name is Jacob, a self-diagnosed equipment and golf enthusiast. I've been golfing since I was 15. Golf has always been my passion. I'm a bit of a golf equipment nerd and I've been that way since the moment I picked up a club for the first time. As someone who's been on both sides of the game, I know what it takes to be a good golfer. Of course, you need good equipment, but you also need to know how to use it. I hope sharing my experience with you will help you improve your game.
You May Also Like