18 Best Golf Simulator Accessories Reviewed
Last updated:
November 4, 2023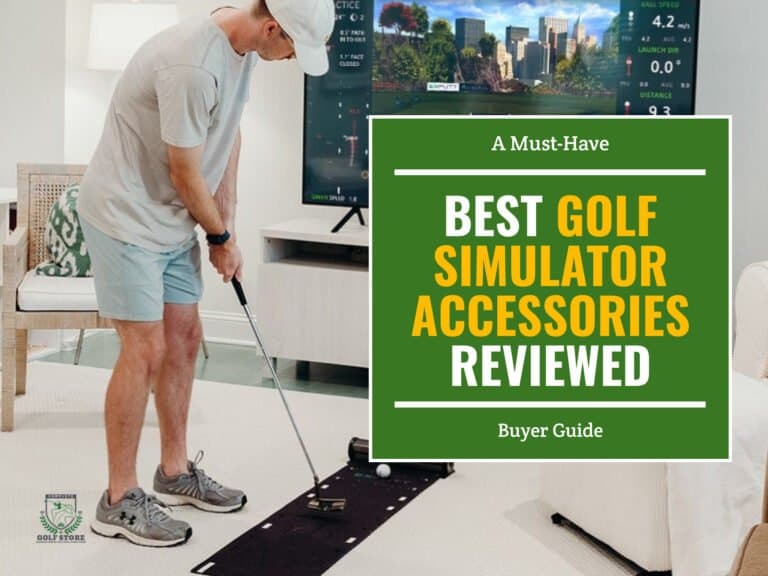 Disclaimer: We may earn a small commission from some of the links on our website. However, our reviews and comparisons remain fair and unbiased. Our goal is to help you make the best choice. For more information, please see our
disclosure statement
. Thank you for your support.
Key Takeaways
Our top pick for the Best Golf Simulator Accessory is the Golf Simulator Control Box - RoxorGolf. This innovative wireless device provides lag-free control up to 30 feet away with its USB dongle connection and rechargeable battery. The hands-free operation enhances the simulator experience by eliminating the need to go back and forth to your computer during gameplay.
Accessorizing your golf simulator setup can take your at-home golf experience from good to great. But with so many options on the market, how do you know where to start? In this comprehensive guide, we will provide recommendations based on our own experience and testing.
We will share insider tips to maximize your simulator and analyze must-have accessories beyond the essentials of the simulator, enclosure, screen, mat, projector, and computer. From ways to make your space more authentic to products that enhance gameplay and accuracy.
We have tested a plethora of sim accessories that can be used to enhance the experience and came up with a list of only the best ones to use with your virtual golf system. Some will improve the practice sessions directly, while others will make the experience more comfortable and enjoyable.
So, whether you want to add to your current setup or are building one from scratch, this guide will allow you to accessorize like a pro.
Let's tee up!
The Top Golf Simulator Accessories in 2023
The following are our top selections based on our own testing, research, and experience:
Final Thoughts
In closing, accessorizing your golf simulator can elevate your experience from standard to exceptional. Additions like a high-quality mat, must-have tech accessories, and personal touches like memorabilia and photos can take your simulator to the next level. While a strong initial setup with the essentials is critical, these affordable extras add fun, convenience, and authenticity.
I hope you enjoyed this comprehensive accessory guide for golf simulator enthusiasts. What accessories have you found to be game-changers? Are there any must-haves we missed? We'd love for you to share your experiences and insights in the comments below.
Thanks for reading!
WRITTEN BY

My name is Jacob, a self-diagnosed equipment and golf enthusiast. I've been golfing since I was 15. Golf has always been my passion. I'm a bit of a golf equipment nerd and I've been that way since the moment I picked up a club for the first time. As someone who's been on both sides of the game, I know what it takes to be a good golfer. Of course, you need good equipment, but you also need to know how to use it. I hope sharing my experience with you will help you improve your game.
You May Also Like