12 Best Wedges for High Handicappers - Reviews & Guide
Last updated:
November 1, 2023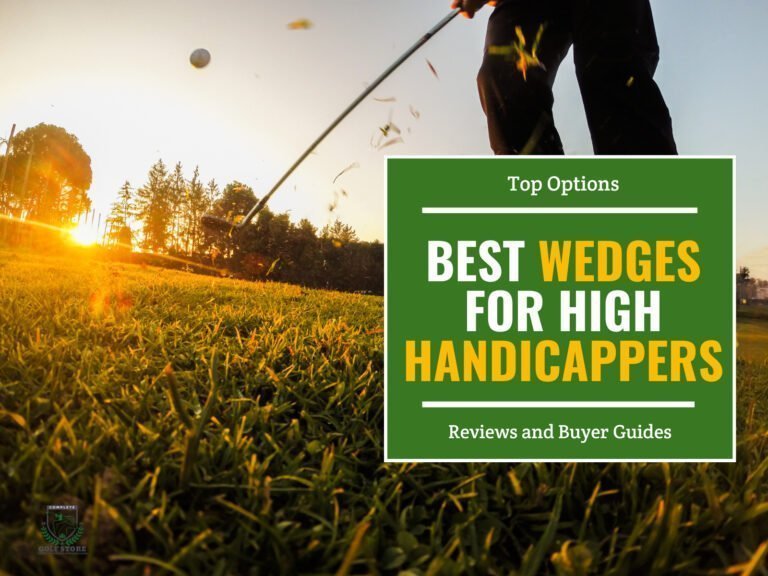 Disclaimer: We may earn a small commission from some of the links on our website. However, our reviews and comparisons remain fair and unbiased. Our goal is to help you make the best choice. For more information, please see our
disclosure statement
. Thank you for your support.
Key Takeaways
Our top pick for the best wedges for high handicappers is the Cleveland CBX ZipCore. These wedges are engineered to be forgiving and game-improving with unique sole grinds and lightweight foam inserts for maximum forgiveness and soft feel.
In the game of golf, the true battleground for every player, regardless of their handicap, lies within those crucial 100 yards from the green. It's where strokes are won and lost, where precision reigns supreme, and where the right equipment can make all the difference.
If you're a high handicapper or a beginner looking to level up your short game, you're in the right place.
In this article, we will review the best wedges for high handicappers and beginners in 2023. We'll explore the technologies, the benefits, and how these clubs can help you tighten your proximity to the hole, ultimately leading to a reduction in your handicap.
Get ready to revolutionize your short game with our hand-picked selection of wedges.
No time to read the whole article? No worries. We've done the work for you and compiled a list of the top performers.
| Product | Features | Our Rating | |
| --- | --- | --- | --- |
Our Top Picks for the Best Wedges for High Handicappers
Based on our own testing, the following is our list of the best wedges to get if you are a high handicapper- with a handicap index of 18 or higher. The reviewed clubs all offer the best performance and features to benefit high handicappers.
Cleveland CBX ZipCore Wedges
Our top pick - Cleveland's CBX ZipCore wedges are engineered to be the most forgiving and game-improving wedges available. As a high-handicap golfer looking to upgrade your short game, the CBX ZipCore should be at the top of your list.
Right away you'll notice the unique V-, C-, and S-shaped sole grinds that are widened to prevent chunking while still allowing you to open up the face for finesse shots. The specialized "ZipCore" lightweight foam insert boosts MOI for maximum forgiveness right where you make contact. Combined with the gel-back cavity insert, the CBX ZipCore wedges feel incredibly soft without sacrificing feedback.
The CBX ZipCore really shines with its upgraded "UltiZip" grooves. Sharper, deeper, and packed closer together, these grooves provide tour-level spin and control. Paired with the new lightweight "Spinner" shafts, you'll be able to attack greens more aggressively and stop shots on a dime.
While traditional blade wedges offer more shot-shaping versatility for low handicappers, the CBX ZipCore is ideal for mid to high handicappers looking to develop their short-game consistency. The forgiveness enables solid contact even on mishits, giving you the confidence to go after any green.
With lofts ranging from 44 to 60 degrees, you can dial in your wedge gapping perfectly. The CBX ZipCore is available in both steel and graphite shafts to match your iron set. If you struggle with chunks, thin shots, and inconsistent spin, the CBX ZipCore is the perfect wedge to upgrade your arsenal.
Pros
The forgiving sole design prevents chunking
The gel-back insert provides a soft feel
Deep, sharp grooves generate tour-level spin
The lightweight shaft improves swing tempo
Ideal for mid to high handicappers
Cons
Less versatility for shot shaping
Not optimal for low handicappers
The Cleveland CBX ZipCore wedge is the ultimate game improvement short-game weapon. If you're a mid-to-high handicap golfer struggling with your wedge play, the CBX ZipCore deserves a spot in your bag.
Titleist Vokey SM9 Wedge - S-Grind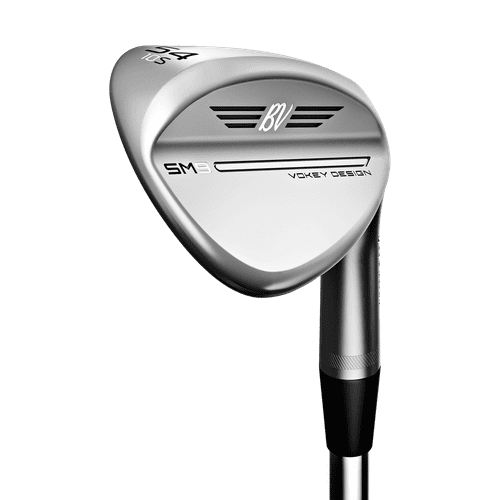 Next on our list, the Titleist Vokey SM9 wedge is designed for discerning golfers seeking optimized feel, versatility, and ball control. With six unique sole grinds and 23 loft options ranging from 46 to 62 degrees, you can dial in precise wedge yardages tailored to your swing. The progressive center of gravity produces a slightly lower, more consistent flight in higher lofts for pinpoint distance control into greens.
Testing on a launch monitor illustrated the SM9's excellent spin and trajectory optimization. Switching from an older model Vokey to the properly fit SM9 increased backspin by over 1,500 RPMs and brought flight windows down for more accurate approach shots. Out on course, the clean Vokey shaping aligned easily behind balls while added bounce forgiveness prevented chunking in soft conditions.
Pitch shots checked up rapidly on greens with the refined CG keeping flights lower without reducing spin. Versatile sole options like the M-Grind allowed opening the face for creativity around greens. Compared to previous models, changes may seem subtle but represent purposeful optimizations.
For high handicappers, it is recommended to opt for the S-grind option, with a bounce of 10 to get the best out of their investment.
Pros
Total spin and flight control
Ideal versatility through extensive options
Classic clean looks inspire confidence
Forgiving in soft conditions
Dialed distance control
Cons
Upgrading requires custom fitting
A bit expensive
For golfers able to get properly fit, the Titleist Vokey SM9 represents the state-of-the-art in wedge performance, feel, and technology. Although improvements over previous models feel incremental, the SM9 still stands as the leading wedge option this year for maximizing short-game precision. Just remember to go with the S-Grind (and 10 bounce) to benefit the most from your new wedge.
Callaway Mack Daddy CB Wedge
The Callaway Mack Daddy CB wedge is designed to help high handicappers consistently strike better chips, pitches, and bunker shots. Its forgiving cavity back shape features a wide sole to prevent digging and increase bounce. Even off-center hits maintain a solid feel and trajectory thanks to the perimeter weighting.
Testing illustrated the MD CB's effectiveness for customary trouble shots. The rounded leading edge glided easily through bunker sand without diving, while tight lies posed no issue. Consistently making crisp contact inspired confidence during pressure-scoring shots. When opening the face, the flush leading edge maintained versatility despite the high bounce design.
Full shots displayed impressive forgiveness and moderate spins that held greens. The club felt substantially softer than expected with a muted impact sound, reflecting game-improvement iron technology. This instills confidence while aligning the sizable profile.
Pros
Forgiving on mishits
Versatile bunker performance
Confidence-inspiring size
Effective with open face
Soft, muted feel
Cons
Limited versatility on tight lies
The Callaway Mack Daddy CB won't suit all playing conditions given its widened profile. However, high handicappers who struggle with consistent wedge contact will gain confidence from the MD CB's forgiveness, playability, and solid feel. For those needing an easy-launching wedge to escape traps, tight spots, or trouble lies, the Mack Daddy CB represents an ideal option.
TaylorMade Milled Grind Hi-Toe Big Foot Wedge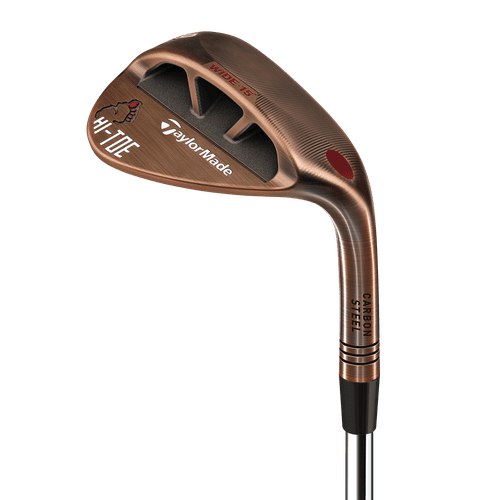 TaylorMade's Hi-Toe Big Foot wedge utilizes a high-toe design and wide sole to provide versatility and forgiveness around the greens. The larger face area with additional grooves minimizes loss of performance on mishits high or low on the face. This improves results from the rough and bunkers.
The expanded C-grind sole allows opening the face for creativity without losing spin or exposing the leading edge. Testing indicated the Big Foot's effectiveness in getting out of greenside bunkers thanks to the sole preventing digging. In deep rough, the bigger face increased consistency despite poor lies.
However, the bulky shape was less effective for lower pitching shots and required adjustment. The higher launch and ball flight posed difficulty in controlling trajectory on full swings. At address, some may dislike the chunky appearance.
Pros
Forgiving from rough and sand
Versatile sole grinds
Lots of grooves for spin
Confidence from thick grass
Creative face manipulation
Cons
Looks bulky at address
Higher launch lacks control
The TaylorMade Big Foot wedge truly excels on shots around the green requiring maximum forgiveness and playability. For high handicappers who struggle with consistent wedge contact, the Big Foot provides advantages from poor lies and confidence. However, lower handicappers may prefer a more traditional shape.
Cleveland CBX Full-Face 2 Wedge
The Cleveland CBX Full-Face 2 wedge utilizes a cavity back design to provide forgiveness and versatility for mid-to-high handicap players. The widened sole and fuller face area deliver more consistent contact across the face to maximize spin and control.
We did notice more forgiveness on full shots compared to traditional blade wedges. Mishits also maintained trajectory thanks to the perimeter weighting. The 12° of bounce prevented digging while making bunker shots easy to elevate.
Despite the cavity back, the feel remained excellent due to the gel insert muting vibration. The buttery responsiveness aligns with modern game-improvement irons. The fuller face enabled opening up for creativity around the greens without losing spin.
Pros
Forgiving on mishits
Great feel for a cavity back
Versatile from tough lies
Grooves optimize wet and dry spin
Blends with cavity iron sets
Cons
Not as buttery as a blade wedge
Bulky appearance for some
While competitive players may prefer a blade, the Cleveland CBX Full-Face 2 provides high handicappers the forgiveness, playability, and versatility required from an approach wedge. The combination of feel, ample bounce, and groove performance makes it an easy recommendation for those seeking more consistency around the greens.
Ping Glide 4.0 Wedge Eye 2 Wedge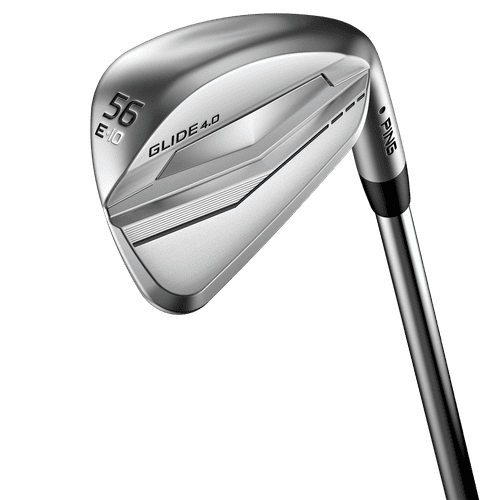 The Ping Glide 4.0 wedge utilizes groove and sole technologies to generate extremely high spin for precision around the greens. An emery face blast and milled grooves optimize friction, while the carbon steel head with an elastomer insert provides a soft but responsive feel.
On-course testing showed the Glide 4.0's versatility. The rounded head shape framed balls invitingly, and the consistent launch windows enabled executing shots as visualized. From bunkers, the wide sole prevented digging while maintaining speed through the sand. Out of the rough, the stability provided confidence in poor lies.
While full shots launched slightly higher than some competitor wedges, the ball flight proved consistent and controllable. The lower center of gravity design is intended to keep trajectories lower for accuracy into greens. The Glide 4.0 also struggled on some tighter chip-and-runs where the ball came out dead.
Pros
Optimized grooves for extreme friction
Soft feel from insert
Prevents digging in sand
Consistent trajectories
Versatile sole options
Cons
Higher launch less controllable
The Ping Glide 4.0 provides high handicappers with increased playability and forgiveness from trouble spots around the green. While competitive players may still opt for Vokey or other brands, the Glide 4.0 marks a significant step forward for Ping's wedge performance. For mid-to-high handicappers needing more consistency with their wedge game, the Glide 4.0 warrants consideration.
Cleveland Smart Sole 4 Wedge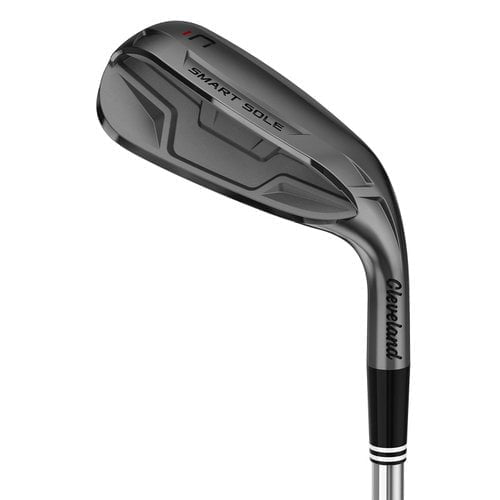 If you're a high handicapper or battling the dreaded chipping yips, the Cleveland Smart Sole 4 Wedge may be your saving grace. This wedge is designed to provide forgiveness and improve your short game, making it a potential game-changer for struggling golfers.
The Smart Sole 4 boasts a matte dark grey finish, giving it a premium, standout appearance. Its large face is adorned with numerous grooves, strategically placed for optimal ball interaction. What sets this wedge apart is its wide, three-tiered sole with added leading-edge bounce. This design feature progressively widens as the loft increases, making it one of the most forgiving wedges available.
For chipping, the wedge's design philosophy aligns with expert advice in golf coaching - focusing on getting the bounce to strike the ground rather than attempting to lift the ball off it. This approach is critical in chipping, and the Smart Sole 4 excels in this aspect. During testing, it demonstrated its prowess on artificial grass, providing promising results and allowing us to clip the ball smoothly off the fake turf.
Pros
Wide sole design to prevent fat shots.
Suitable for full shots.
Excellent spin control.
Instills confidence in chipping.
Forgiving design.
Cons
Limited to only three loft options.
May not be ideal for highly creative shots around the greens.
Cleveland's Smart Sole 4 Wedge stands out as a user-friendly tool to combat chipping yips and enhance your short game. Its forgiving design, wide sole, and spin control make it a valuable asset for high handicappers. However, the limited loft options might deter golfers looking for more customization.
While it excels at basic chip shots, those seeking greater versatility may consider other options with narrower soles. Nevertheless, for consistency and confidence in your chipping game, the Smart Sole 4 delivers on its promise. If you're struggling around the greens, this wedge deserves a spot in your golf bag.
Taylormade Milled Grind 4 (MG4) wedge
TaylorMade, known for its innovation in golf equipment, has turned its attention to wedges, promising high levels of control in various conditions, along with the feel and versatility golfers crave.
The MG4 combines aesthetics and functionality. Its design aims to strike a balance between an inviting profile and a player's wedge shape. It boasts a slightly rounded top line and improved hosel blend, all housed within a slightly larger footprint than its predecessor. While not as forgiving as some wedges, it's a visually appealing club that inspires confidence.
The standout feature of the MG4 wedge is its face. Running your thumb over it, you'll notice a coarse texture close to fine sandpaper, designed to enhance spin generation. The Spin Tread Technology, a laser-etched treatment on the face, mimics car tire tread, creating face roughness for increased spin. This technology also excels in moisture management, ensuring water doesn't hinder ball contact, making it an excellent choice for chipping, even in damp conditions.
On the course, the MG4 wedge lives up to its promises. It impressively maintains control and spin when tested with a moistened face and ball. It checks up on the green, showcasing consistency and reliability. The wedge's slightly lower ball flight and consistent peak heights are particularly notable, thanks to its progressive toe pad thickness, offering players greater control.
Design enhancements, such as weight redistribution behind the face, enhance shot shaping and overall feel through impact. The CNC milled soles contribute to smoother turf interaction, especially from tight lies. Multiple bounce options, including low, standard, high bounce, and the TW grind, inspired by Tiger Woods' preferences, provide ultimate versatility around the greens.
When it comes to availability, the TaylorMade MG4 wedges offer a range of lofts from 46° to 60°, ensuring everyone can find the right fit for their game.
Pros
Excellent spin control for precise shots.
Aesthetically pleasing design with an inviting profile.
Multiple loft and bounce options cater to different playing styles.
Cons
The TW grind option comes with an upcharge.
The TaylorMade MG4 wedge offers a compelling combination of control, spin, and versatility. It's a valuable addition to any golfer's bag, particularly those looking to elevate their short game and achieve consistency in various conditions.
Tour Edge Hot Launch SuperSpin VibRCor Wedge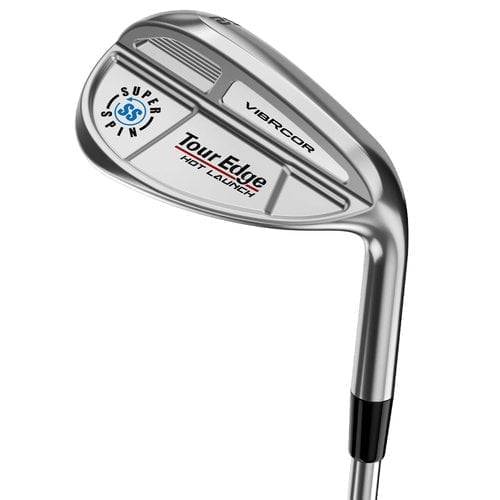 The Tour Edge Hot Launch Super Spin VibRCor Wedge is an affordable and dependable choice for weekend golfers seeking to improve their short game. This budget-friendly wedge excels in delivering soft landings and quick spins around the greens, precisely what the average weekend golfer needs to enhance their performance.
During our tests, we managed to achieve remarkable consistency around the greens, with five consecutive chips landing within five feet. The TPU-dampening design contributed to this soft and reliable feel, allowing precise distance judgment.
For golfers on a budget seeking spin on full shots and decent control around the green, the Tour Edge Hot Launch Super Spin VibRCor Wedge is a solid choice. It offers excellent value compared to pricier alternatives like the Mizuno T22 or Titleist SM8/9 wedges. While those alternatives provide more consistency and control, they come at nearly double the cost.
Technically speaking, the 2022 Tour Edge Hot Launch Super Spin VibRCor Wedge boasts a loft of 56°, a bounce of 10°, VibRCor grind, and a sleek chrome finish.
Pros
The toe-weighted design ensures control even on higher-struck shots.
Thanks to a high-grade TPU, you get a comfortable and controlled feel during shots.
With maximum-depth grooves, this wedge delivers impressive spin rates.
Smooth turf interaction reduces digging.
Ideal for approaches from 95–110 yards.
Cons
Higher-struck shots may sacrifice distance by 5-8 yards consistently.
Spin performance around the greens is not as optimal as higher-end wedges.
The Tour Edge Hot Launch Super Spin VibRCor Wedge is an excellent option for the average golfer who prioritizes affordability and reliability around the greens. While it may not have flashy features, it performs admirably as a solid, basic-level wedge. Whether you're looking to upgrade or start building your wedge collection, this club won't disappoint.
Square Strike Wedge
The Square Strike wedge is not your typical wedge; it brings a new unique design and a new approach to wedge-making. It is designed to resemble a chipper but with significant enhancements.
The club is engineered to function more like a putter with its very upright lie angle, heavier head, and 45 degrees of loft, similar to a mainstream pitching wedge. The oversized sole prevents fat shots and aids in gliding over imperfect strikes. The angled leading edge prevents digging, and the weight in the toe promotes a pendulum-like swing.
In essence, it's aimed at golfers who tend to get too "handsy" with their wedges, resulting in frustrating mishits. The Square Strike encourages a more putting-like motion, making it easier to achieve consistent results around the greens.
Testing the Square Strike wedge yielded surprising results. It consistently produced low-running shots with an unexpected level of feel. Even a golfer with a long swing and a tendency to "flip" the club can find it effective.
However, it's vital to note its limitations. The Square Strike is not versatile; it shines in low-running chip and pitch shots but falls short with higher, softer shots. Choosing it means sacrificing space in your bag for another wedge. This is expected due to its significantly lower loft. While it's easy to make contact with, it's limited in shot options.
Pros
Effective for low-running shots.
Suitable for golfers struggling with wedge shots.
Affordably priced.
Encourages a putting-like motion for consistency.
Cons
Lacks versatility for various types of shots.
The Square Strike wedge surprised with its performance, offering an affordable solution at $89 for golfers battling heavy shots and mishits around the green. It excels in producing low-running shots, valuable on the course. However, it won't transform your overall wedge game. If your short game is struggling, consider it as a band-aid. For comprehensive improvement, invest in short-game lessons and practice.
PING ChipR (Unique Option For Inside 40 Yards)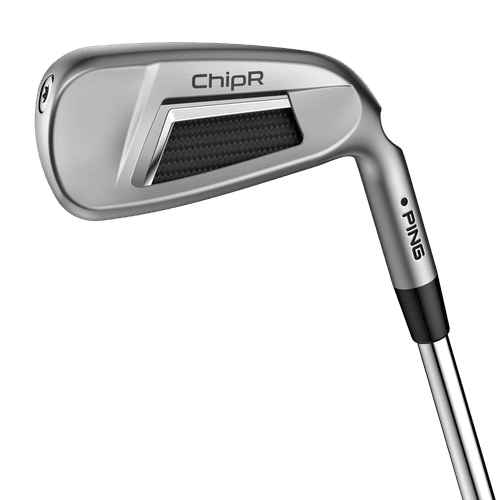 Designed with high handicappers in mind, the ChipR is a departure from traditional wedges, and it brings some unique features to the table.
The ChipR is not built for full swings. It's specifically designed for pitches and bump-and-runs inside 40 yards. With a loft of 42°, similar to that of a standard 9 iron, and a slightly shorter length than a typical pitching wedge, it's optimized for those precision shots around the green.
What's intriguing about the ChipR is its shaft design. It sits more upright than a standard wedge, which brings you closer to the ball and allows you to use your "putting technique" for distance control. This design minimizes the use of the wrist, making it incredibly beginner-friendly and ideal for high handicappers looking to improve their short-game consistency.
PING has also incorporated several forgiveness-boosting technologies into the ChipR. The chambered sole enhances versatility and consistency on various grass lengths, while precision-milled MicroMax grooves ensure excellent ball contact, spin, and consistent trajectories on every chip.
The hidden cavity back with additional perimeter weighting adds forgiveness on off-center strikes, a common occurrence for high handicappers. Also, the "hydropearl chrome" finish repels water for reliable performance in any weather.
Pros
Specialized for short-game precision.
Beginner-friendly design reduces wrist action.
Forgiveness-boosting technologies improve consistency.
Customizable shaft length for a personalized fit.
Extended grip enhances versatility and control.
Cons
Limited to shots inside 40 yards.
PING's ChipR is a unique addition to the world of golf wedges. It's tailored for high handicappers who want to excel in their short game, offering forgiveness, precision, and consistency in a sleek package.
Mizuno T22 Wedge
The Mizuno T22 wedge offers exceptional spin control, a luxurious feel, and impressive versatility. As a golfer, these are precisely the qualities you seek in your wedge, and the T22 does not disappoint.
The T22 excels boasts loft-specific Quad Cut milled grooves and laser-etched HydroFlow Micro Grooves. These advanced groove technologies not only enhance spin but also maintain it even in damp conditions. You can trust the T22 to provide you with the spin control you need to excel in your short game.
In addition, the club's remarkable feel is attributed to a layer of copper beneath the chrome finish providing a wedge that connects with the ball in a way that feels sublime, giving you confidence in every shot. The D grind, in particular, shines for chipping, allowing you to manipulate the clubface without disrupting turf interaction. With four grinds to choose from and multiple options in the 56-degree wedge alone, this wedge offers ample versatility for various lies and shot types.
Moreover, the T22 wedge comes in three attractive finish options: nickel chrome, raw, and denim copper. While the raw finish provides a tour-authentic appearance, it's worth noting that it may rust quickly. The denim copper finish, though visually appealing, is prone to scratching. For durability that matches well with your iron set, the nickel chrome finish is an excellent choice.
Pros
Exceptional spin control.
Luxuriously soft feel thanks to the copper layer beneath the chrome finish.
Impressive versatility, with multiple grinds to suit different shot types and angles.
Classic and compact shape at address for a traditional look.
Three appealing finish options.
Cons
The denim copper finish is susceptible to scratches.
The Mizuno T22 wedge is a remarkable addition to your golf bag. It excels in spin control, offers a luxurious feel, adapts to various shot types, and presents a classic look. While there are some considerations regarding finish durability, its overall performance makes it one of the best wedges for golfers looking to elevate their short game.
Buying Guide - What to Consider While Choosing a Wedge for Your Game
Choosing the best wedge for your game as a beginner or high handicapper can be really challenging. That's why we came up with a list of factors you sure consider to ensure you make the best choice possible.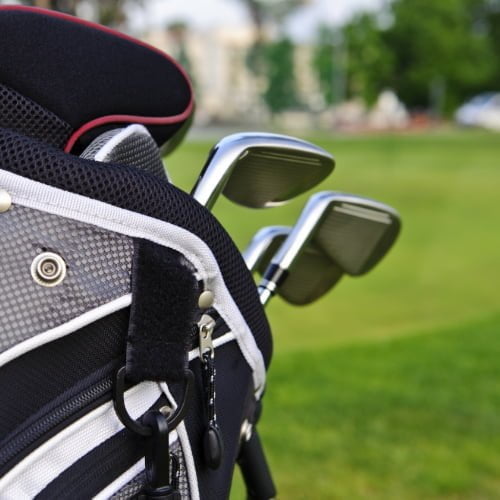 Forgiveness: Mastering the Short Game
Forgiveness in a wedge is essential for golfers of all skill levels, especially beginners and high handicappers. A forgiving wedge minimizes the impact of mishits and provides a larger margin for error, increasing your chances of landing your shots where you intend.
Take, for instance, the Titleist Vokey SM9 Wedge. It offers tremendous versatility and consistency in spin and flight, making it a forgiving choice for golfers looking to improve their short game. Similarly, the Cleveland CBX Full-Face 2 Wedge features full-face grooves for maximum contact and spin, making it an excellent option for those seeking forgiveness.
When considering forgiveness, examine the club's design, including cavity-back or full-face grooves, as these features often contribute to enhanced forgiveness.
Bounce: Perfecting Your Turf Interaction
Bounce refers to the angle between the club's leading edge and the lowest point of its sole. It plays a crucial role in turf interaction, helping you avoid digging into the ground or bouncing off it. The right bounce can improve your ability to make clean and precise shots from various lies.
TaylorMade's Hi-Toe 3 Wedge features a very low center of gravity and a wide sole, offering extra forgiveness and bounce for shorter shots. Meanwhile, the Ping ChipR Wedge combines elements of putters and wedges to simplify chipping, making it a great choice for those struggling with this aspect of the game.
When selecting a wedge based on bounce, consider the type of courses you play on and the conditions you encounter, as bounce requirements can vary.
Distance Gapping: Bridging the Yardage Gaps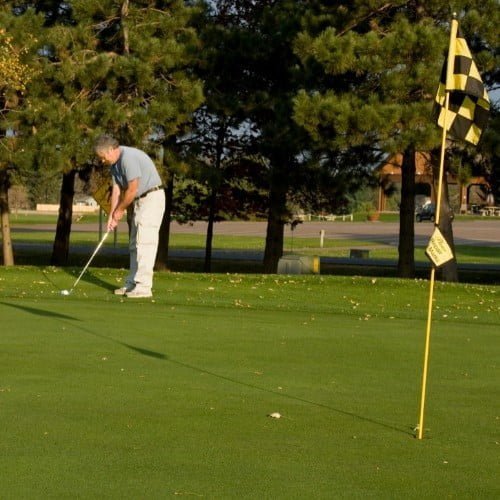 A crucial aspect of wedge selection is ensuring proper distance gapping between your wedges and other clubs. Having consistent yardage increments between your wedges allows for better control over your shots and a more predictable short game.
Examples: The Mizuno S23 Wedge offers a wide range of lofts and bounces, allowing you to fine-tune your distance gapping according to your needs. Additionally, the King Cobra Snakebite Wedge provides highly forgiving options for optimizing your distance control.
To achieve the ideal distance gapping, assess the loft options and capabilities of each wedge in your set, ensuring they cover the necessary yardages.
Grooves: Enhancing Spin and Control
The grooves on a wedge's clubface are responsible for generating spin on the ball, which is critical for control, especially when hitting approach shots and getting out of tricky situations like bunkers.
The Cleveland CBX ZipCore Wedge is known for its excellent feel on all shots and offers impressive spin control. Meanwhile, the Ping Glide 4.0 Wedge features Snakebite grooves that provide extra bite and friction for enhanced spin.
When evaluating grooves, consider their depth, sharpness, and positioning, as these factors can significantly impact your ability to spin the ball.
Test Different Clubs: Personalized Performance
Don't hesitate to test various wedge options before making a final decision. Every golfer has a unique swing and preferences, and what works for one person may not work for another. Personalized testing allows you to find the wedge that best suits your playing style.
As mentioned earlier, the Callaway CB Wedge and the Mizuno S23 Wedge offer different benefits and feel. Only through hands-on testing can you determine which wedge aligns with your game.
Visit a golf store or a fitting center to test different wedges and assess how they perform based on your swing and preferences.
Budget & Price: Staying Within Your Means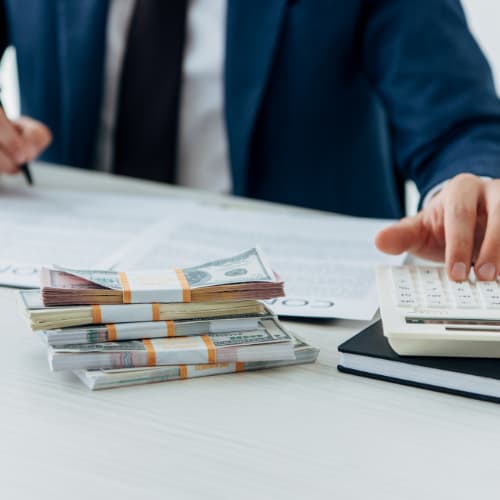 Your budget is a significant factor when choosing a wedge. Golf equipment can vary widely in price, so it's essential to set a budget that aligns with your financial means and objectives.
The Ping ChipR Wedge and the Cleveland CBX Full-Face 2 Wedge offer excellent performance at different price points. Assess your budget and prioritize the features that matter most to you when making a purchase. Also, you need to decide if the additional features brought by pricier models are worth the extra money or not.
Frequently Asked Questions
Let's now answer some of the most frequently asked questions to ensure high handicappers and beginners have a better understanding of the topic and can confidently pick the right clubs to improve their game.
What are the different types of wedges, and which ones do I need as a high handicapper?
Here are some wedge recommendations for high-handicap golfers:

- Pitching Wedge (48-50 degrees) - This is your scoring club for short approach shots within 100 yards. As a high handicapper, you'll want to focus on making consistent, solid contact with this club.

- Gap Wedge (52-54 degrees) - The gap wedge fills the yardage gap between your pitching wedge and sand wedge. It's useful for short approach shots from 50-100 yards.

- Sand Wedge (56-58 degrees) - The sand wedge is key for getting out of bunkers and can also be used for pitching and chipping around the green.

- Lob Wedge (60-64 degrees) - The lob wedge provides the most loft and height on short shots. It's designed to get the ball up quickly and land softly. This wedge takes some practice to control but can be useful around the green.

- Avoid super high loft wedges (64+ degrees) - As a high handicapper, specialty wedges with very high lofts require skill to control distance. Stick to 56 degrees or lower for now.
Do high handicappers need 4 wedges?
If you feel the need to expand your short-game repertoire, consider incorporating gap and lob wedges. Otherwise, relying on the pitching wedge and sand wedge should suffice for a good game of golf.

Keeping all four types of wedges in your golf bag is overkill for the vast majority of beginners and high handicappers. Focus more on your wedge fundamentals - stance, contact, distance control - before building out your wedge arsenal too much. Mastering one wedge at a time is a good strategy.
Which Wedge Designs Are More Forgiving?
Wedge designs that prioritize forgiveness typically feature a cavity back, full sole grind or wide sole configurations (sometimes a combination of more than one). These designs aim to reduce the impact of mishits and provide greater stability by helping golfers get the ball in the air more easily and avoid digging into the turf.
Is it hard to hit a 64-degree wedge?
For a high handicapper or beginner, the answer is yes!

Hitting a 64-degree wedge can prove challenging due to its extreme loft. This wedge is primarily designed for specific, delicate shots near the green, making distance control difficult, as its high loft can result in steep descent angles and limited versatility.

Additionally, it carries a higher risk of mishits such as skulling or shanking, leading to inconsistent results.

While advanced golfers may benefit from its specialized use, beginners and high-handicap players often find it more practical to rely on a set of wedges with lower lofts for better all-around performance and versatility in a variety of short-game situations.
Final Thoughts
The standout among them is the Cleveland CBX, earning our esteemed Editor's Choice award. Its user-friendly design and range of lofts and bounce options make it the perfect wedge for high handicappers, whether you're escaping bunkers or finesse-chipping onto the green.
Before selecting your wedge, remember to assess your club's loft and match it with the appropriate bounce for your swing style. These details can significantly impact your game.
If you're a high handicapper looking for clubs that can improve your game, you might also be interested in exploring High-handicap friendly fairway woods, which can provide similar forgiveness and ease of use for longer shots.
And if you're looking for recommendations on ideal irons for a golfer with a 10 handicap, be sure to check out our article for insights on improving your iron play.
Our discussion doesn't conclude here. We invite your input. Share your experiences with these wedges or your personal favorites and tips. Your comments and insights are invaluable in fostering a community of golf enthusiasts dedicated to enhancing their game in 2023 and beyond.
WRITTEN BY

My name is Jacob, a self-diagnosed equipment and golf enthusiast. I've been golfing since I was 15. Golf has always been my passion. I'm a bit of a golf equipment nerd and I've been that way since the moment I picked up a club for the first time. As someone who's been on both sides of the game, I know what it takes to be a good golfer. Of course, you need good equipment, but you also need to know how to use it. I hope sharing my experience with you will help you improve your game.
You May Also Like