11 Best 56-Degree Wedges - Reviews & Buying Guide
Last updated:
November 1, 2023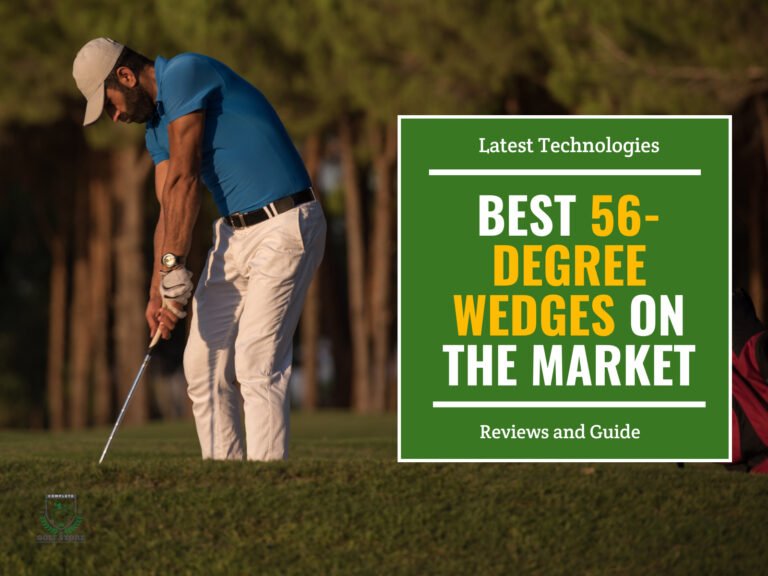 Disclaimer: We may earn a small commission from some of the links on our website. However, our reviews and comparisons remain fair and unbiased. Our goal is to help you make the best choice. For more information, please see our
disclosure statement
. Thank you for your support.
Key Takeaways
The Titleist Vokey SM9 Jet Black Wedge is our top pick for the Best 56-Degree Wedge. As a premium option, this wedge offers exceptional feel, versatile grinds, and tour-level greenside control that provides low, predictable trajectories with ample spin for sticking tight pins. The timeless jet black aesthetic frames precise and consistent shots.
The delicate finesse of the short game can be the difference between a frustrating round of golf and a satisfying one. Mastering those subtle chips, pitches, and bunker shots around the green demands the right tools for the job.
This is where the 56-degree wedge, your new best friend, comes into play. With the multitude of options available today, finding the best 56-degree wedge to elevate your short game can feel overwhelming.
This comprehensive guide aims to simplify the process by exploring the top 56-degree wedges on the market. Whether you crave forgiveness on off-center strikes or desire pinpoint precision, we break down key features and technologies to match your playing style. From cavity back designs to buttery soft feel, you'll gain insights to make an informed decision for your purchase of a new wedge.
No time to read the whole article? No worries. We've done the work for you and compiled a list of the top performers.
| Product | Features | Our Rating | |
| --- | --- | --- | --- |
What Is Special About the 56-Degree Wedge?
Here are some key reasons why the 56-degree wedge is an important club to have in your golf bag:
The 56-degree loft is ideal for getting the ball out of bunkers. The bounce on the sole helps the club glide through the sand, while the loft launches the ball out. Having a sand wedge makes bunker shots much easier.
It's a very versatile wedge for short shots around the green. The moderate loft allows you to hit high, soft-landing pitches as well as lower bump-and-run shots. This versatility gives you more shot options from 80-100 yards.
The 56-degree wedge is useful for controlling trajectory on full swing shots. You can hit a 56-degree wedge shot high or low by varying swing speed and angle of attack. This allows for precise yardages.
Sand wedges promote crisp contact on short shots. The sole sits flatter than a 60-degree wedge, helping maintain solid turf interaction around the greens.
Having a sand wedge fills a key yardage gap between your pitching wedge and lob wedge. It gives you an additional scoring option from inside 100 yards.
The 56-degree sand wedge gives you an extra weapon out of bunkers, around the greens, and for short approach shots. It's a very important club for improving your short-game scoring.
The 11 Top 56-Degree Wedges Of 2023
After ample testing, our team has come up with a list of the absolute best 56-degree wedges money can buy today. These cover a wide price range- from the budget option to the very expensive display of the latest technologies, you will find everything here.
The following are our top selections based on our own testing, research, and experience:
Titleist Vokey SM9 Jet Black Wedge - Best Premium Option & Performance
When searching for the best 56-degree wedge, the Titleist Vokey SM9 Jet Black is hard to beat. The Vokey SM9 delivers exceptional feel, spin, and versatility to excel in greenside shots.
The jet black finish gives the Vokey SM9 a classic, tour-inspired aesthetic that instills confidence over the ball. Combined with the small head profile, the clean look frames precise and consistent shots. The stock grip feels comfortable with ample traction, while the wedge shaft provides solid feedback.
In testing, the Vokey SM9 produces low-trajectory shots with predictable launch angles. The wedge spins crisp, high shots that stop quickly on greens. With multiple bounce and grind options, you can dial in performance for different lies and turf conditions. While not the most forgiving, the Vokey SM9 offers decent results on off-center hits.
Around the greens, this wedge shines with excellent control for executing any shot in your bag. Flop shots launch high with ample spin to stick tight pins, while bump and runs gracefully bound onto greens. On full swings, the Vokey SM9 flies accurate distances but favors specialty greenside shots.
Pros
Tour-proven design for exceptional spin and greenside control
Timeless jet black finish and profile for confidence
Multiple grinds to optimize performance on any lie
Crisp and consistent feel off the face
Low, predictable trajectory on full swings
Cons
Less forgiveness on mishits than game improvement wedges
The stock shaft may require fitting for optimal launch
For the golfer seeking a tour-level specialty wedge, the Titleist Vokey SM9 Jet Black is a premium choice. With buttery feel and unmatched greenside precision, this wedge delivers the outstanding control serious golfers demand.
Cleveland Golf CBX Zipcore Wedge - Best Forgiveness
The Cleveland Golf CBX Zipcore wedge is engineered to help average golfers consistently get the ball close to the pin around the greens. Its wide sole glides easily through various lies while providing stability and forgiveness on off-center strikes. The soft feel remains, thanks to Cleveland's TPU insert that dampens vibration. You'll gain confidence in your short game knowing the CBX Zipcore wedge launches shots high with ample spin from any location.
Cleveland smartly designed this wedge with game improvement in mind. The CG is optimized to get shots airborne faster with a higher peak trajectory. The deeper, tighter-spaced grooves maximize spin, performing comparably to a blade wedge. Multiple sole grinds match your shot shape, from full swings to finesse shots around the green. Off-center hits stay online thanks to the high MOI resisting twisting.
Pros
Forgiving from all lies
Consistent distance and trajectory
Soft feel with muted vibration
Abundant spin from the grooves
Custom sole grinds for versatility
Cons
Not ideal for elite players
Slightly thicker appearance
This cleverly engineered wedge gives average golfers an advantage around the green. The CBX Zipcore optimizes performance for consistency and control. If you regularly miss greens and lack confidence with your short game, this is the 56-degree wedge that can transform those weaknesses into strengths.
Callaway Mack Daddy CB Wedge - Great for Mid-Handicappers
Next on our list, the Callaway Mack Daddy CB wedge is engineered to make chipping and pitching easier for average golfers who lack finesse around the greens. Its wide sole provides ample bounce to glide through turf and sand without digging, instilling confidence with each stroke. You'll benefit from the forgiving cavity back design that gets shots airborne with ease.
At address, the Mack Daddy CB's rounded leading edge and satin finish give a friendly look behind the ball. Callaway optimized center of gravity placement to launch shots high with a peak trajectory. This wedge shines around the greens, where off-center hits stay online thanks to the high MOI resisting twisting. The grooves are precisely milled to generate tour-quality spin on crisp contact.
You'll appreciate how the sole moves smoothly through various lies. Flubbed chips still travel a proper distance, reducing frustration. Out of bunkers, the bounce prevents excess digging while maintaining speed. Versatility is slightly limited on tight lies by the wide sole, but average golfers will happily trade this for forgiveness. Callaway extended the stock grip to easily choke down.
Pros
Very forgiving on mishits
Gets shots airborne fast
Glides through turf and sand
Good spin on solid contact
Confidence-inspiring design
Cons
Limited versatility on tight lies
Not as soft-feeling as premium wedges
The Mack Daddy CB wedge succeeds in making the short game easier for high handicappers. If you lack finesse chipping and pitching, this cleverly engineered wedge provides the bounce, forgiveness and ball flight to shave strokes around the green.
Wilson Harmonized Wedge - Best Value
Wilson's Harmonized wedge is an excellent budget-friendly option providing quality performance at a fraction of the cost of premium wedges. The blade-style shaping and sole grind deliver versatility around the greens, while the lower price point appeals to mid to high handicappers seeking value.
Visually, the classic style doesn't overwhelm at address. The chrome or black finish options offer a clean, non-distracting look. The sole grind glides smoothly through various lies, making it easy to open the face for creativity around the greens. You'll gain confidence in your short-game arsenal with precise distance control and ample spin.
Wilson optimized the center of gravity to launch approach shots high with a steep landing angle. This wedge shines on full swings where ball-striking inconsistencies are muted. The steel shaft provides solid feel and feedback. While it doesn't offer the buttery softness of premium wedges, most golfers will find the Harmonized wedge a satisfying club to hit.
Pros
Budget-friendly cost
Versatile sole grind
Good trajectory on full swings
Classic styling
Ideal for mid-high handicappers
Cons
Basic steel shaft
Lacks premium feel
The Wilson Harmonized wedge succeeds in blending playability, forgiveness, and value. This wedge suits mid to high-handicap players seeking quality equipment on a budget. The Design delivers ample versatility and performance to help sharpen your short game.
Tour Edge TGS Wedge - Another Great Budget Option
The Tour Edge TGS wedge stands out as an innovatively engineered wedge providing versatile shot-making for mid-high handicap players. The triple grind sole is the key technology, reducing bounce in the heel and toe for minimized drag through rough and sand. You'll slide effortlessly through gnarly lies for better distance control.
Deep, conforming grooves aggressively spin the ball on all shots around the green. The straight taper steel shaft enhances the soft, solid feel you want on finesse wedge shots. At address, the classic tour shape inspires confidence and aligns easily behind the ball.
You'll appreciate how the triple grind sole behaves through thick grass and buried lies. The reduced bounce areas prevent the club from slowing down, so you can commit to your swing and trust your distance judgment. From bunkers, the wedge glides on the sand instead of digging in.
Pros
Triple grind sole versatility
Aggressive spin from grooves
Classic look builds confidence
Great feel and feedback
Excellent value for performance
Cons
Limited full-swing playability
Not ideal for elite players
This Tour Edge wedge suits mid to high-handicap golfers needing more control around the greens. The innovative sole grind and deep grooves work together to get your golf ball stopping faster on its target line. If you struggle from 100 yards and in, the TGS wedge will optimize your short game.
Taylormade MG4 Chrome Wedge - Another Premium Option Best for Advanced Players
The new TaylorMade MG4 wedge delivers exceptional spin and control thanks to innovative face technology. This wedge features a coarse, raw face texture called Spin Tread that is designed to generate high spin in all conditions. Even when the face is damp, the MG4 grips the ball and imparts spin for great stopping power.
In testing, we found the MG4 to offer excellent feel and feedback. Shots into the green had a nice penetrating flight and the wedge performed consistently well from any lie. The milled sole glides cleanly through the turf for crisp contact.
The MG4 is available with a TW grind option modeled after Tiger Woods' wedge specs. The TW grind features additional heel and toe relief for versatility around the greens. It has a rounded leading edge and moderate bounce, making it easier to open up the face for flop shots or to close it down for bump and runs. For the ultimate in shot-shaping and finesse, the TW grind provides the playability Tiger demands from his wedges.
Pros
Grips well to generate spin even when damp
Great feel and feedback
Consistent flight and distance control
Versatile sole grinds and bounce options
Cons
Upcharge for TW grind
Raw face may wear over time
The MG4 has a confidence-inspiring shape with a rounded topline and clean hosel transition. Multiple lofts, bounce, and grind options enable easy fitting. Overall, the MG4 is one of the best feeling, most versatile wedges we've tested for generating spin on greenside shots. It's an excellent option for low to mid handicappers seeking more control around the green.
Mizuno T22 Golf Wedge - Best for Low-Handicap Players
Mizuno's T22 wedge provides exceptional control and feel with its unique construction and groove design. This forged wedge features Copper underlay and a Grain Flow forged head for unparalleled softness. Combined with Quad-cut grooves and Micro Grooves, the T22 generates substantial spin on shots from any distance.
I weas impressed with the penetrating ball flight and ample spin generated by the T22. Pitches checked up quickly on approach and I was able to consistently control trajectory and distance. The buttery soft feel at impact is unmatched and provides excellent feedback.
With its classic, compact shaping, the T22 sets up cleanly behind the ball. The sole grinds allow you to open or close the face easily for shots around the green. From bunkers to tight lies, this wedge performed excellently thanks to its versatility.
Pros
Quad Cut grooves optimize spin performance
Micro Grooves maintain spin in wet conditions
Copper underlay and grain flow forging create super soft feel
Low, consistent ball flight across lofts
Four versatile sole grind options
Excellent directional control and workability
Cons
The raw finish might rust quickly
Denim copper finish scratches easily
In all, the Mizuno T22 is one of the best feeling, most consistent spinning wedges available today. The extensive custom options enable personalized fitting. If you seek a forged wedge with exceptional control and soft feel, the T22 is an outstanding choice.
2023 Cobra SNAKEBITE Wedge ONE - Best Spin Option
The 2023 Cobra Snakebite wedge uses advanced milling technology to deliver maximum spin and versatility around the greens. This forged wedge features precisely CNC-milled grooves with tightened tolerances for aggressive spin. The updated groove design optimizes performance for each loft.
Testing revealed the Snakebite to be an excellent option from bunkers and rough. Its full-face grooving maintained ample spin from off-center strikes. With three grind options, I was able to dial in the ideal sole profile for my swing.
The clean, compact shaping instills confidence at address. While I preferred using the Snakebite for shorter pitches and chips, its forgiving sole grinds made bunker shots and fried egg lies easier.
Pros
CNC-milled grooves optimize spin across lofts
Full-face grooving maintains spin on off-center hits
Improved wet condition performance
Notch design assists with face opening
Three versatile sole grinds
Cons
Full-face is harder to align on full shots
Classic grind best for fuller shots
Cobra's Snakebite is an excellent versatile wedge offering ample spin, improved wet performance, and multiple grind options to fit your game. It's an outstanding option if you struggle with bunker shots or require maximum groove grip from tight lies.
TaylorMade Milled Grind 3 (Hi-Toe 3) Wedge - Excellent For Bunker Shots
TaylorMade Milled Grind 3 is a top contender among the best 56-degree wedges. As a leader in golf equipment, TaylorMade uses tour player feedback and advanced milling technology to engineer wedges that excel around the greens. This precision-milled wedge promotes optimal turf interaction for consistent chip and pitch performance. The raw face is specifically designed to rust over time, increasing friction and spin. Additional technologies like steeper grooves, raised micro ribs, and strategic weighting yield high spin rates you can rely on.
As a versatile wedge for golfers of all skill levels, the Milled Grind 3 blends ideally into a set of TaylorMade irons. While this wedge may feel slightly heavy, it truly shines on bunker shots. The added weight fosters smooth swings, helping lift the ball out with ease. On full shots from 50-60 yards, you can expect a piercing, consistent ball flight. With lofts from 46 to 60 degrees and customizable grinds, perfecting your yardages is a breeze.
Pros
Maximizes spin and stopping power
Precise milling for consistent shots
Rusting face increases friction over time
Pairs perfectly with TaylorMade irons
Exceptional performance from bunkers
Cons
Can feel overly heavy
Lackluster spin on shorter pitches
Higher ball flight on full shots
For golfers wanting a premium wedge crafted for consistency, the Milled Grind 3 is a top-notch option. While the feel may be a tad heavy, the advanced milling delivers reliable turf interaction for perfect distances. If you're a TaylorMade loyalist or value a wedge engineered with tour input, this 56-degree wedge will serve you well on full swings and bunker shots alike.
Cleveland CBX Full-Face Wedge - Best Spin & Forgiveness Mix
This innovative wedge utilizes full-face grooves extending all the way to the toe for maximum forgiveness and spin across the entire hitting area. The advanced grooves are precisely Rotex milled to enable substantial control from 100 yards and in. The dark finish also reduces distracting glare while framing the face nicely.
The most impressive aspect is the versatility provided by the c-shaped sole. From tight lies to deep bunkers, this sole glides through various turf conditions. You'll benefit from ample forgiveness too, thanks to the cavity back design and optimized center of gravity. Together, these technologies instill confidence to execute lob shots and finesse shots around the green. While the unique looks take adjustment, the benefits are undeniable.
Pros
Full-face grooves increase spin consistency
Rotex milled face enhances greenside control
Glare-resistant finish
Versatile sole design for any lie
Forgiving cavity back
Cons
Unconventional appearance
Less versatile on full swings
For any golfer seeking more confidence and consistency inside 100 yards, the CBX Full-Face 56-degree wedge delivers. With leading-edge forgiveness and greenside versatility, you can take on any short-game shot with ease. If you deal with low spin and inconsistency with your current wedge, this Cleveland model is well worth trying out.
Ping Glide 4.0 Sand Wedge - Best Customizable Option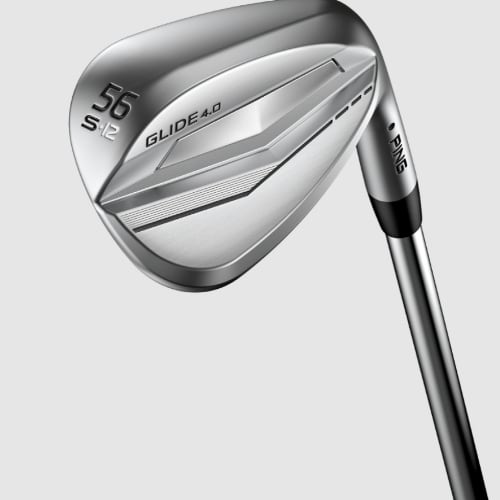 At address, the Ping Glide 4.0 inspires confidence thanks to its classic teardrop shape and glare-reducing finish. But it's the performance that really makes it stand out. With four sole grind options, you can customize your wedge setup specifically for your swing and the turf conditions you face.
The wide sole model is one of the best wedges I've tested for chips and pitches. The added bounce ensures crisp contact and consistency from tight lies and thick rough. For those who tend to get steep, this sole grinds through nicely. The standard sole is also quite versatile across different lies. Where this wedge truly excels is in maximizing spin. The emery face blast and fresh grooves had my golf ball checking up in a hurry around the greens.
Out of the bunker is where the Ping Glide 4.0 is nearly unbeatable. The Eye2 sole plays very forgiving from any bunker lie while maintaining excellent control. Any golfer who struggles with bunker shots will benefit greatly from this classic Ping design.
Pros
Customizable sole options
Ideal turf interaction on chips and pitches
Maxes out greenside spin
Classic and confidence-inspiring shape
Eye2 sole is amazing from bunkers
Cons
Feels firm at impact initially
Heavy swing weight
For peak greenside spin and versatility, the Ping Glide 4.0 is worth a close look. With the ability to customize your sole grinds, you can create your ideal wedge setup. The classic Ping shape and Finish also inspire confidence when you need it most.
Buying guide- What to Look For in Your New 56-Degree Wedge?
A 56-degree wedge, also known as a sand wedge, is an essential club for any golfer looking to improve their short game. Selecting the right 56-degree wedge is critical, as it can significantly impact the height, spin, and overall control you have around the green.
This buying guide will walk you through the key factors to consider when choosing a new 56-degree wedge that matches your skill level and needs on the course. With the right information, you'll be able to confidently invest in a high-quality wedge that shaves strokes off your score.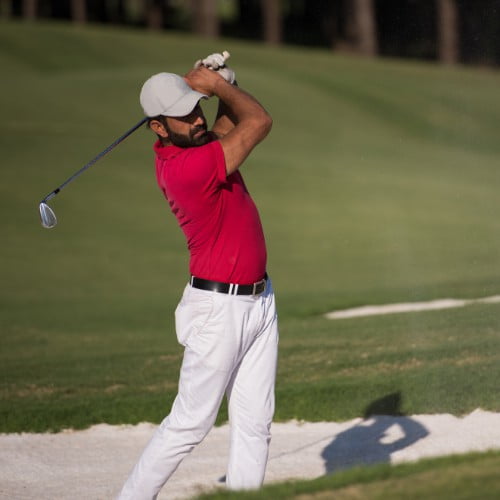 Your Skill Level
Your skill level influences the optimal wedge design and technology for your game. High handicappers should prioritize forgiveness through cavity back shaping and widened soles. Mid-handsappers benefit from moderate forgiveness with some versatility in sole grinds. Skilled players require precision from a blade wedge with multiple bounce options.
Beginners may prefer an easy-to-hit cavity back like the Cleveland CBX Full Face. Its extreme heel-toe weighting launches shots high with ease.
Mid-handsappers can take advantage of moderate forgiveness in the Callaway Mack Daddy CB. It combines a cavity back with crisp grooves for consistency across the face.
Low handicappers will appreciate buttery feel and precision from a tour-inspired blade like the Mizuno T22. The compact profile and narrow soles permit maximum creativity.
Matching your wedge to your ability level ensures you are maximizing performance based on your specific needs and swing technique around the greens.
Cavity Back vs. Blade Design
Wedges come in two primary head designs - cavity back and blade. Cavity back wedges move weight to the perimeter of the clubhead, creating a larger sweet spot and more forgiveness on mishits. Blade wedges concentrate weight behind the clubface for superior feel and workability.
Cavity back wedges like the Cleveland RTX Zipcore are best for high handicappers seeking maximum forgiveness. The expanded sweet spot preserves ball speed and spin consistency across the face.
Blade wedges such as the Titleist Vokey SM9 suit skilled players wanting precise control. The compact shape offers exceptional feel for judging distances, while the smooth sole makes it easier to manipulate shot shape.
Ball Flight
Manufacturers optimize wedge design to produce either a low or high ball flight. Low-flying wedges like the Titleist Vokey SM9 promote a lower trajectory that penetrates through wind for control on full shots. High-flying wedges like the Callaway Mack Daddy CB launch the ball on a steeper angle, making it easier for average golfers to elevate short shots over obstacles.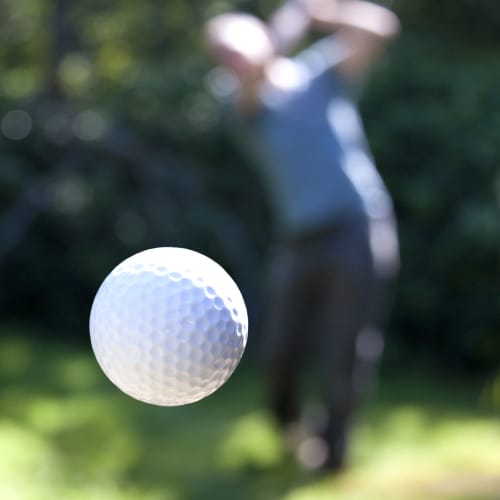 Determine whether you need to keep shots low or require an easier, high trajectory before deciding on wedge flight.
Sole Grind and Bounce
Wedges are crafted with different sole grinds that alter the bounce of the club based on your typical turf interaction. More bounce helps the club glide through sand and thick grass, while less bounce enables cleaner contact from tight lies.
Moderate bounces like the PowerBilt X-Grind suit most playing conditions and attack angles. Diggers should opt for wedges with more bounce, such as the Callaway Mack Daddy CB. Shallow swingers need less bounce as seen on the Mizuno T22.
Spin
Groove design directly impacts the backspin and control you can achieve with wedge shots. Deep, aggressive grooves like those on the Cobra Snake Bite grip the ball to maximize friction and rotate the ball violently back towards the target.
When comparing wedges, look for options that promise consistent friction and distance control through innovations in groove geometry and clubface milling.
Sand Wedge vs. Gap Wedge vs. Pitching Wedge
Understand the distinctions between sand, gap and pitching wedges before deciding on loft. Sand wedges in the 54°-58° range specialize in bunker shots and partial swings with open faces. Gap wedges from 50°-54° fill the yardage gap between pitching and sand wedges. Pitching wedges 46°-50° offer versatility but less height and spin than specialized wedges.
When talking, about 56-degree wedges, we are mainly talking about sand wedges, as they are the ones that reach a loft of 56 degrees.
Final thoughts
Finding the right 56-degree wedge is crucial for lowering scores and improving your short game. With so many quality options on the market, it can be challenging to decide which one is the best fit for your game. As we've discussed, brands like Titleist, Cleveland, and Callaway all produce fantastic 56-degree wedges built for performance.
The advanced spin-milled face technologies allow you to stop the ball on a dime, even from soggy rough around the greens. While the Titleist Vokey leads the way in terms of quality and craftsmanship, the other models still utilize tour-caliber grooves that generate tremendous backspin on pitch shots and bunker escapes.
Ultimately, you can't go wrong with any of these market leaders. Take the time to test them out on a launch monitor, or better yet, try them on the course. Look for a wedge that gives you confidence from 100 yards and in and has the versatility to execute any shot or condition. Finding the right feel and balance for your swing is imperative.
If you have any questions, don't hesitate to contact us.
Thanks for reading!
WRITTEN BY

My name is Jacob, a self-diagnosed equipment and golf enthusiast. I've been golfing since I was 15. Golf has always been my passion. I'm a bit of a golf equipment nerd and I've been that way since the moment I picked up a club for the first time. As someone who's been on both sides of the game, I know what it takes to be a good golfer. Of course, you need good equipment, but you also need to know how to use it. I hope sharing my experience with you will help you improve your game.
You May Also Like