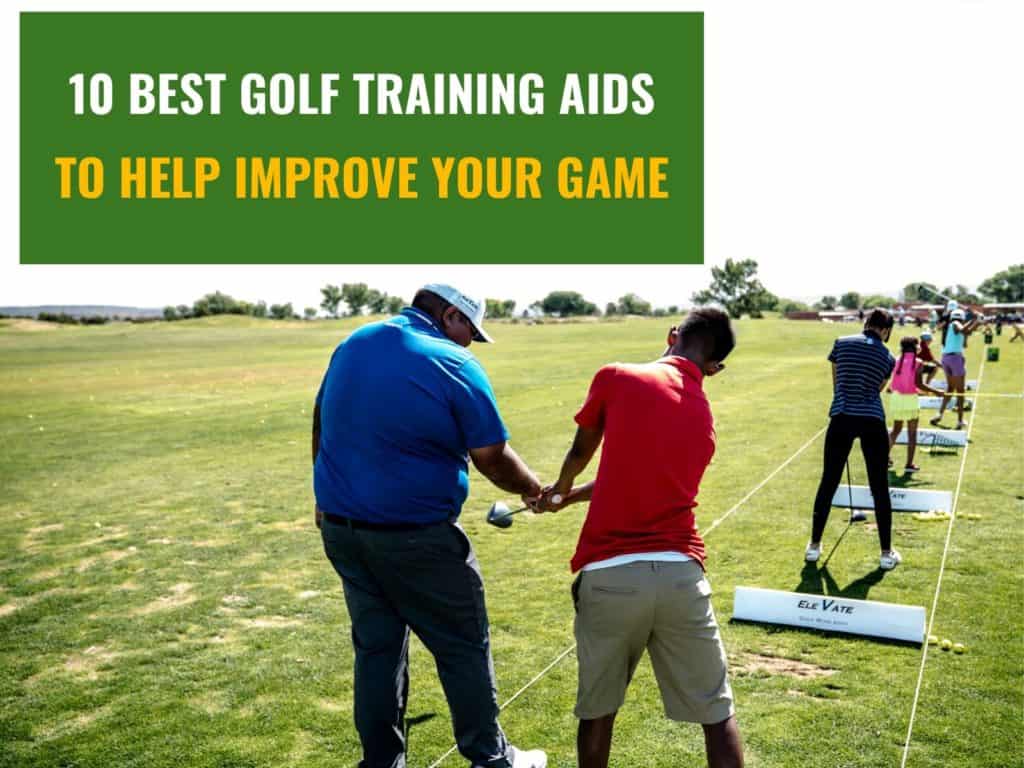 10 Best Golf Training Aids to help Improve Your Game
First Published:
May 29, 2020
Last updated:
May 24, 2021
Golf has never been an easy game to master. Have you been bewildered by the various swing planes? You have tried many tutorials to get the perfect swing but have not been successful. Well! You are not alone. Most novice or intermediate players will need a lot of hand-holding and practice to hold this great sport. Put your worries to rest as we are going to introduce you to the best golf training aids to help you traverse through the game with ease.
It is natural to be skeptical about these training aids as research has time and again proven that while some tools can help you perform better. Many mostly end up gathering dust in your attic, offering no special assistance to help you with the game. Upcoming sections will address your concerns on the effectiveness of the training aids while also giving you a detailed insight into the best training aids.
Check Also: Best Putting Aids
GOLF IS A PUZZLE WITHOUT AN ANSWER. I PLAYED THE GAME FOR 50 YEARS AND I STILL HAVEN'T THE SLIGHTEST IDEA OF HOW TO PLAY.
The training aids are designed not to help you get the perfect swing or to avoid fat shots; instead, they are focused on giving you feedback on what went wrong. This will eventually lead you to the perfection that you are looking for.

Answer to this question is vast and can be addressed based on the type of training aid you use to improve your game. It is worthwhile to identify your style of playing, strength, and weaknesses to understand how training aids will help you. You could take the help of a professional to help you do this assessment so that you can get the most appropriate golf aids.

For instance, if you are looking to improve your putting abilities, there are golf putting aids that help you in the task. These aids will help you improve your stroke curve, reduce the off-center strikes, and help maintain the right speed throughout the stroke.
Read Also: Best Swing Speed Analyzers
Identifying which part of your game needs improvement
You cannot merely buy the training aids and expect it to work wonders on your golfing style. There are training aids that cover different aspects of the game ranging from your swing plane to chipping and putting. So, it is essential to identify where you need help with your skills. This will make the task easier and help you achieve excellence in the game.
You need to know which area requires more attention, for instance, is it the faulty swing? Or are you getting a lot of fat or thin golf shots due to reduced weight transfer, or is it because of weak grip, bad release, etc.? This realization will lead you to buy those training aids that can give you feedback on your shots and help improve your strike.
Does this look like a lot of homework to do? You do not always have to analyze it yourself. Preferably a professional can help you identify your golfing traits and places where you are not getting it right.
If you have trouble with the golf grip, then a flex can help you correct it and improve your tempo, which will give you those perfect shots.
You May Also Like: How To Increase Golf Swing Speed
The Best Golf Training Aids that we know they work
We have come up with the top 10 golf training tools that many players have proven to be effective. There are a wide variety of devices like golf swing aids, weighted golf clubs, and golf tools that you can use to practice golf at home as well as ones you can carry with you. You will need to decide where you intend to use these aids to help you make the best use.
You can go through each of the options given below and choose the one that will help you better your golf performance.
Are you looking for a golf practice tool that you can use indoors? You do not have to necessarily travel until the golf course if you want to practice and improve your golfing skills. We cannot bring the golf course home. However, with Galileo Gold Practice Nets, you can safely practice hitting ball even inside your home. These highly durable hitting nets can bear high ball impact and do not produce much sound.
100% PP high-density net with target cloth made of silk velvet.
Fiberglass support rod that does not rust or break easily.
Safe hitting with a stable net structure.
Comes with all necessary accessories and a carry bag.
Easy to set up and also folds quickly, making it possible to start your practice anywhere.
This product is the first of its kind to help pros and amateurs to get the feel of a professional takeaway and transition. The unique design tension band will help train your body on how to take the club back in the right way early in the backswing. This will come naturally to you when you try to resist the tension band. As your tension builds, you will gradually relax your wrists and arms, thus sending into a powerful plane with an inside outstrike. Here are some advantageous features of this training gear. 
Comes with interchangeable bands

Reversible for right- and left-hand players.

Three different band types to choose from based on your level.
 You simply have to wear it around your waist with the elastic band attached to the club, and you will be amazed to see how your tour striker plane mate will put your club into the perfect position while on the downswing.
Are you looking for that training aid which will tell you if you are getting your swing right? Then this swing trainer is something you should include in your training essentials. It is designed to give you instant feedback on your swing. If you happen to notice any wobble in your swing, it is time you improve your tempo and balance.
Voted #1 training aid by PGA and LPGA professionals.

Has a patented, flexible shaft and counterweight system.

Helps coordinate the rhythm between arms, upper body, and lower body.

Helps improve your range of motion while avoiding injury.
 You can use it to swing over and over to build your balance and tempo for those consistent shots on the golf course. This swing trainer comes to you with high quality handmade American parts with a 2-year warranty.
This golf swing trainer is developed by the 4-time PGA Section Teacher of the Year, Martin Nowicki, to help golfers feel the real compression and impact. It can help you train your wrists to fire the right movements to achieve the ideal golf swing. The unique design and construction will help you practice a muscle memory pattern that will help in adopting the proper release mechanisms.
Endorsed and used by PGA professionals.

Less expensive yet effective.

Low impact training minimizes the risk of golf or tennis elbow.

Portable and easy to carry; practice anywhere, anytime.
     You will see an impressive improvement in your release mechanics if used for your daily practice. Improper mechanics will soon become a thing of the past.
The Tour Striker Smart Ball assists golfers to understand the sequence of arms wings and complete body to work on ball striking skills. Ultra-light and portable balls are the best available that help players understand how arms wings and body should work. synchronization to get to that effective golf swing. Do you wish to be on par with those high-level ball strikers? Then you will need this training aid to help you own the required rhythm and timing.
Helps your get rid of the feared "Chicken Wing."

Gives you the feel of striking inside out.

Strengthens your body pivot.

Excellent for improving your ball striking skills.

Use it flat under armpits or as inflated in between your forearms.
This is the best golf swing speed trainer if you are looking to hit the ball straighter, more on target with good consistency.
Mastering the backswing will help you stock up extra power to be directed at the golf ball to give you solid strikes. This training tool is built to help with a smooth and easy backswing move. Sure set Golf Trainer focusses on making the player aware of the right mix of wrist hinge, shoulder turn, and forearm rotation just before the loop to make a good backswing position. It will teach you to set the club in the current loaded position on the right plane and at the right angles with a higher swing width.
Assists in perfecting the downswing sequence as well.

Creates a balanced and perfectly sequenced swing.

Can be configured to suit all different swing types and styles.

Available for both left and right-handed players.
 It is quick and straightforward to learn, and you are sure to be learning all the vital moves in the golf swing using this aid.
Used by more than 600 golfing professionals worldwide, these are some of the best golf swing training aids that can help in improving the swing speed in golf.
Includes three weighted clubs with access to online video tutorials.

Helps you increase clubhead speed by more than 5% within a few weeks of practice.

Short duration training videos that give good results.

Excellent clubhead speed driver.
This training aid is for those who are seriously into the game and want to improve the tempo, grip, and swing style. Users agree that they have seen a lot of positive changes in covering higher speed and distances within six weeks of use. It is definitely on the higher end when it comes to price. However, the high cost pays off when you see tremendous improvement in the game.
This smash bag is every instructor's favorite simply because of the ease of use and practice. Put it to the ground and fill it with old clothes and towels. Target it the way you would hit the golf ball. This high-quality impact trainer will help sure slices. It will also help you do away with fat and thin shots by repeatedly hitting the smash bag.
Made from high-quality, durable PVC nylon, this bag can withstand the hardest and weighted strikes.
Helps players learn the right clubface impact on the ball.

Provides feedback on the quality and accuracy of impact.

Ideal for having a proper balance on each leg at impact.

Weatherproof and comes with zipper closure.

 
     SKLZ Smash bag is a great tool to learn and develop your swing styles. However, avoiding using the full swing will not cause much impact if you want the bag to last longer.
Before the invention of this training aid, a professional golf teacher used a coat hanger to control the clubface rotation. This innovative design is bent on providing tactile as well as visual feedback. This swing aid will help you speed up building the right repetition of movement for the optimum path control. It also helps you with feedback on your left wrist position through the swing. 
Helps resolve many swing-path issues.

Helps in overcoming the scooping and give more straight shots.

Promotes a better wrist position at impact.

Helps to create a repeatable swing

 
      Practice with a standard grip will give optimum results. It is also an expensive aid owing to the patented design.
An Anti-flip stick is for those who want to stop their hands from flipping during the swing plane so you can develop a repeatable swing pattern. This will help you add more power, distance, and also help with consistency. This best golf training aid for a swing plane also gives you instant feedback; if the stick hits your side before making the impact, it means that your wrists are flipped.
Get rid of "snap hooks" and high slices that produce over the top swing.

Trains your body for a proper lag and turn through the impact.

Gives feedback on your swing planes.

 
     This is the best training aid if your wrists break down at the time of impact for long shots and want feedback on the same.
How do I know which golf training aid I need?
This depends on your skills and level of expertise in the game. The golf training aid market is exploding with many options, all claiming to improve one or more skills required in the sport. However, it is up to you to analyze which one is the ideal training aid for you. This will come to you with a lot of practice. Another effective way of getting to know which training aid will suit you is to ask a pro. If you are training under a teacher, he should be the best person to guide you on this.
If you are looking to improve your putting skills, you can look to invest in putting training aids. On the other hand, if you have just begun the game and are looking to master the swing planes, you can look at options such as swing trainers, smash bags, tour strikers, and so on.
Again, this does not mean you can outright invest in them as these aids are quite expensive and serve particular improvement areas. If you are not training under a teacher, you might spend some time and money on getting to the right training aids.
Frequently Asked Questions
Golf training aids can make this sport all the more exciting and fulfilling. However, we are pretty sure that golfers will have several questions lingering in their minds on the effectiveness and use of these training aids. Are golf training aids worth the money? Will these aids help me improve my skills? Here we aim to answer some of the common questions most amateur golfers might have about these training aids.
Do golf training aids work?
Yes, golf training aids do work. The thought of using the training aids will help you analyze your weaknesses in the game. An excellent quality training aid will help you benefit. 
 
However, it will not help you if you are not ready to put in the extra effort in training. It is no magic tool or aid to give you instant results. For the golf training aid to work effectively, you will need to identify the right one that will address your faults in the game; it can be anything from swing, fat shots, wrong alignment, etc. Each tool will address a particular area that needs improvement; hence, it is not one size fits all.
What golf training aids do pros use?
Golfers at all different levels of the game use training aids to make the most of their potential. While novices use aids that help them with the grip, clubface impact, and alignment, the pros are better off using aids that aim at improving the swing speed, cover effortless distances, etc. Pros also aim to maintain the tempo, flexibility, and balance by using the whip training aid. Some of the training aids we have mentioned in the article are used and endorsed by most PGA and LPGA professional golfers. They also tend to invest a lot of time in swing trainers as it is no easy task to conquer this sport.
 
Superspeed golf training systems are also quite popular among the pros.
What is the best golf swing training aid?
All of the options we have reviewed help in getting to the right swing in one way or the other, only that it focuses on each area where the player might be lacking the required skill. So, all the training aids will get you to the right swing plane, and there is no one such tool that will give you the right swing. Out of the options we have reviewed, the tour striker plane mate is a more aggressive tool focusing on improving the swing plane in golfers.
 
The hanger training aid also helps you solve many issues the players might have with the swing paths.
How can I practice golf at home?
There are many ways to practice golf at home, even if you have space constraints. Most of the training aids we have discussed in the tutorial will help you practice the sport at home or any other comfortable place. First of all, you will have to start by improving your fitness levels by regular workout routines, core strengthening exercises, and stretching exercises. You can practice your fundamentals in front of a full-length mirror; aspects like posture, grip, etc. can be perfected by this method.
 
You can find a little space in your home just enough to practice your swing drills. There should be enough space to make a full swing. You can also practice putting at home by using the putting mats. Use an old school mug to make a pretend target hole and practice till you get perfect at it.
Time to wrap up and discuss some key takeaways. Golf is surely a leisure sport. However, it requires a lot of dedication, practice, and passion for excelling in the game. Golf training aids can be of great help to achieve perfection in each of the areas. Some crucial points to keep on mind:
Training aids are useful to improve your game and not to do the task on your behalf.

Use the aids after careful consideration of your improvement areas.

Seek professional help to analyze your golf style to help you choose the right tool.

Practice religiously with the training aid to achieve perfection.

Work on grip, hand, and arm coordination to perfect your swing plane.

 
We hope this article will act as a starting point to help you choose the right training tool to improve your performance at the sport. Do share your success stories with us and comment below as to which training aid turned out to be your favorite and how it helped you improve it.
Happy Golfing!